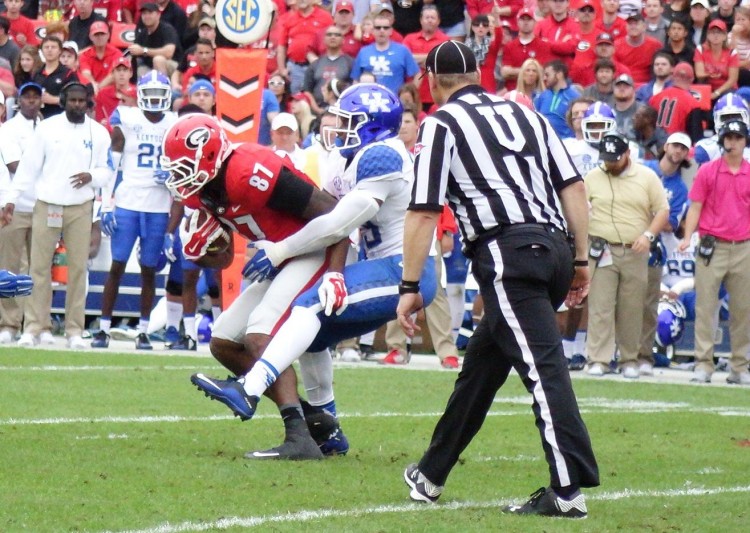 [su_spacer size="20″] Jay Rome will close out his Sanford Stadium career against Georgia Southern this Saturday.
[su_spacer size="40″]
On growing up close to Georgia Southern…
"Oh yeah definitely. I have a few friends who play for Georgia Southern right now that I went to high school with. One of my best friend's brothers plays D-line over there. Darrius (Sapp) plays D-line down there. We grew up like we were brothers so it's going to be exciting getting to see him and getting to play against him."
[su_spacer size="40″] On the importance of this game…
"They would love to knock us off. Like I say all the time 'it's a game and every game is an important game.' You don't want to go out any game thinking that you are going to lose. They are definitely a really, really good football team whether people know it or not. They are going to come in here not scared and going to come in here and play really well. We just have to be prepared for them."
[su_spacer size="40″] On if Georgia's offense can control the game…
"We're putting in a good game plan for them and we're going to try to come out and put up as many points as we can, just like we would any other week. They definitely have some really talented athletic people on that defense that can move around. It might not be as heavy as some of the other teams that we have played, but they definitely have really athletic guys who can get to the football. They are just football players."
[su_spacer size="40″]
Uploaded by Bulldawg Illustrated on 2015-11-19.

[su_spacer size="120″]