[su_spacer size="20″]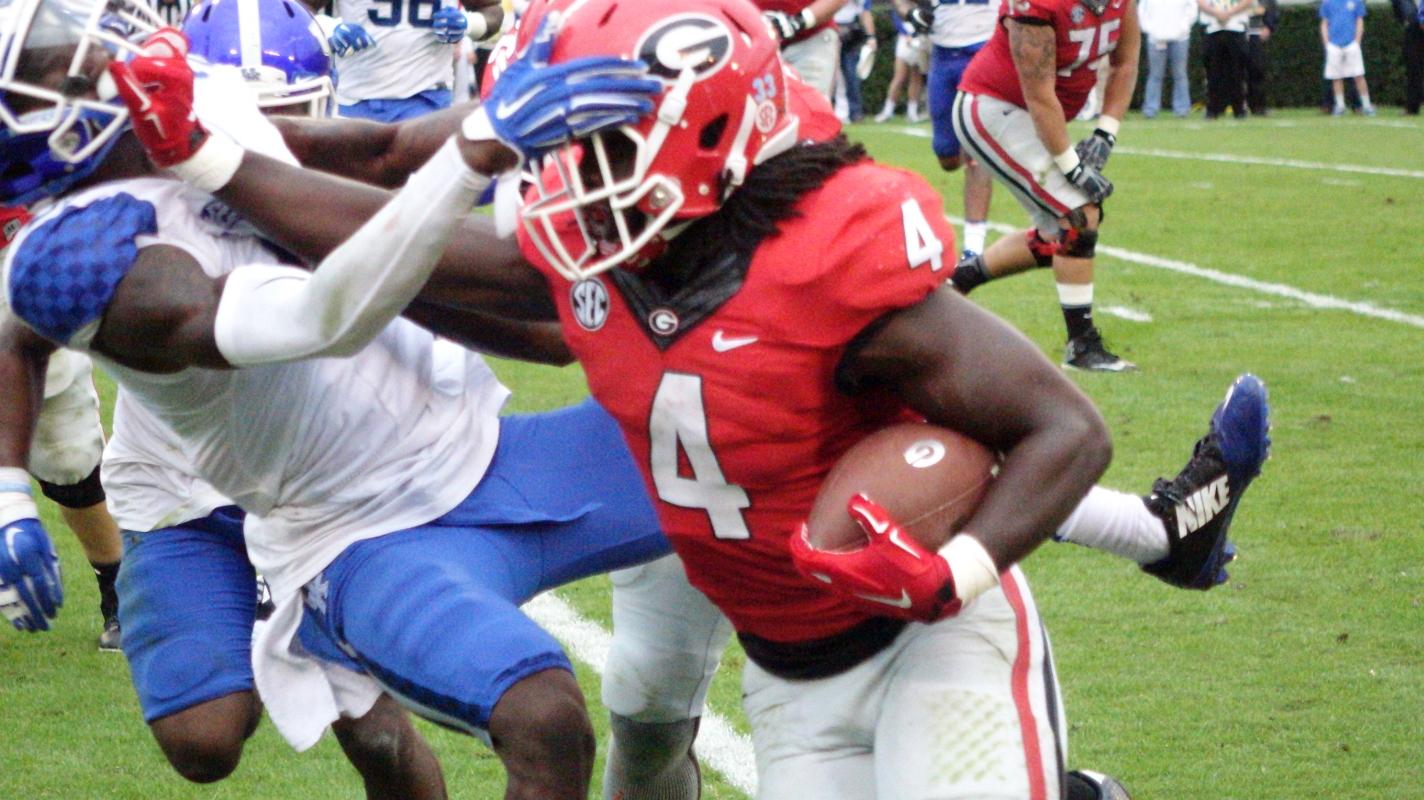 [su_spacer size="40″] In a week where rumors were running rampant about Mark Richt's job status and dissension in the Georgia coaching ranks, the Bulldogs found a ray of sunshine on an overcast afternoon at Sanford Stadium Saturday, with a 27-3 pasting of the Kentucky Wildcats.
[su_spacer size="20″]
Georgia, now 6-3 and 4-3 SEC, parlayed the unyielding defense of coordinator Jeremy Pruitt – he the subject of much of the dissension talk – and an offense that found the goal line for the first time in the past three games.
The Bulldog defense limited the Wildcats to a lone second-quarter field goal while checking the heretofore potent Kentucky offense to just 180 total yards … only 79 on the ground and 101 yards through the air.
Meantime, with Sony Michel posting a personal best 165 yards rushing on 24 carries, Georgia compiled a season-best 300 yards on the ground to control the clock and subsequently, the football game.
"It was a good day, a good solid victory," said Richt. "It was the last SEC home game for the seniors and it meant a lot to them to finish with style. The underclassmen played their tails off for those guys. That was a motivating factor and they did a good job of that. Overall," said Richt, "the coaches and the players did a wonderful job of focusing on what's important with a lot of things swirling around us this week … you know what I'm talking about.
"I was very pleased with what happened up front," Richt said. "It was a line-of-scrimmage game and we won in the trenches today on both sides of the ball. We had a situation where we had a comfortable lead and were able to pound the ball and chew up the clock. Part of it was the defense getting off the field and then the offense moving the ball. We had 71 plays and they had 41 plays and that was important."
Richt said the Georgia defense holding the Wildcats (4-5, 2-5) without a touchdown was an exceptional performance. Also, Kentucky's 2,000-yard passing quarterback, Patrick Towles, was limited to just 96 yards on 8-of-21 completions while being picked off twice by sophomore safety Dominick Sanders.
"Our defense did a wonderful job," Richt said. "That was as close as you can get to a shutout. "He's (Towles) a very talented quarterback, an NFL-type quarterback, and it was a really good job by the defense … by Coach Pruitt and his staff."
The Bulldogs, hampered by costly penalties and turnovers, led by just 10-3 at halftime. Georgia's lone points came via a 28-yard run by freshman wide receiver Terry Godwin, picking the ball up after a fumbled handoff and dashing to the end zone with 8:57 left in the first quarter to notch the Bulldogs' first touchdown in the last nine quarters (since last period of Tennessee game), and a 22-yard field goal by Marshall Morgan. The Bulldogs' defense held the UK offense to a lone 32-yard field goal by Austin MacGinnis, with just 1:37 left in the second quarter.
Georgia then boosted its lead to 24-3 in the third via a 1-yard TD run by Michel, to cap a 52-yard drive, plus a10-yard screen pass from Greyson Lambert to Keith Marshall.
The Bulldogs then got a 27-yard field from Morgan with 8:47 left, which was set up by Sanders' 38-yard interception return and a 23-yard burst by Michel, to the Kentucky 12.
Lambert, returning to his starting slot, played three quarters of the game and finished with 6-of-13 completions for 64 yards and the 10-yard TD pass to Marshall. Redshirt sophomore quarterback Brice Ramsey played nearly the entire second period and was true on 4-of-6 passing attempts for 26 yards.
"I thought both of them handled the game well," said offensive coordinator Brian Schottenheimer. "With the way the game went and the way we ran the football, we obviously didn't ask them to do that much. I'll have to look at the film to know for sure but I thought they both played well."
"We haven't been in the end zone for a while now," said Michel, "so it was great to get a touchdown and put some points on the board. It was exciting." Of the off-the-field distractions this past week, Michel commented, "I would say yes (all the speculation surrounding the coaches was distracting) in a way, but we kind of blocked all that stuff out and got back to what we have been doing and who we are."
Keith Marshall, fast starting to resemble the explosive back he was prior to his ACL tear, followed Michel by running for 60 yards on 13 carries, several times coming within a step and one tackle of breaking into the open field. Senior Malcolm Mitchell again paced the Bulldog receivers with four catches for 52 yards.
Ramsey, who excelled at both punting and place-kicking in his prep days at Camden County, averaged 47.7 yards on three kicks, including a 53-yard punt, to keep the Wildcat defense backed up much of the afternoon. Collin Barber handled the final punt for the Bulldogs and got off a 44-yarder.
Senior linebacker Jake Ganus again fronted the sterling defensive effort with eight total tackles while outside linebacker Leonard Floyd checked in with five stops. Sophomore safety Sanders' had 62 return yards on his two interceptions, though fumbling the first pick away at the Kentucky 7-yard line.
Ganus said overcoming the adversity this week wasn't all that tough.
"I think on the outside it looks a lot worse than it has been on the inside," he said. "We are together. We are a family and we are a tight unit. When stuff like that happens we just get even closer. When you put our backs against the wall, we just come out fighting. I think we have been playing pretty well," Ganus added. "Overall, our defense is getting better. I think we had a great game plan today and we executed and did the things we need to do to be successful. It was great to hold them without a touchdown today."
The Bulldogs now make ready for the trip to Auburn next Saturday in what will also be a 12 noon kickoff.
"Going to Auburn is tough," said Richt. "It's going to be a big one for both of us. We've got to crank it up again against an SEC opponent on the road. There's so much tradition and you throw out the records in that game."
[su_spacer size="40″] [su_spacer size="40″]