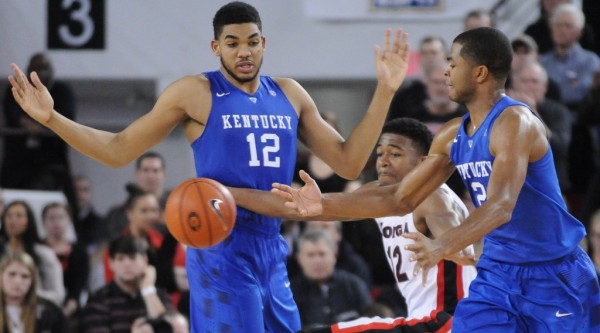 [su_spacer size="10″]
The sold-out crowd at Stegeman Coliseum was ready to see history. It would be another step toward perfection or a stunning upset of the 29-0 Kentucky Wildcats.
[su_spacer size="40″] It appeared to be the latter when Marcus Thornton made two free throws to give the Georgia Bulldogs a 62-56 lead with 5:36 remaining in the second half of Tuesday evening's game. The unthinkable was going to happen and unranked Georgia was going to beat the best team in the land.
[su_spacer size="40″] Then the No. 1 Kentucky Wildcats (30-0, 17-0 Southeastern Conference) went on a 16-2 run and left the Georgia Bulldogs (19-10, 10-7 SEC) with the same result that their previous 29 opponents suffered before them. It was a valiant effort, but still one that resulted in a 72-64 loss for the Bulldogs and left Kentucky one step closer to history.
[su_spacer size="20″]
[su_spacer size="20″] "We didn't play perfect and you darn near have to against a team like that," Georgia head coach Mark Fox said after the game.
[su_spacer size="40″] Still it appeared Georgia would not have to be perfect to win when they held the late six-point advantage, but Kentucky ramped up their defense and the Bulldogs never responded. After Thornton's free throws at the 5:36 mark, Georgia would not score again until a Charles Mann basket made it 70-64 with 29 seconds remaining. By then it was too late.
[su_spacer size="40″] Georgia finished the game shooting 47 percent against a Kentucky team that came in allowing teams to shoot just 34 percent per game. However, the Bulldogs made just 3-of-17 3-pointers and 9-of-18 free throws. Charles Mann and Kenny Gaines both missed the first free throw on potential one-and-one opportunities in the last five minutes that could have made a difference.
[su_spacer size="20″]
[su_spacer size="20″] "We just didn't get to the free throw line enough to have a rhythm," Fox said.
[su_spacer size="40″] Georgia would not have been as close without the play of Nemanja Djurisic. The senior, whose parents were in attendance for just the second time in his career, scored 14 of the Bulldog's 32 first half points as Georgia went into halftime tied with Kentucky. Djurisic, Marcus Thornton and Taylor Echols were honored on the court before the game on senior night.
[su_spacer size="40″] "It was one of the most special moments," Djurisic said. "It was the last game here and I didn't want to be disappointed and leave the team like that."
[su_spacer size="40″] Djurisic was not able to continue his dominance in the second half as he scored just four points. Despite Djurisic cooling off, Georgia was able to open up a seven-point lead courtesy of an 11-0 run midway through the half. The run was capped by a Kenny Gaines baseline dunk and J.J. Frazier's only 3-pointer. The crowd erupted, but Kentucky was able to regroup after a timeout and keep the game close enough until its run to close the game.
[su_spacer size="20″]
[su_spacer size="20″] "I'm going to look at the tape tomorrow and say we should have won the game," Fox said. "It wasn't good enough but there is no shame in losing to a team like that."
[su_spacer size="40″] Karl Anthony-Towns, who is projected to be a top pick in the upcoming NBA Draft, finished with 19 points and seven rebounds for Kentucky. Twins Aaron and Andrew Harrison finished with 16 and 12 points respectively.
[su_spacer size="40″] Now, Georgia will turn its attention to a regular-season finale on the road against an Auburn team that beat the Bulldogs by a point on Valentine's Day in Athens. The chance to ruin perfection is now behind them.
[su_spacer size="40″] "It just hurts man," Gaines said.
[su_spacer size="40″] 29 other teams know the feeling all too well.
[su_spacer size="40″] Photo credit: Sean Taylor