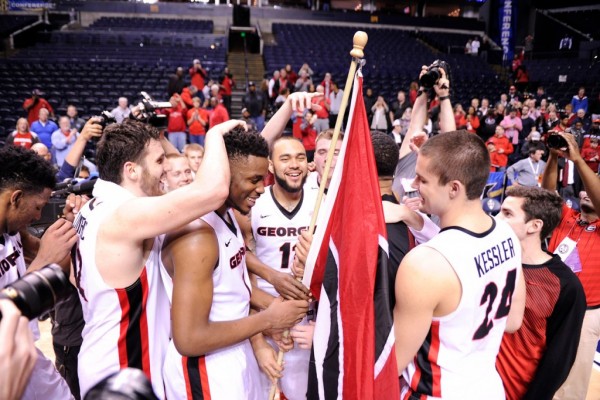 When the No. 10-seed Georgia Bulldogs face the No. 7-seed Michigan State Spartans on Friday afternoon, Georgia head coach Mark Fox may feel a sense of nostalgia.
Although the Bulldogs have not made the NCAA tournament since 2011, the last time Georgia was in the tournament they played in the same venue, the Time Warner Cable Arena, that will host Friday's second-round matchup.
That game resulted in a 68-65 loss for Georgia, who was again the No. 10 seed as they fell to Washington in the second round. This time around the Bulldogs are hoping for a positive result, but they will have to do it against a Michigan State team that lives in the tournament.
The Georgia program has reached the NCAA tournament 9 times overall, while Tom Izzo has guided the Spartans to 18 consecutive Big Dances.
Fox has done a good job managing this year's team through injuries to multiple starters but has coached just six games in the NCAA tournament compared to Izzo's 58. That experience gap could play a difference.
"I think tournament experience is important, but our goal wasn't just to get here," Fox said. "Hopefully our team will have the poise to deal with the emotions of the event. It's a bigger event than they're used to, and our poise and ability to deal with that's going to be important. And those teams that have experience, that's probably a slight advantage."
Like Georgia, Michigan State's key players are juniors and seniors. Senior forward Branden Dawson and junior Denzel Valentine average 9.1 and 6.2 rebounds respectively. It will be a challenge for Georgia seniors Marcus Thornton and Nemanja Djurisic to keep them off the glass. Twice this season Dawson has had games with 18 rebounds.
If the Bulldogs can win the rebound battle they will have a good chance to win the game. Michigan State is not as deep as it has been in previous years so if Georgia can build an early lead the Spartans could tire as the game progresses.
The logical pick here is to bet on the tournament pedigree of Michigan State and Tom Izzo, but we have already seen multiple upsets in the second round. Two No. 14 seeds upset No. 3 seeds in the second round including nearby Georgia State's upset of Baylor.
The madness has begun, but you do not have to be a mad man to think the Bulldogs could pull off an upset of their own.