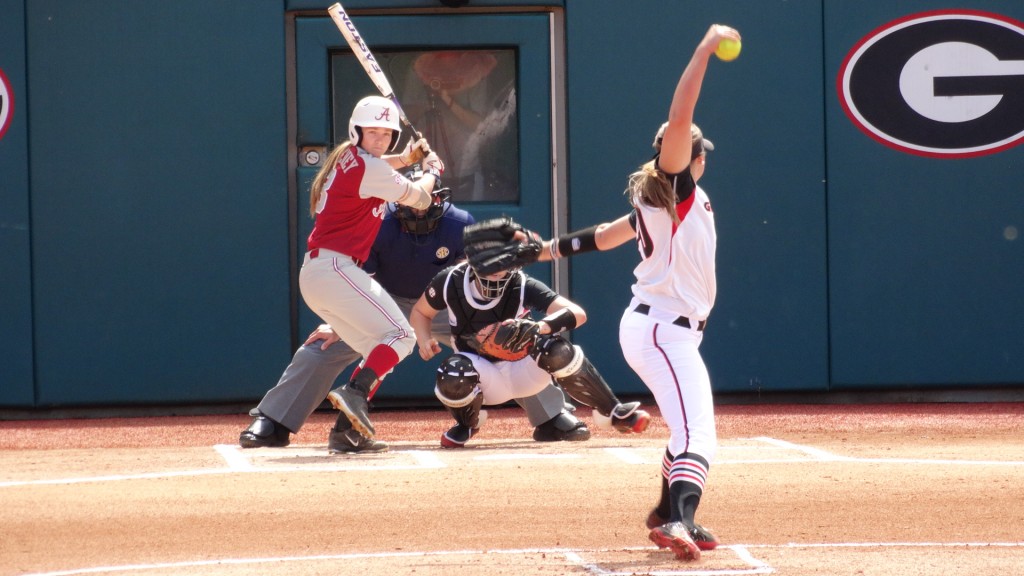 The Georgia softball team is set to renew its rivalry with Georgia Tech when it steps out of conference play on Wednesday, March 18 at 6 p.m., at Mewborn Field in Atlanta, Ga. It is the first of two games to be played between the teams this year. The Yellow Jackets are scheduled to come to Athens on Wednesday, April 8. The Bulldogs enter the week with an overall record of 24-5, while Georgia Tech is 11-15 on the year.
[su_spacer size="40″] Game Information
Wednesday, March 18
Georgia vs Georgia Tech – 6 p.m.
TV: ESPN3
[su_spacer size="40″] Series Information
Georgia holds a commanding 24-10 lead in the all-time series against Georgia Tech. The Bulldogs have won four-straight against the Yellow Jackets. During the win streak, the Bulldogs have out scored Georgia Tech 58-10, while three wins have come by way of the run rule. Georgia has been particularly successful at Mewborn Field, out scoring the Jackets 29-2 in the last two games played in Atlanta.
[su_spacer size="40″] Notes
[su_spacer size="10″] GRAY IN THE CIRCLE
[su_spacer size="10″] Brittany Gray had four strong performances in the circle last week. After getting both starts and wins against Savannah State, Gray threw in two games against Alabama, including one start. In those games, she allowed just one earned run and struck out four. She also picked up her 10th win of the year in a relief appearances in game two of Saturday's doubleheader. It was Gray's first win over a ranked opponent this season.
[su_spacer size="40″] POWER
[su_spacer size="10″] Georgia's bats have shown up in a big way in the last seven games. Georgia had hit 11 home runs in its first 19 games of the season. In its last 10 games, the Bulldogs have it 14 home runs. Alex Hugo leads the way with nine homers, followed by Anna Swafford with six.
[su_spacer size="40″] HUGO REACHING MILESTONE
[su_spacer size="10″] Despite playing for Georgia for just over one season, Alex Hugo is two home runs shy of entering the career-top 10 in home runs. She enters this week with 34 home runs in her 1 1/2 seasons with the Bulldogs. She hit 15 bombs in her freshman season at Kansas, putting her career total at 49, which would have put her second all-time at Georgia.
[su_spacer size="40″] REACHING
[su_spacer size="10″] Sydni Emanuel enters the week having reached base in each of the last 28 games this season. She owns the longest reached base streak of anyone on the team.
[su_spacer size="40″] UP NEXT
[su_spacer size="10″] The Bulldogs return home this weekend, March 20-22, for a three-game SEC series vs. Arkansas. The series is set to being at 6 p.m., on Friday. Saturday's contest is scheduled to begin at 2 p.m., followed by a 3 p.m., game on Sunday. The first two games of the series will be available on the SEC Network + or on the WatchESPN app. Sunday's game will be televised on the SEC Network.