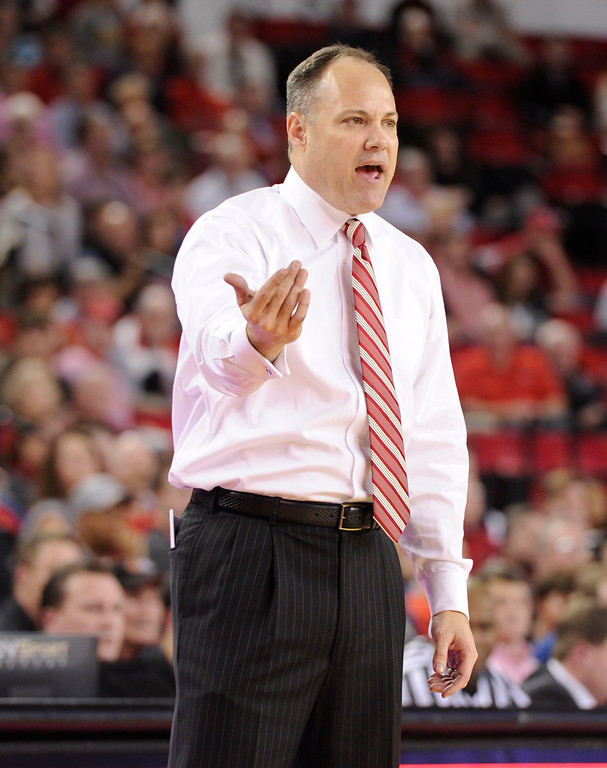 [su_spacer size="20″]
Welcome to the Bulldawg Illustrated Hoops Report. It's like that Simpsons episode when Homer gets a letter in the mail letting him know his won a boat in a local sweepstakes only to find out when he shows up to collect his prize that it's actually a sting operation targeting all citizens with outstanding warrants. So instead of a boat, he gets arrested. While I'm pretty certain we won't win a boat or get arrested, I am certain we got scammed. How does Michigan State fall a seven seed and how do we get them in round one? They should be a four or five because they're red hot. They beat four straight tournament teams before losing the Big 18, or whatever the number is, finals to Wisconsin. They lost 11 times this year. Same number as the Dawgs. However, eight of their eleven losses are to teams in the NCAA Tournament. We do have one common opponent that we both lost to and is not dancing, Minnesota. We lost to the Gophers early on a neutral floor and Sparty lost to them late at home. However, that was merely a classic case of looking ahead as their next opponent was then #5 Wisconsin. In my opinion, there's not a better coach in March than Tom Izzo and this match up could prove to really hurt my brackets as I have the Dawgs dancing to the Sweet 16! I know I'm a homer. However, I really feel the winner of this game is tough game two for Virginia. But we can't look ahead, so let's talk Izzo and some strategizing.

[su_spacer size="40″]

First, Sparty most likely won't beat themselves. Izzo's teams are well coached and usually peak this time of year. So that means we've got to be as close to error free as possible. That means first and most importantly, limit the turnovers. Kenny Gaines and Charles Mann are both outstanding players when they're not turning it over. They both have made their share of bone-headed TOs this year. Let's eliminate that on Friday once and forever my brother. Can I get an amen and repeat? Limit the Damn Turnovers! Amen brother! We need to be ten or less in turnovers to give us the best chance to win. Second, hit our free throws early to get comfortable at the line. It's a very little known fact that UGA is one of the top FT shooting teams in the NCAA in the final minute of a game. The reason it's little known is we shoot 69% as a team and seem to miss them in bunches early, especially the front-ends. To have a chance, we need to shoot around 25-28 FTs and make at least 20. Lastly and most importantly, we've got to clean up one aspect of our game I've been complaining about for years. We can't blow layups or fumble balls out of bounds. In our losses this year, we unofficially average six or seven missed layups a game. I keep up in my head and many times I'm drinking, so I could be a little off. But the number is pretty close. If Marcus Thornton had good hands, he'd average 22 points a game. This hasn't been a problem for us just this year, but for the last four or five. Our big guys have had bad hands around the rim and that's got to end immediately. So to recap, limit the TOs, hit the FTs, and don't blow layups or lose control of rebounds. Funny thing is that sounds so simple. Teams with better players can survive these breakdowns. We're usually not so lucky. But we do have two things that may be our X-Factors!

[su_spacer size="40″]

Four and/or five years ago, Thornton and Neme Djurisic arrived in Athens. They're Damn Good Dawgs! They're both seniors now and I think they've got something up their sleeve. I really thought they'd shock the world on Senior night in Athens. While they fell just short, it was no fault of their own. They both played outstanding games. We shouldn't I think they're ready for Sparty as well? I don't think they go silently into that good night, even though it is in the afternoon. I think these guys will look at this as a damn war and will be fighting tooth and nail for survival. Due to work obligations, I can't drive up to Charlotte and watch us until we play Virginia on Sunday, but I'll be glued to my TV on Friday. I'm stoked about this matchup. How nice will it be for our two beloved seniors to reminisce years from now about knocking off Sparty? That's got to be fun to talk about. I don't know if I'm just dreaming or if I've been sniffing too much of Otto's jacket, but I know I'm pumped! Go Dawgs!