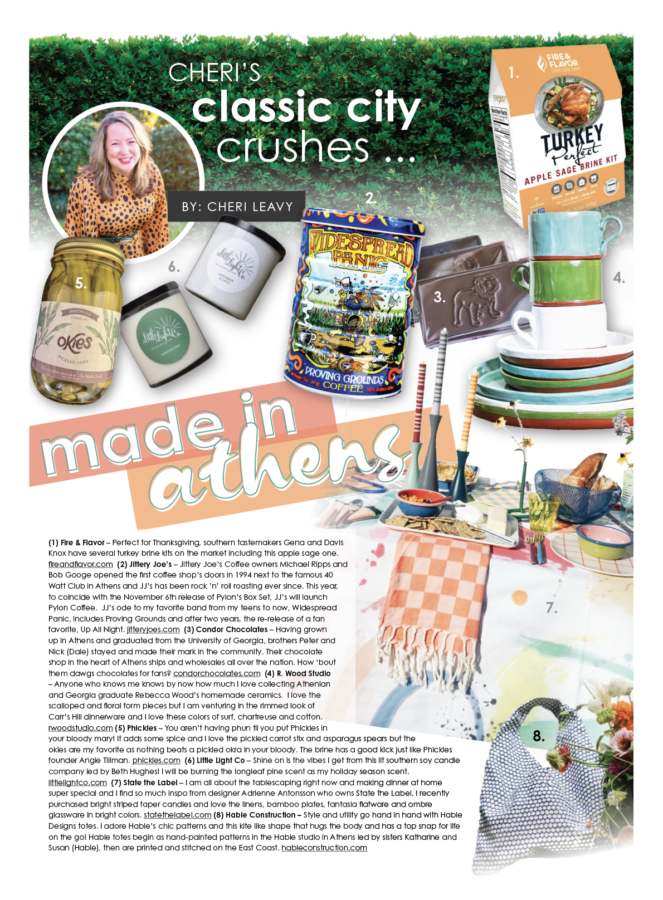 (1) FIRE & FLAVOR – Perfect for Thanksgiving, southern tastemakers Gena and Davis Knox have several turkey brine kits on the market including this apple sage one. (2) JITTERY JOE'S – Jittery Joe's Coffee owners Michael Ripps and Bob Googe opened the first coffee shop's doors in 1994 next to the famous 40 Watt Club in Athens and JJ's has been rock 'n' roll roasting ever since. This year, to coincide with the November 6th release of Pylon's Box Set, JJ's will launch Pylon Coffee. JJ's ode to my favorite band from my teens to now, Widespread Panic, includes Proving Grounds and after two years, the re-release of a fan favorite, Up All Night. (3) CONDOR CHOCOLATES – Having grown up in Athens and graduated from the University of Georgia, brothers Peter and Nick (Dale) stayed and made their mark in the community. Their chocolate shop in the heart of Athens ships and wholesales all over the nation. How 'bout them dawgs chocolates for fans?
(4) R. WOOD STUDIO – Anyone who knows me knows by now how much I love collecting Athenian and Georgia graduate Rebecca Wood's homemade ceramics. I love the scalloped and floral form pieces but I am venturing in the rimmed look of Carr's Hill dinnerware and I love these colors of surf, chartreuse and cotton.
(5) PHICKLES – You aren't having phun til you put Phickles in your bloody mary! It adds some spice and I love the pickled carrot stix and asparagus spears but the okies are my favorite as nothing beats a pickled okra in your bloody. The brine has a good kick just like Phickles founder Angie Tillman. (6) LITTLE LIGHT CO. – Shine on is the vibes I get from this lit southern soy candle company led by Beth Hughes! I will be burning the longleaf pine scent as my holiday season scent. (7) STATE THE LABEL – I am all about the tablescaping right now and making dinner at home super special and I find so much inspo from designer Adrienne Antonsson who owns State the Label. I recently purchased bright striped taper candles and love the linens, bamboo plates, fantasia flatware and ombre glassware in bright colors. (8) HABLE CONSTRUCTION – Style and utility go hand in hand with Hable Designs totes. I adore Hable's chic patterns and this kite like shape that hugs the body and has a top snap for life on the go! Hable totes begin as hand-painted patterns in the Hable studio in Athens led by sisters Katharine and Susan (Hable), then are printed and stitched on the East Coast.