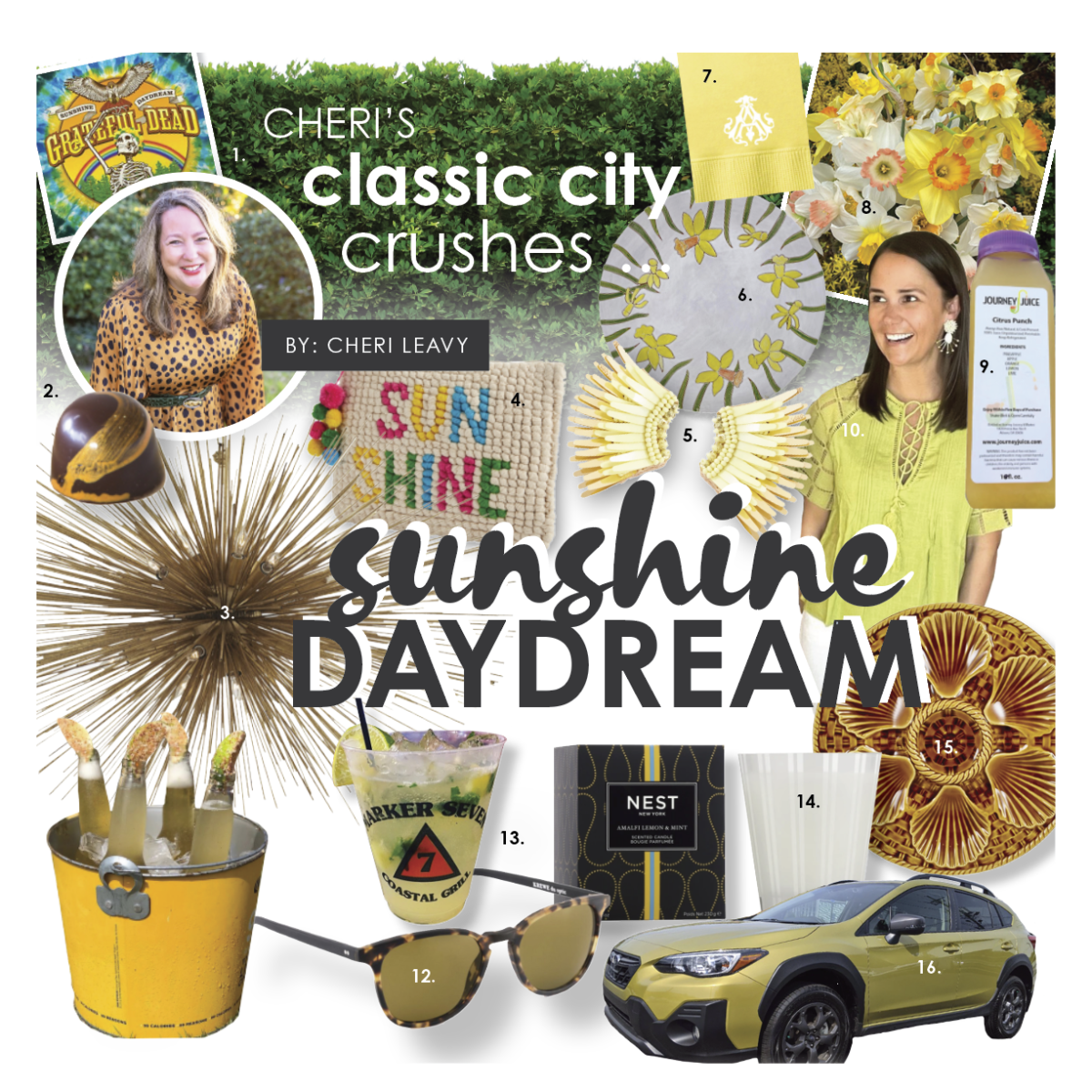 (1) WUXTRY RECORDS + LOW YO YO STUFF RECORDS – We just got a turn table and have been picking up records from all genres from cool vinyl shops in Athens. You can play it over your sonos. We have snagged everything from local legends R.E.M. and Widespread Panic to Bob Dylan, Tom Petty, Madonna, Talking Heads, Run DMC and Kristofferson.
(2) CONDOR CHOCOLATES – I love when they introduce new flavors of their truffles! Recently they introduced Satsuma Caramel. These beauties are made with Georgia grown Satsuma Mandarins infused into their housemaid caramel.
(3) SCOPE LIGHTING – The Strada collection is delicate and ethereal, drawing inspiration from Kelly Wearstler's love of bronze and vibrant, organic forms. Each sculptural piece, with a seemingly random array of radiating quills, plays with cast shadow to evoke a soft sophistication.
(4) AMELIA'S IN FIVE POINTS – Pocket full of sunshine – a zipper pouch that works as a fun small clutch for running around town or the beach!
(5) HEERY'S CLOTHES CLOSET – I love these limited-edition seasonal updates on Mignonne Gavigan's Mini Madeline earrings. Inspired by the glamour captured by renowned photographer Slim Aarons, we find ourselves escaping in colors of citrus and the sun.
(6) R. WOOD STUDIO – I am in love with UGA graduate Rebecca Wood's new collection of hand-etched daffodil pottery including plates, platters, and even wall hangings. Hello Spring!
(7) ELDRIDGE STATIONERS – Amanda Eldridge creates beautiful personalized products from placemats to cocktail napkins to stationery to cups. These guest towels come in a variety of colors with this interlocking monogram or several other style monograms too. Visit her new website eldridgestationers.com to see what she offers.
(8) 3 PORCH FARM – My daffodils from 3 Porch Form lasted forever and brought me such joy! I am also enjoying ranunculus season. Did you know if you aren't in Athens for farm shop pick-up then you can order and have them shipped?
(9) JOURNEY JUICE – Drink up the citrus sunshine! I also love their citrus punch (pineapple, apple, orange, lemon and lime) as a mixer with some soda water and vodka, gin or tequila.
(10) HAMPTON POINT – Style maven Molly Lloyd has launched a fabulous online boutique for clothing and accessories. Follow @hampton_point on instagram!
(11) EL BARRIO – A bucket of mexican beer on the lawn of El Barrio soaking up the sun sounds heavenly! Bring it on spring! Time for tacos and tequila!
(12) ONWARD RESERVE – Time for a new pair of sunnies for my hubby! I love this Olivier Matte Brindle pair. Onward has great price points from high to low for sunglasses.
(13) MARKER 7 COASTAL GRILL – Spring time is mojito time at Marker 7 in the heart of Five Points, Athens.
(14) HEERY'S TOO – I love this amalfi lemon and mint candle right now! Evoke the essence of Italy's Amalfi coast with this classic candle featuring zesty lemon and orange bergamot blended with fresh mint and a hint of driftwood.
(15) APPOINTMENTS AT FIVE – An avid majolica collector, I love finding treasures at Appts. These newer french sienna majolica glazed basket weave and shell oyster plates by Longchamp are circa 1930-1950.
(16) ATHENS SUBURU – Blazing down the streets of Athens in this Crosstrek Sport SUV would be ton of fun!