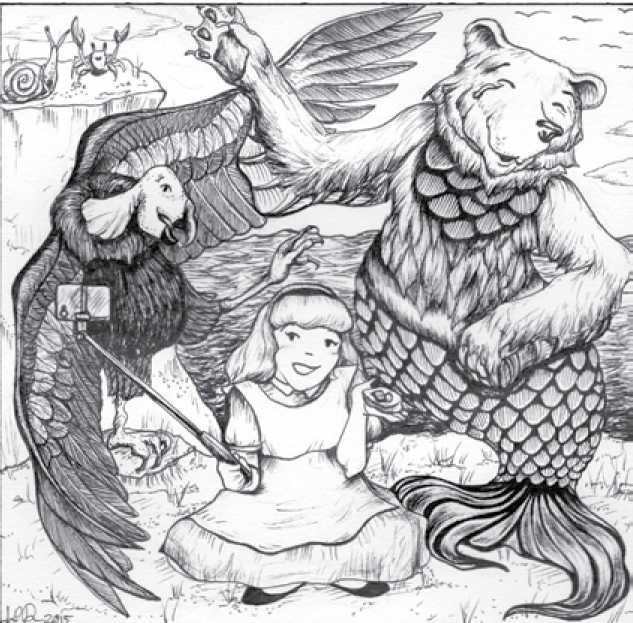 [su_spacer size="10″]
This illustration is an adaptation of a scene from Alice in Wonderland to showcase Peter's two newest restaurants, Seabear Oyster Bar and Condor Chocolates. In the original, a Mock Turtle and a Gryphon dance while Alice recites a poem. In this version, a Seabear and a Condor pause to take a selfie with Alice.
[su_spacer size="10″]
Art by Jess Dunlap. Concept and interview by Dominique Paye.
[su_spacer size="40″] Born and raised in Athens, Georgia,
Chef Peter Dale
not only stayed to attend UGA (go Dawgs!), but also chose to begin his culinary career here. Peter apprenticed under chef Hugh Acheson at the acclaimed 5&10 restaurant, and then took an internship at La Broche in Madrid. Returning from Spain, Peter and Hugh opened up The National in downtown Athens in 2007. In 2014, Peter added two additional restaurants in Athens–Seabear Oyster Bar and Condor Chocolates.
[su_spacer size="20″]
Each time we visit Peter's restaurants, we find magic in the most unexpected of places, and so he was a natural fit as the first in our fairy tale series. We sat down with Peter to ask him a few questions about the restaurant industry, fictional dinner parties, and what is the source of the magic in his restaurants.
[su_spacer size="40″]
G2A​:
I love that Jess incorporated a selfie stick because you opened up both Seabear and Condor in an era when social media is ever present and people photograph almost anything, in particular their food! How is social media changing the restaurant industry?
[su_spacer size="20″]
Peter​:
It's been an absolute game changer. Our businesses are small with limited advertising and marketing budgets. Social media allows us to reach our audience with very targeted messages. Most telling is the opening of Condor Chocolates. Through social media alone, we had a line out of the door and sold out during our first week.
[su_spacer size="40″]
G2A​:
At one point in this scene, the Mock Turtle claims, "No wise fish would go anywhere without a porpoise." We could turn it about and say that no wise fish would stay somewhere without a porpoise. To date, why have you chosen to open three restaurants in Athens and forego expanding into larger markets? Is there something about Athens that makes you want to keep your restaurants here?
[su_spacer size="20″]
Peter​:
Athens is a very special place, and the community is so loyal and supportive of homegrown talent and businesses. I might not find that in a larger market. All three businesses are very personal expressions of myself, culinary interests and travels. Something so personal requires being present.
[su_spacer size="40″]
G2A​:
To quote The Mad Hatter,
[su_spacer size="20″] "There is a place. Like no place on Earth. A land full of wonder, mystery, and danger! Some say to survive it: You need to be as mad as a hatter."
[su_spacer size="20″]
Peter​:
Absolutely! There can be a fine line between what a chef finds creatively satisfying to prepare, and with the expectations of the guest. Finding the sweet spot where both the chef and the guests are happy can be elusive, but is key to success in this business.
[su_spacer size="20″] The restaurant business is not for the faint of heart, and you need a thick skin. The hours are terrible, margins are razor thin, inventory is highly perishable. On the bright side, a successful community driven restaurant is incredibly rewarding and fun.
[su_spacer size="40″]
G2A​:
Now for a less serious question. In Alice in Wonderland, The Mad Hatter hosts a perpetual tea party as Time has punished him by standing still at 6 pm (tea time). If you could make time stand still, what hour would it be, what would you serve, and who would be your fictional guests?
[su_spacer size="20″]
Peter​:
I seem to have the most energy in the late-afternoon and early evening, so let's plan this as a 5 pm happy hour. I would serve palomas (grapefruit juice, lime, tequila, soda, salted rim) and avocado tostadas. My guests would include Indiana Jones, Jessica Fletcher (Murder She Wrote), Jon Snow (Game of Thrones), and most of the cast of the Muppet Show (not Animal because he'd make a mess). It's going to be ridiculous and awesome.
[su_spacer size="40″]
G2A​:
Fairy tales characteristically involve a magical element, and also transcend time and place. We feel the same way about your restaurants. To what do you attribute your success in being able to create a magical, sometimes other­worldly, experience for your guests?
[su_spacer size="20″]
Peter​:
I have to give a lot of credit to my close friend Christy Bush who has helped us design Seabear and Condor. She "gets it" when I come back from a trip really excited about a space or a product I've seen. I like creating spaces where you feel transported far away from Athens, yet incorporating local materials, products and artisans.
[su_spacer size="40″] Many thanks to Peter for taking the time to talk with us and to Jess Dunlap, who so artfully reinterpreted Lewis Carroll's classic tale. We would encourage you to experience for yourself the magic of each of Peter's restaurants–The National, Seabear Oyster Bar, and Condor Chocolates.
[su_spacer size="40″]
http://www.thenationalrestaurant.com
[su_spacer size="40″]
http://seabearoysterbar.com
[su_spacer size="40″]
http://condorchocolates.com
[su_spacer size="40″]
About Jess Dunlap
[su_spacer size="20″]
Artist and Georgia native Jess Dunlap has been calling Athens home for just over 5 years. After obtaining her BFA from the University of West Georgia and spending some time hopping around Atlanta she moved to Athens with her husband in 2010. Jess currently works at Taqueria del Sol though many may know her from her days with 1000 Faces Coffee where she wore many hats (including head roaster) and with whom she still maintains a healthy creative relationship. In addition to illustration, Jess is also adept at woodburning/pyrography, painting with watercolor and oils, and various other art forms. She and her husband live nearby in beautiful bucolic Winterville where she has also taken up the art of slow living in various ways including jam making/canning, foraging, gardening, basket-making, and more. You can email Jess at: gneiss.mouse@gmail.com or find her on Instagram as: gneissmouse. Check back in the fall when she launches her brand new website: www.the-imaginary-collective.com.
[su_spacer size="40″]
About Dominique Paye
[su_spacer size="20″]
Dominique Paye is a social media and marketing strategist who lives in Athens, Georgia. Since graduating from Washington & Lee University in Virginia, she has worked in project management across a variety of industries–graphic design, military, telecommunications, web development, real estate, retail, and interior design–in Washington D.C., San Diego, and Houston. Dominique and her husband moved to Athens in 2011 for his job at UGA's Terry School, and she has enjoyed working with Athens' creative entrepreneurs to market their businesses through social media and specialized content creation. You can contact Dominique at dominique@dominiquepaye.com or online at www.dominiquepaye.com.
[su_spacer size="80″]