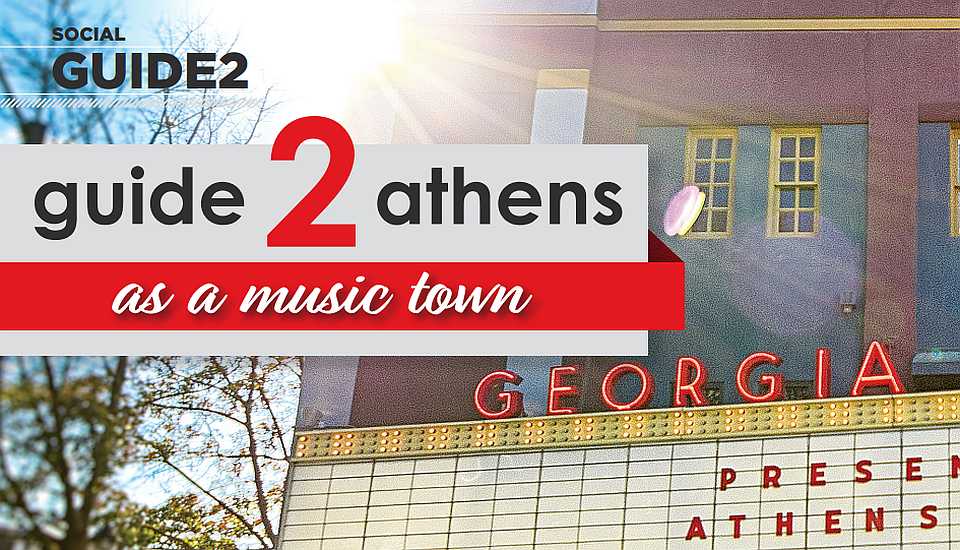 While one of the first things that may come to your mind when someone mentions Athens, GA is the University of Georgia and the Bulldogs, the Classic City is also known for its music scene. Athens' college town tunes rock-n-rolled onto the scene from the early 1970s and later during the 1980s with bands like the B-52's and R.E.M. as well as Love Tractor, Pylon, Widespread Panic and many, many more which could be seen in clubs like the Georgia Theatre and the 40 Watt downtown. Peyton Haecker talks with current UGA students as well as UGA Alumni about their experiences with and memories of the Athens, GA music scene.

COMPILED BY PEYTON HAECKER


---
Helen Johnson
SENIOR AT UGA, GRADUATING IN MAY 2018
FROM ATLANTA, GA.
KAPPA KAPPA GAMMA

One of the main reasons I love Athens, Ga. is for the music scene. Between the 40 Watt Club and the Georgia Theatre, there are so many cool bands that have performed or had their beginnings right here in the Classic City. My favorite memory of the Georgia Theatre was a band I went to see with one of my best friends Courtney Kelly ('18). We have always loved Fleetwood Mac but we haven't had the chance to go see Stevie Nicks and the crew in concert. There is a tribute band from Atlanta called Rumours that travel around and sing all Fleetwood Mac songs. The lead singer is an astounding replica to Stevie Nicks. If you close your eyes you feel like you are back in the 70s listening to "Gypsy." Every time we hear that Rumours coming to Athens, our number one priority is to see them – and they're amazing rendition of "Landslide."

---
Eve and Brad Johnson
CLASS OF 1988
FROM ATLANTA, GA.
KAPPA KAPPA GAMMA AND KAPPA ALPHA

My husband and I met when we were 18 at the University of Georgia. I am from Memphis, Tenn. and he is from Jacksonville, Fla. and we both loved going to see different bands on the weekends. One of our favorites was Love Tractor. They were a local band out of Athens that performed at the 40 Watt Club all the time. I loved their music and it was so fun going with my sorority sisters and his fraternity brothers. Athens' music scene is one of the greatest and I'm so glad 40 Watt Club is still around and my daughter can have the same great experiences that I did during my time at UGA!

---
Olivia Moore
GRADUATING IN MAY 2019
FROM ATLANTA, GA
KAPPA ALPHA THETA

My favorite band I've had the repeated pleasure of seeing in Athens has been Moon Taxi. Of the many times I've experienced them in Athens, my favorite time I saw them perform was recently in late August, at the Georgia Theatre. They are amazing when they perform live on that stage.

---
Elizabeth Letts
CLASS OF 1992
FROM CHARLOTTE, N.C.
KAPPA ALPHA THETA

I came to UGA from Charlotte, N.C. and still accredit those four years as the best of my life. It's where I met my husband and now where my daughter also calls home. I adored my years in Athens, cheering on the Dawgs and spending time with my friends in Theta. I also spent a lot of my time at UGA surrounding the local music scene. I distinctively remember seeing shows at the 40 Watt, the Georgia Theatre, and even a number of fraternity houses. The best band I was able to catch was Widespread Panic at the Georgia Theatre. It was incredible to see them on that stage. I still think about that show to this day. What I would give to see some of the rock bands of the late 80s and early 90s in the Classic City!

---
Karson Bankhead
SENIOR AT UGA, GRADUATING IN MAY 2018
FROM GREENSBORO, N.C.
KAPPA ALPHA THETA

Ever since I was young, music has been a big part of my life. Whether that be seeing Broadway shows or concerts with friends and family, music has always served as my escape from reality. One of the many things I love most about Athens is their eclectic music scene- and it has never failed me! The first band I saw in Athens during my freshman year was Moon Taxi at the Georgia Theatre. It was such a fun and unique experience that has kept me going back for more shows. I will miss the awesome music atmosphere that Athens has to offer, but I look forward to coming back and seeing more shows the future!

---
Micheal Murray
CLASS OF 1984
FROM GREENSBORO, N.C.
CHI PHI FRATERNITY

I arrived at the University of Georgia as a student in the fall of 1981 as a junior transfer from Young Harris College where I graduated with an Associate of Arts degree. Athens, Ga. and the University of Georgia were filled with life as much as it is today. The music scene in Athens was fantastic. Beach Music and oldies were a big hit at a place called Crazy Zack's on East Broad, but if you wanted to go wild you ventured to the 40 Watt where most of the famed rock bands from Athens got their start. R.E.M. was my favorite local band at the time. They would work out of an old church building down the hill off of East Broad – just before crossing the river. The big difference between now, 2017, and 1981, is the drinking age was 18 years old then. Returning back to Athens as a parent is a pure pleasure. The opportunities to return are something I look forward to each time. Grabbing a breakfast or lunch at the Mayflower, enjoying a beverage on the rooftop of the Georgia Theatre or simply walking the campus is a joy. Seeing old familiar faces from long ago is a big treat! Sometimes I have to remind myself that I am the parent – not the student when back on campus.

---
Peyton Haecker
SENIOR AT UGA, GRADUATING IN MAY 2018
FROM DENVER, CO.
KAPPA ALPHA THETA

As I round out my years at UGA, I consider many of my favorite memories and the fact that so many involve the local concerts I've been able to see. This past September, I was able to see one of my favorite bands, Drew Holcomb & the Neighbors perform at the Georgia Theatre. As one of my many visits to the Theatre and my third time seeing this band live, I thought that I was generally aware of what to expect. On a Wednesday night in the fall with only a few friends, I was blown away. That venue and that band could not have been a more successful combination. In all of the groups that I have been fortunate to catch, this was definitely the most memorable.

---
Haley Waller
SOPHOMORE AT UGA, GRADUATING IN MAY 2020
FROM ST. SIMONS ISLAND, GA

The culture of Athens can be accurately described in acknowledging three incredible appeals: an exceptional football team, delicious food, and a music scene that draws crowds. In my short time thus far as a student at UGA, I have already been able to experience numerous concerts (don't tell my dad), but the one that trumps them all would have to be the Moon Taxi show that I attended in September 2016. I have been a fan of Moon Taxi for years and I have since dreamed to see them perform live. I am very confident when I say that it was one of the best nights of my life. I can't think of a better way to kickoff my second year in the Classic City than to see this band at the Theatre.

---
Jan Bone
CLASS OF 1989
FROM ST. SIMONS ISLAND, GA
KAPPA KAPPA GAMMA

Athens holds a big piece of my heart for many reasons! Athens is home to some of my greatest memories with dear friends, my Kappa sisters, and my husband Alan, who was a Kappa Sigma. I have several favorite concerts that are worthy of mentioning: The White Animals on the SAE Lawn, Allgood Music Company at the Georgia Theatre, Blues Traveler and Panic at Super Jam, but by far the best show I have ever seen in Athens was Panic in the Streets! It was a free show and crazy good!

---
Josephine Woody
CLASS OF 2004
FROM ATLANTA, GA.

Being from Atlanta, I chose UGA for several reasons but one of the biggest was for the music scene and the Georgia Theatre was and is a pillar of that scene. I've spent many nights there from as early as my freshman year in 2000 to this past fall. New Years Eve with String Cheese Incident, Sound Tribe Sector Nine played once a year at the least and I was always there stage right where the only air vent existed, Subconscious, the legendary J.J. Cale, BECK, The Avett Brothers, and all the shows in-between numbering at least 100 over my five years in Athens. A coming of age for the music lover set free of high school rules. Then the Theatre burnt down in 2009. One of those moments that I remember where I was when my boyfriend at the time called me. I had graduated and been away from Athens for some time, but the Theatre was part of my story. After the rebuild, the Georgia Theatre was more beautiful than you could imagine. My first show after the rebuild was one of my all-time favorite artists, Conor Oberst (Bright Eyes), and then following that, some rather memorable shows with My Morning Jacket and Widespread Panic. And I still get to return to the same place in a more mature and polished form (both me and the room). The Georgia Theatre is timeless — we've grown together and has a place in my heart forever.

---
Pate Hardison
SENIOR AT UGA, GRADUATING MAY 2018
FROM ATLANTA, GA.
KAPPA KAPPA GAMMA

My favorite memory at Georgia Theatre would have to be going to see Third Eye Blind in April of 2016 or Mac Demarco in September of 2017. Third Eye Blind was special just because they hadn't toured in so long and we were so lucky to get to see them in Athens. Mac Demarco was very eventful because he jumped into the crowd and then proceeded to climb up the beam to the second story. He climbed up exactly where I was standing and then jumped from there back into the crowd. They nearly caught him, but they all ended up falling over (no one was hurt thank God)!