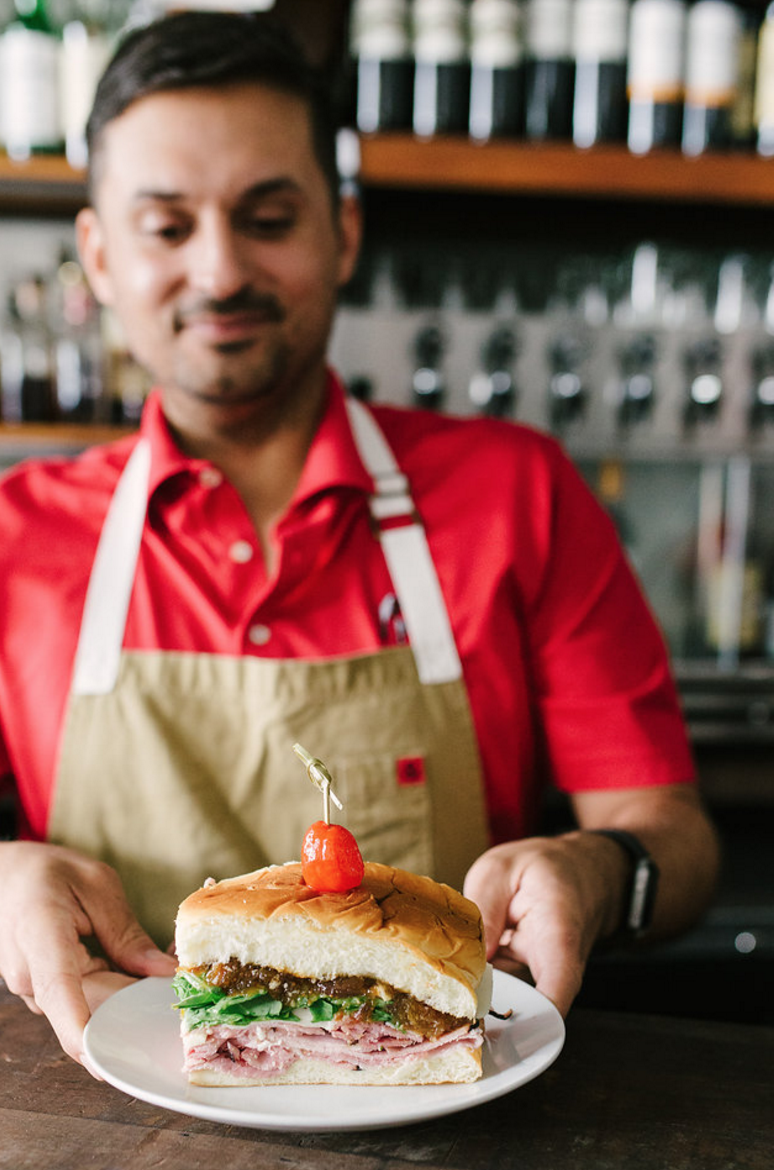 University of Georgia alumnus and Athens Chef, Peter Dale, of The National, Seabear Oyster Bar and Condor Chocolates shares some easy tailgating ideas.
Photos by Danielle Hulsey
Party Hummus
We've all had hummus, but hummus dressed up with lots of toppings makes for a great party snack. Use your imagination or use these ingredients perfect for a ball game.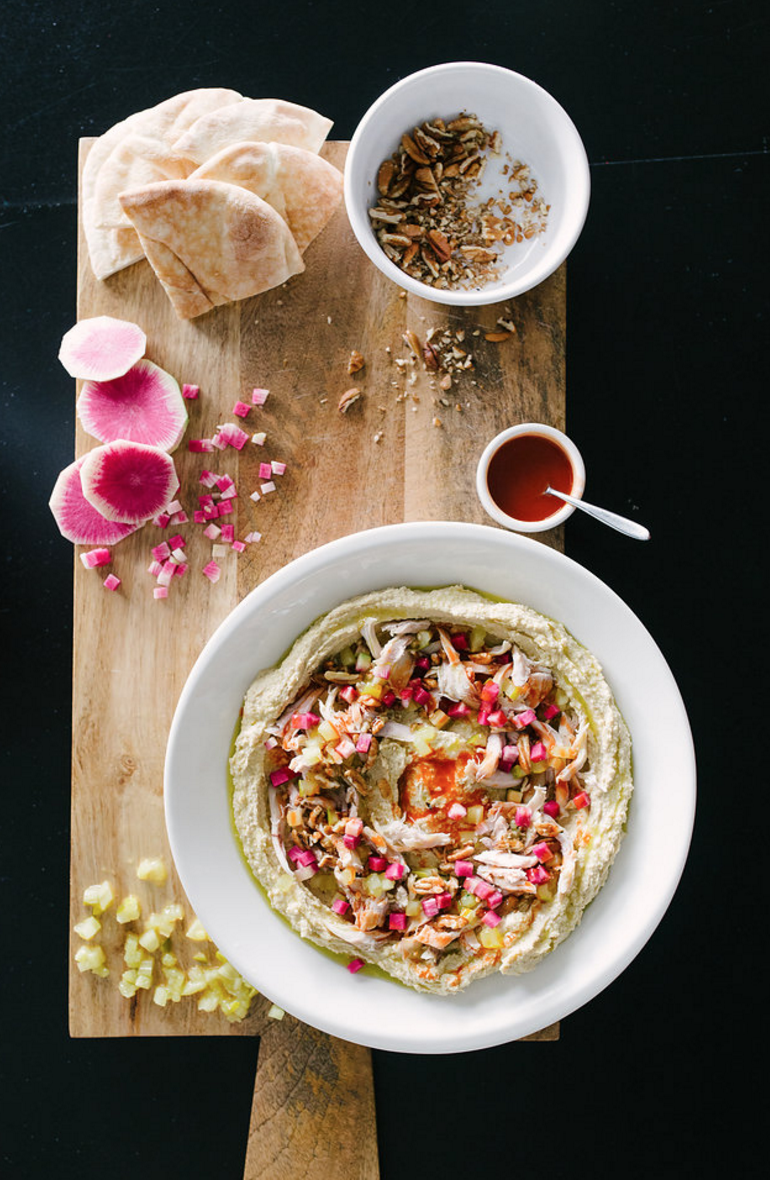 20 oz hummus
1 cup shredded chicken (a rotisserie chicken works great here)
1/4 cup dill pickle, diced
1/4 cup pecan pieces
1/4 cup radish, diced
1 oz your favorite hot sauce
pita chips

1. Spread hummus into a large, wide serving dish
2. Top the hummus with chicken, pickle, pecan and radish
3. Spoon hot sauce over the top, use more if you like spice
4. Serve right away with pita chips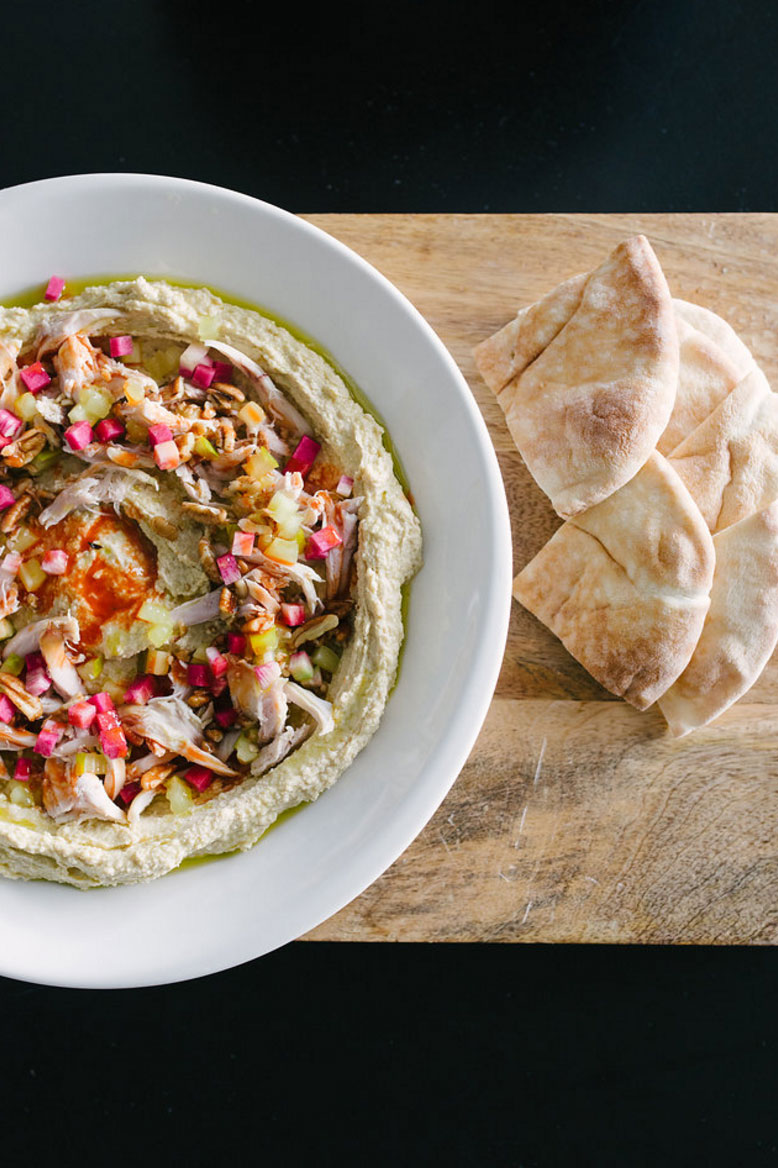 ---
Ham, Cheese & Fig Sandwiches
This sandwich is great to take on the road. Travel with the entire loaf intact and slice into individual sandwiches once you arrive at the tailgate.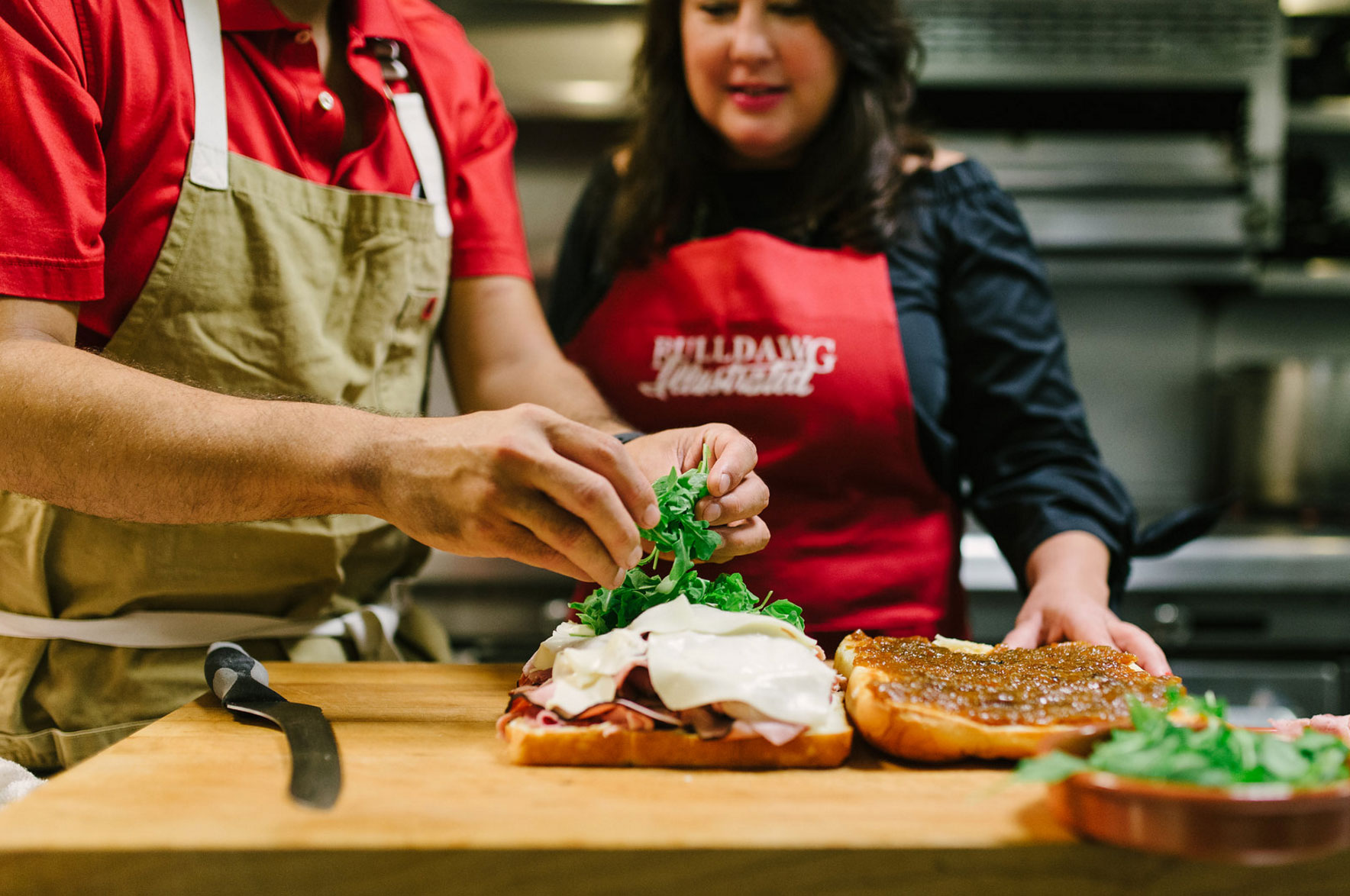 makes six sandwiches
1 package Kings Hawaiian Mini Sub Rolls 6-pack
1/2 cup Duke's mayonnaise
1 cup fig jam (alternatively use apple butter)
1 lb Black Forest ham, thinly sliced or shaved
12 slices fontina cheese (alternatively use provolone or swiss cheese)
2 cup arugula leaves
6 bamboo skewers
optional garnish: peppadew peppers or cornichon pickles on the bamboo skewers

1. Slice the entire loaf horizontally into 2 pieces, a top and bottom
2. Spread mayonnaise on top of the bottom layer, spread the fig jam on the underside of the top layer
3. Place ham over the mayonnaise on bottom layer, then top with cheese and arugula
4. Place top layer over the bottom layer, skewer each sandwich to secure contents during transport
5. When you arrive at your tailgate or party, carefully cut the loaf into six individual sandwiches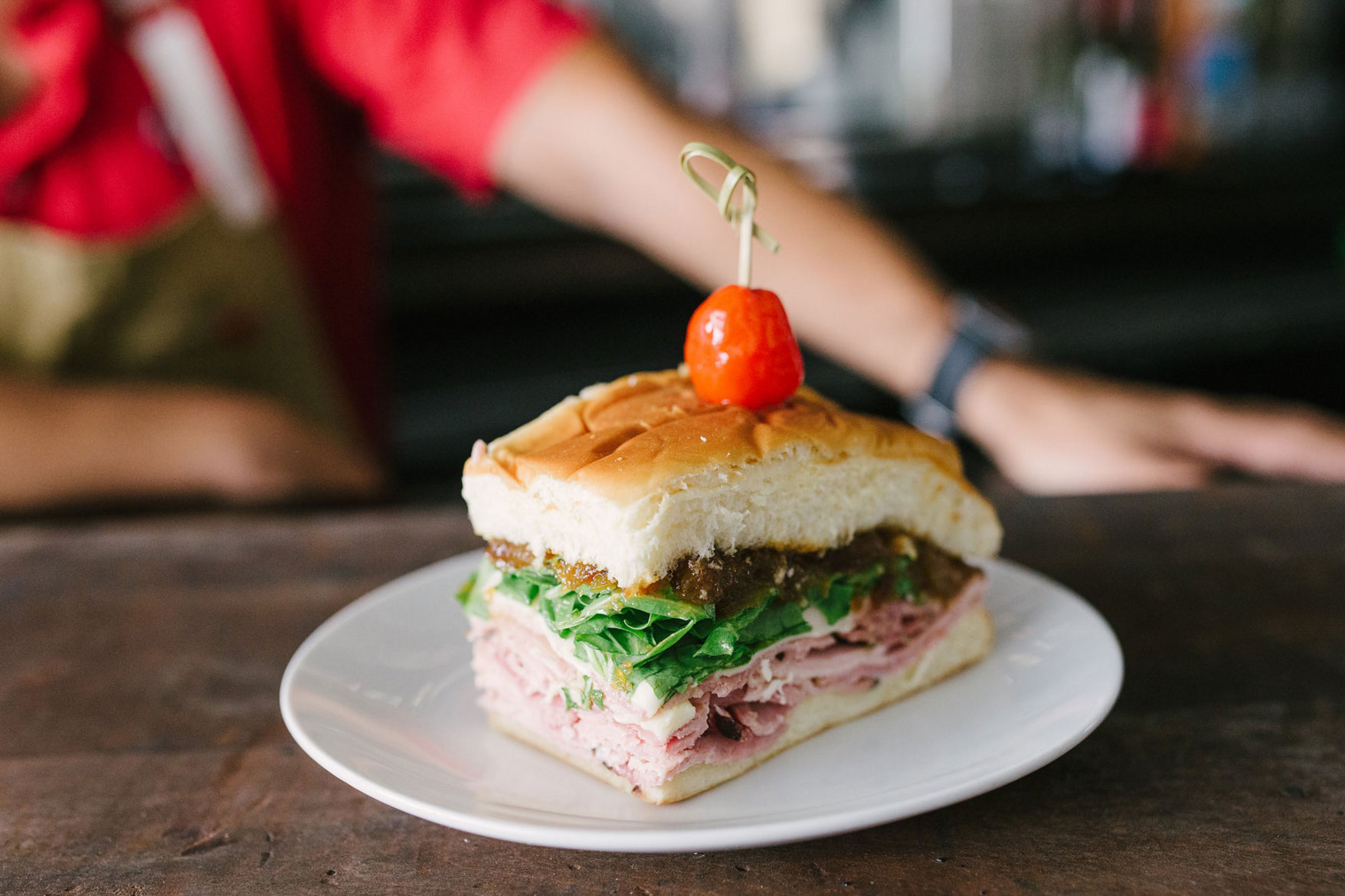 ---
Bloody Bulldog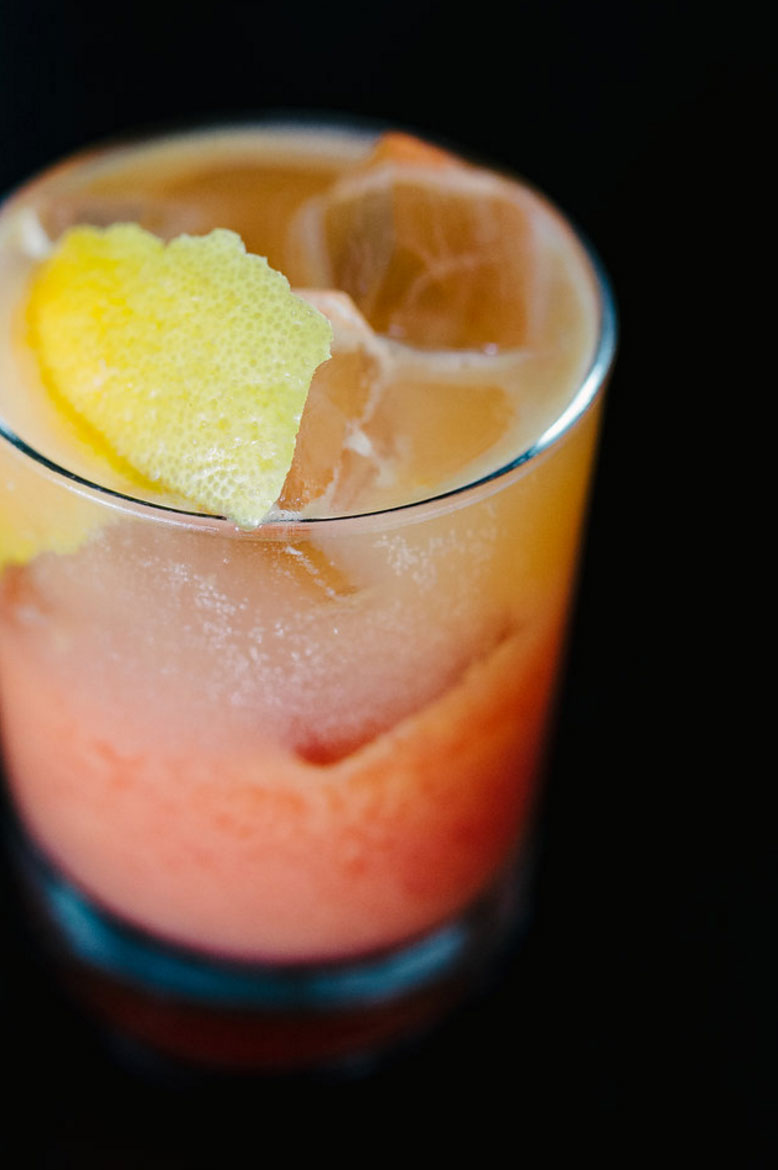 2 oz Bulldog Gin
Juice of one blood orange
1/2 oz simple syrup
2 dashes angostura bitters
club soda

Shake the gin, blood orange juice, simple syrup and bitter in a cocktail shaker. Pour into a rocks glass and top with club soda.

---

Food & Libations in Athens:

5&10
Allgood Lounge
Athens Bagel Company
Barberitos
Big City Bread Café
Blind Pig Tavern
Condor Chocolates
DePalma's Italian Cafe
Em's Kitchen
Epting Events
Five Restaurant & Bar
George's Low Country
Grindhouse Killer Burgers
Heirloom Café
Hilltop Grille
home.made
Journey Juice
kumquat mae Bakery/Cafe
La Dolce Vita
Last Resort Grill
LRG Provisions
Mama's Boy
Marker 7 Coastal Grill
Marti's at Midday
Mayflower Restaurant
Porterhouse Grill
Pulaski Height's BBQ
Seabear Oyster Bar
South Kitchen + Bar
Ted's Most Best
The Grill
The Grit
The National
The Pine
The Place
The Rook & Pawn
The Royal Peasant
The World Famous
Tlaloc el Mexicano
Viva! Argentine Cuisine
Your Pie