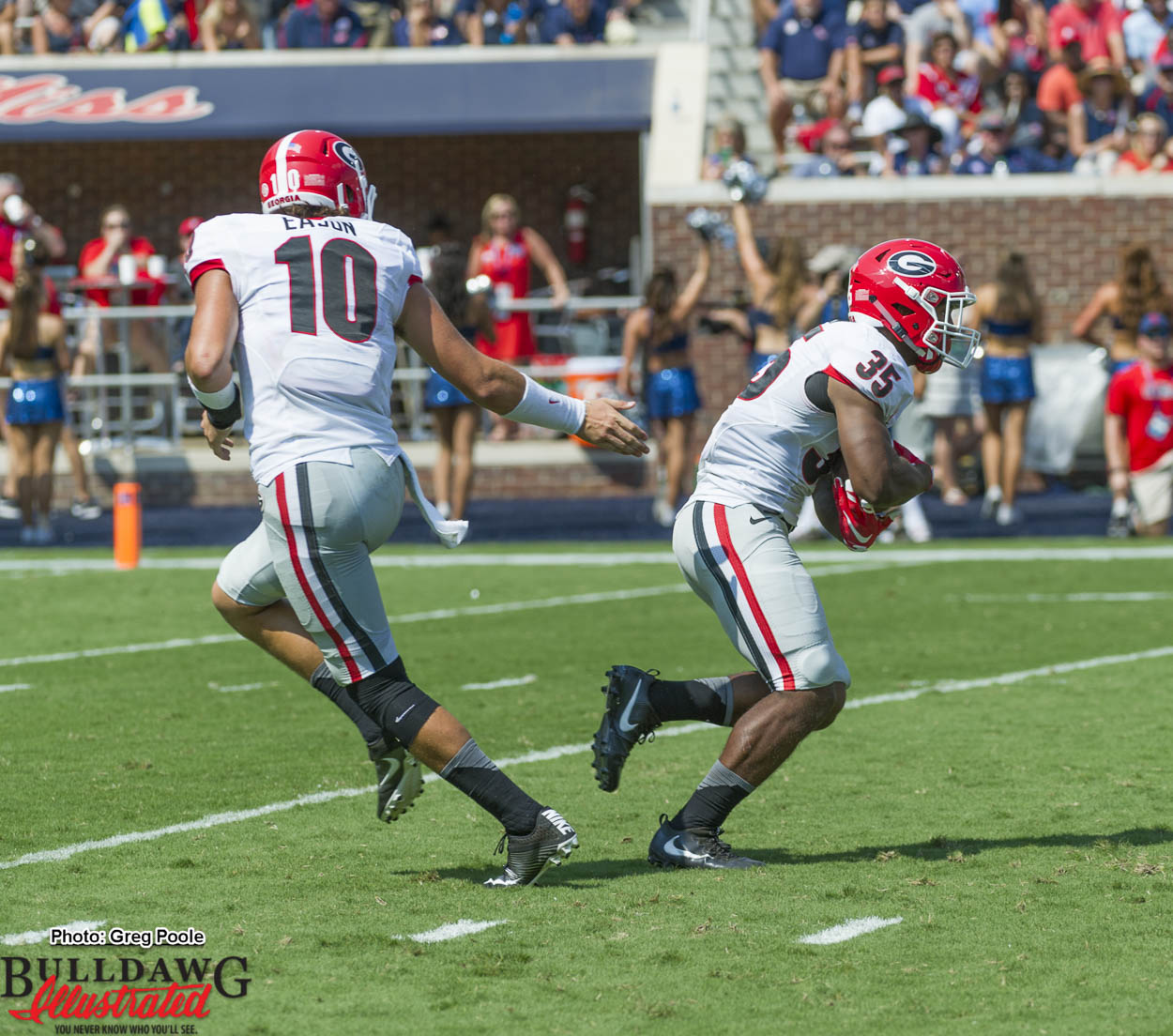 Kevin Butler, former University of Georgia legendary kicker and a member of the Georgia radio broadcast team, will each week during the 2016 football season select his offensive, defensive and special teams players of the week for Bulldawg Illustrated. Here are Butler's selections and reasons why for the Bulldogs' 45-14 loss to Ole Miss on Saturday.
COMPILED BY MURRAY POOLE
OFFENSE:
Freshman tailback Brian Herrien, who after Nick Chubb sat out the second half with a sprained ankle, led the Bulldogs in rushing with 78 yards on 11 carries. Herrien tallied both of Georgia's touchdowns on runs of 10 and 1 yards.
"The freshman led the Bulldogs on a day that most Bulldogs would like to forget," said Butler. "Eleven carries for 78 yards was the lone highlight in what could be the biggest smack down UGA has had in many outings. While Nick Chubb was sidelined with an ankle injury, Brian took advantage of his opportunity to show the Bulldog Nation he is ready to contribute. The hard running back will now get his chance to help our offense establish a ground game against a very good Tennessee team. We need him badly."
DEFENSE:
With the Bulldogs trailing by 31-0 at the half and then by 45-0 before Herrien tallied his two touchdowns, there is no defensive player of the week for Georgia this week.
"When it was 45-0 I decided that this category will be void this week," said Butler. "Hopefully I will be able to name two against Tennessee."
SPECIAL TEAMS:
Junior tailback Sony Michel, who had the Bulldogs' longest reception of the day, a 29-yard catch and run on a fake punt pass by Georgia kicker Marshall Long. Michel also rushed for 66 yards on 11 carries.
"This phase has been inconsistent at best this year," said Butler. "The field goal woes continued and the punting was a story of two halves … first half bad, second half great. But the player of the game on special teams goes to Sony Michel. One of the best plays of the day came from the arm of Marshall Long, not Jacob Eason, and that pass landed in the hands of Sony. He almost took it to the house but unfortunately, after a great play from Sony, we drop a pass in the end zone. Ouch! It's great to have Sony contributing in two phases of the game, offense and the special teams."