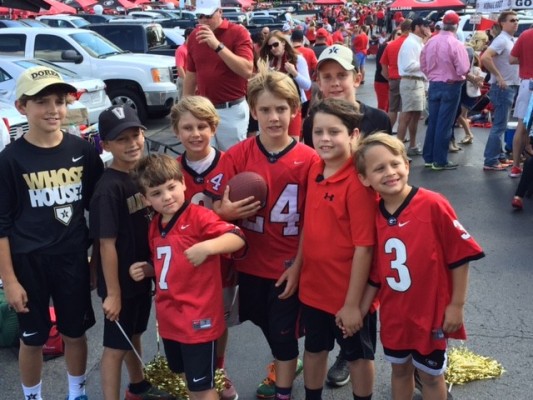 Lewis, Jackson and Henry Scruggs, Jack Abernathy, Wats Dorris, John Dorris, Andrew Smith and Campbell Smith
HONKY TONK & TAILGATE SCENE
Saw so many fun fans in Nashville – St. Simons friends like the Sumerfords, a great crew with the Damatos from Fitzgerald, the Wests from Sandersville had a tailgate near us and the Wolfes made the trip from Charlotte. Athens was representing with lots of young dawg fans in town like Thompson Sewell, Jack Abernathy, Hammy Culpepper, Henry Scruggs, the Rutherford (Mike) triplets, the Dorris boys, the Lefkowitz boys, the Smith (Geoff) boys, the Stevens (Cary) boys and some even made it on tv with their parking lot football game … stars in the making!
Enjoy all of the photo pages 12, 13, 15, 16, 17.
NEXT UP GAMECOCKS
Super excited for South Carolina coming to town.  We have a packed agenda starting Thursday evening with a pop up shop at BMA at Home with our Southern C Summit friend from Charleston, Eclectic.  Friday, I will see more Southern C peeps from South Carolina when Theodosia jewelry and Pout! visit Heery's Clothes Closet.  We are looking forward to several events on Friday evening including the UGA President's Club Reception, a pre-game social to benefit the inner city work of Athens Land Trust, the annual welcome reception for Holiday Inn's returning football regulars and a party at Apryl and Stan Stanfill's farm (yep, the legendary Bill Stanfill's son).  Anticipate several great photo galleries next week.  It's a big weekend!  Like Dantzler notes in his column on page 5, Spurrier has our number and this is a must win game.
HAMMY'S ONE ON ONE WITH HENRY
Hamilton Culpepper interviewed Henry Shepherd to place a spotlight on Childhood Cancer Awareness month and honor this young man who is battling cancer with an infectious smile and Bulldog determination.  Keep an eye out for Henry at half time on the field this Saturday and enjoy the interview here.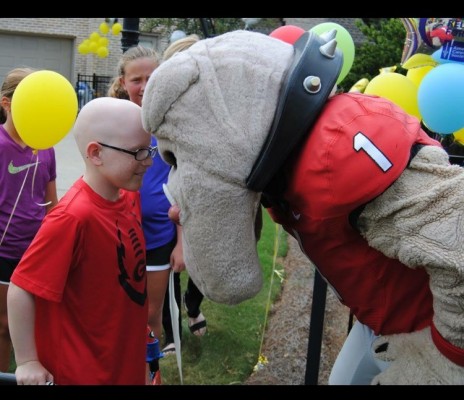 Go Dawgs – Sic'Em!  Woof, Woof.