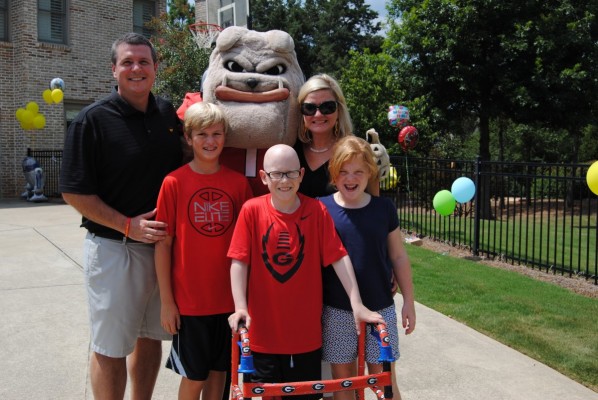 Hairy Dawg with the Shepherds – Scott and Carrie with John, Henry and Liza
By Hamilton Culpepper
Henry Shepherd is a fourth grader at Malcolm Bridge Elementary. He loves the Dawgs!   Last November after the Georgia – Georgia Tech game he could barely walk. A few days later he had an X-ray done. He was diagnosed Osteosarcoma, this is a bone cancer. He was nine when he was diagnosed in December of 2014.
Henry has been going through many things like a biopsy, MRI bone scan, CT scan, port and gastrostomy, chemo.  He also went through surgery and this is where I start.
First, let me say you have to meet this kid. He is a BOSS. Anyways, as I was saying, I was very lucky to sit down with him and ask a few questions about the Dawgs and himself.

What was the scariest part of cancer?
Surgery. I went through surgery on March 5, 2015.
This surgery was to remove the tumor in his right femur. Then he had to have another surgery.  This surgery is called Rotationplasty. After they removed the tumor from his femur they attached the remaining part of his tibia to his ankle with a 180 degree rotation back to where his knee was, which allowed his ankle to function as his knee.
What are some interesting things about you?
I love legos and the Dawgs. I also have an older brother and a twin sister. I love to be funny.
When do you get your prosthetic?
I'm trying it on soon for the first time.
Wow, that's so cool!!
Also let me let you in on some really cool info. Henry is being honored at the South Carolina game this weekend. That's kind of big deal! Now I'm going to tell you some of his thoughts about the Dawgs.
I heard you just went back to school is that true?
Yes, I've been out of school close to a year and I just went back.
What is your favorite game the Dawgs play?
I can't wait for the South Carolina game!
Why is that Henry?
I'm being honored on the field! And I get to raise awareness for childhood cancer.
How many games do you get to go to this year?
Three.
What do you think the Dawgs record is going to be?
I think they will be 12-0 and number 1!
You know I really wish there was an audio button in the paper so y'all could hear Henry. His answers were so  enthusiastic and funny.
The question of the hour is … Who is your favorite player and why?
That would be Nick Chubb. I like him because he is really good at scoring touchdowns.
What is your favorite Dawg play of all time?
Anything to do with Herschel Walker!
How do you think the defense will be? Do you think they will get a lot of interceptions?
YEEEEEES!
I wish you could have seen this hero's face when I asked him this question.
I heard you are getting a dog so why is that?
I was doing chemotherapy and there were these dogs that came in and sat with me in the hospital. I really liked this so I wanted one.
What is the dog's name?
We haven't gotten it yet but his name will be Hank. That is short for my name.
Henry is a cool Dawg I really wish y'all could meet him. He will be on the field during the South Carolina game, so if you get the chance to go, please keep a look out for him at halftime!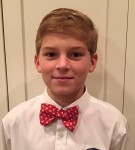 Hamilton Culpepper is an 8th grader at Prince Avenue. He is a diehard Georgia fan and an aspiring sports announcer/writer.