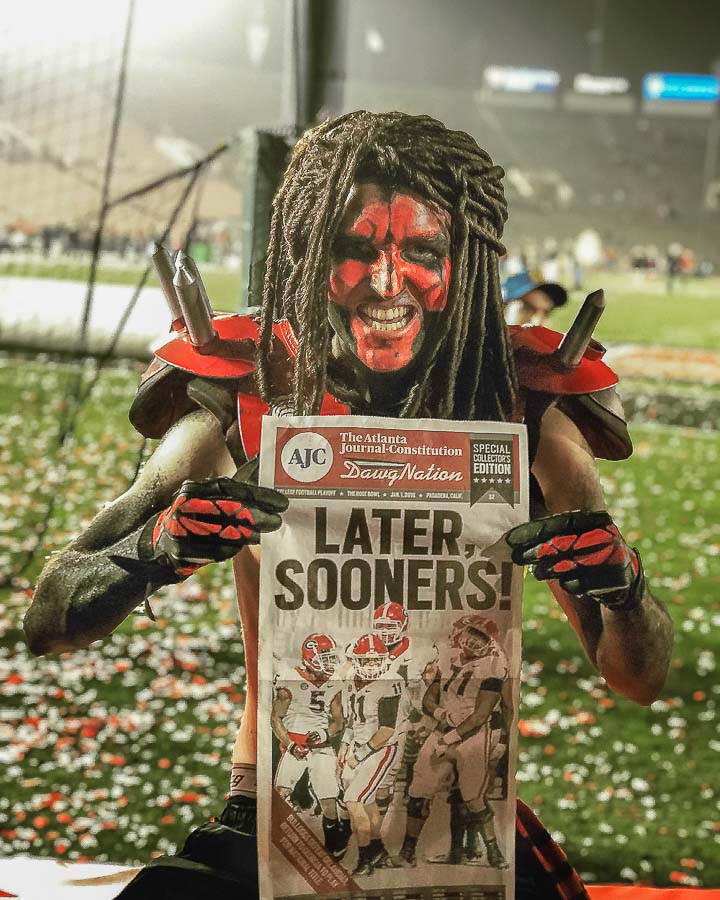 Han Vance of BIG HAIRY BLAWG and Houndspeak with his Bulldawg Illustrated debut of his People of the Program series, where he investigates the "Georgia" lives of a variety of Dawgs-affiliated folks. {Interviews condensed and edited.}
---
Han Vance (for BI): Showed your photo to all at dinner at Taco Cowboy in Virginia Highland area of Atlanta – they were freaking out.
Doug Battle: Haha I love it. I love the Dawgnation, man. It's awesome how that team brings us all together.
BI: We're the best.
Battle: Saw it this year like no other. Only true road atmospheres were UT and AU. Every other game, UGA legitimately had at least half the crowd. It's special to be a part of a senior class that special. I remember seeing Nick Chubb my first day on campus. I was so excited to see what he was going to do at UGA. Watching how he and the rest of that senior class had such a magical season…it felt like we were all a part of it because we had been pulling for them the whole way.
BI: Outside 1980, the single most memorable year in Georgia history.
Battle: We were there when the Dawgs fell to Tech at home twice. We waited in the cold rain all day only to see our Dawgs fall 38-10 to Alabama. We were there when Jacob Eason found Riley Ridley in the end zone, only to see Josh Dobbs complete a Hail Mary. This group of seniors saw so much disappointment early in their careers. It felt like redemption for all of us. When we went into Notre Dame with a true freshman quarterback, painted the stadium red and black, and won an absolute thriller. I was there at that [bad] game in Jordan Hare, and I took a lot of trash talk from lots of Auburn fans after that game. What happened between Georgia and Auburn this year was so storybook for me. As I waited in the line to get into the national championship game, we had to make room for this golf cart to come by, I recognized Coach Malzahn and said 'Hey Gus, you beat the Dawg crap out of 'em didn't you?' and all the Dawgs fans nearby went crazy.
BI: Love it!
Battle: Never had the opportunity to go to every game until this year; the Dawgs went 13-2, for any superstitious fans out there with extra tickets.
BI: Talk about your music a little bit, please.
Battle: First off, I generally go by Doug Battle. Nilla Battle is the rap name. I was excited to potentially work with Sony [Michel] one day. When he announced that he was coming back for his senior year, I had to reach out. Sony ended up at my house less than twenty-four hours later, recording to my beat for 'Dawg Til I Die.'
BI: Right. Under his rap name, Flyguy2stackz. My daughter and I are big fans.
Battle: Sony has a very professional demeanor. At first he answered, 'Let's work.'
BI: How did you get involved in Spike Squad?
Battle: Travis Fetchko is the founder and Katelyn Caudill was the president my freshman year, one of the all-time greats. I'm from Birmingham but never considered an in-state school, since my mom went to Georgia and I grew up a fan. Watching Georgia on TV, I saw Spike Squad and wanted to be one of those guys. I'm friends with the Georgia Joker, Pierce Wallace. We had lunch and then I interviewed and got in.
BI: Must be a lot of work.
Battle: I painted every year except for your senior year they want you to get more of the fan and normal student experience and you let the young guys get a shot. Though, I went to every single game my senior year.
BI: What resonates most in your memory in general?
Battle: The really, really high highs and low lows. Miserable experience in Jacksonville in 2014. Tech home losses. Losing to Vanderbilt.
BI: Oh, I was there for that Homecoming.
Battle: It's really amazing that was the season that came before the run for the national championship. Traveling for the Notre Dame game we got stuck by weather in Chicago and reenacted Ferris Bueller's Day Off. After the Miss State game, my friends and I walked past a car and they were playing my song. I met the young junior writer for Bulldawg illustrated before I left the stadium that game, and I ended up getting on the cover for the upcoming Tennessee game issue.
BI: Sure, Hamilton Culpepper. Talk about when we hung out in Pasadena.
Battle: You found me out there before the game, which was so cool. I suddenly hear this loud, 'Hey Nilla.' As you know, Taco Bell sent me out there. I actually missed the deadline for application to their Live Mas contest, but my tweet got so much attention that they ended up reaching out to me and sending me to the Rose Bowl. Maybe the greatest bowl game ever, so I'm grateful to them and all the fans that supported me getting there. Then, they sent me to the national championship in Atlanta, which didn't turn out like we wanted. But, it was a wild ride.