The Proust Questionnaire in Vanity Fair has been a favorite read of mine for decades.  The Proust Q&A has its origins in a parlor game popularized (though not devised) by Marcel Proust, the French essayist and novelist, who believed that, in answering these questions, an individual reveals his or her true nature. 
Since Bulldawg Illustrated evolved into magazine format, I decided to explore the nature of some fellow University alumni with my own Proust Q&A.  Enjoy my visit with Bulldawg Illustrated's first intern (circa 2007), Ryan Scates.

Name: Ryan Scates
Family: Kiel Scates (Wife) and Col. Waffles Heuschrecke Scates (Dog Overlord-Dictator)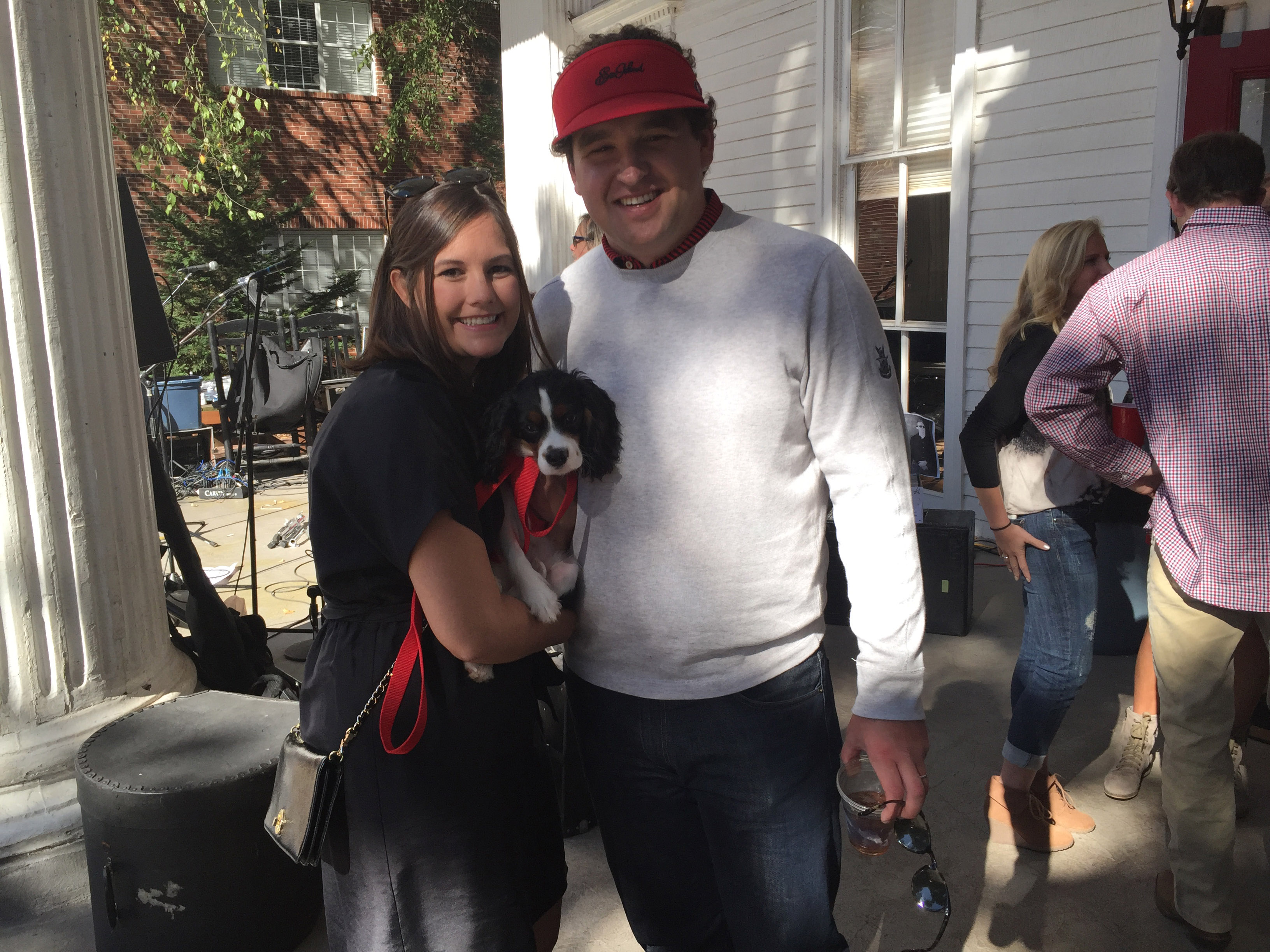 Hometown:
Kennesaw, Georgia
Current Town:
Atlanta, Georgia
What Years at UGA:
2006 – 2010 Undergrad; 2010 – 2013 Law
School/Degree:
Political Science and Law
Profession:
Corporate Attorney
Accolades:
Voted Second Most-Likely to Succeed in High School
What life lessons did you learn while at UGA?
The harder we work, the luckier we get!
What professor did you most admire (and why)?
From Undergrad: Dr. Charles Bullock, Political Science: He is the authority on Southern Politics. From Atlanta to Alma to Washington D.C., alums of Bullock classes wear their association with him like a badge of honor. All of that and he is the consummate gentleman and mentor.
From Law School: Dean Bo Rutledge, Law: I may have dropped his class out of fear of failing, but nevertheless he has been a great mentor to me He also has elevated the status of the law school a great deal in a very short amount of time as dean.
What do you consider your greatest achievement?
One time I witnessed Jimmy Carter tell my wife that she is "very pretty".
Which historical figure do you most identify with?
Jimmy Carter, because I also believe that my wife is "very pretty"!
Who are your heroes in real life?
I have no connection to these people, but I have always been inspired by some of the men from Georgia who have dared to dream big, and in doing so, made Georgia a better place to live. Some big names that come to mind are:
• Robert Woodruff, who built a sugar-water company into the world's most powerful brand, and then became the infamous "Mr. Anonymous" who helped unite and lead Atlanta forward through events like the Orly Plane Crash and the Civil Rights Movement.
• Bobby Jones, who may have gone to Tech, but made Georgia the epicenter of American Golf while providing the ideal for what sportsmanship should be.
• Billy Payne, who dared to push Atlanta onto the international stage by being brazen enough to put together a bid for the 1996 Olympic Games.
Try to imagine how different a place Atlanta, if not the whole Southeast, would be if these men never existed. It's not that hard…It's actually called Birmingham.
Quotes to live by:
"How much lies in Laughter: the cipher-key, wherewith we decipher the whole man! The man who cannot laugh is not only fit for treasons, stratagems, and spoils; but his whole life is already a treason and a stratagem." – Sir Thomas Carlyle
"It's easy to grin / When your ship comes in / And you've got the stock market beat / But a man worthwhile / is the man who can smile / While his shorts are too tight in the seat. Spalding, get your foot off the boat!" – Judge Smails, as portrayed by Ted Knight in Caddyshack
What is your idea of perfect happiness?
A morning round of golf, followed by a tailgate lunch with friends and family, then a late afternoon kickoff where the Dawgs run all over an old-line SEC football program. Let's also throw in a few cigars and a driver to get us back to Atlanta and Col. Waffles.
What do you consider your greatest achievement?
As an attorney, I am undefeated and untied in the courtroom. By a similar fashion, I have never lost a game as the starting Quarterback for the Georgia Bulldogs.
What is your most marked characteristic?
I tend to laugh too loud in movie theaters, which apparently embarrasses people.
What do you most value in your friends?
A good friend must be able to do two out of three: make a good cocktail, tell a good joke, or take a good joke. A great friend can do all three with ease, and then pick up the tab when it's all over!
If you could change one thing about yourself, what would it be?
I would be Jordan Speith.
Who are your favorite writers (and why)?
I'll give you three formats: blogs, modern american lit, and music.
• Spencer Hall, blogger for "Every Day Should Be Saturday": The last 20 years have seen college football transform from a regional-driven, organically-grown, cultural niche into a nationwide, mass-produced money-making machine.
No writer does a better job hilariously weaving those old-time eccentricities with the new-school corporate sanitization of college football like Spencer and his team at EDSBS. If you love college football but don't read his site, you are missing out.
• Tom Wolfe: While his novels turn times and places into something of a caricature, it does not mean they aren't fun to read. You want to get in the mind of a college kid? Read I Am Charlotte Simmons. A Wall Street hotshot? Bonfire of the Vanities. An anxious but proud Atlanta developer? A Man in Full.
Sure the situations and attitudes are exaggerated … but there is a lot of truth in those stereotypes, and Wolfe does a great job bringing those to life with his characters.
• Jim James, My Morning Jacket: Bar-none, my favorite band, thanks in no small part to some truth-bomb lines hidden in their hazy jams. Here is a track list to throw in Spotify to get you going:
Steam Engine
Smokin from Shootin
Touch Me Part II
Anytime
---
FOR RECENT POSTS BY CHERI LEAVY – click here