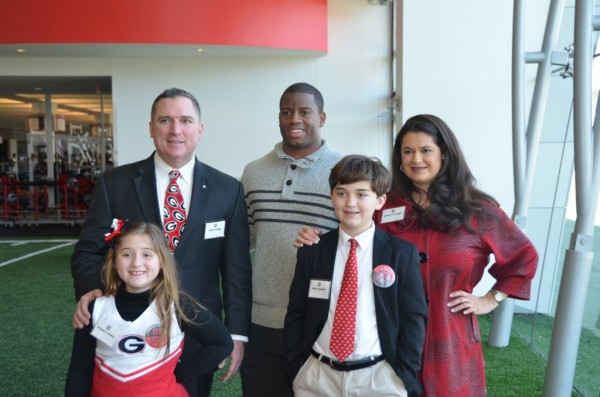 The University of Georgia Athletic Association hosted the 2015 Scholarship Endowment Donor Appreciation Brunch Saturday, February 7 at the Butts-Mehre Heritage Hall in Athens.  Lady Dawgs head coach Andy Landers shared a touching tribute to Georgia's beloved Bulldog supporter Leon Farmer, Jr.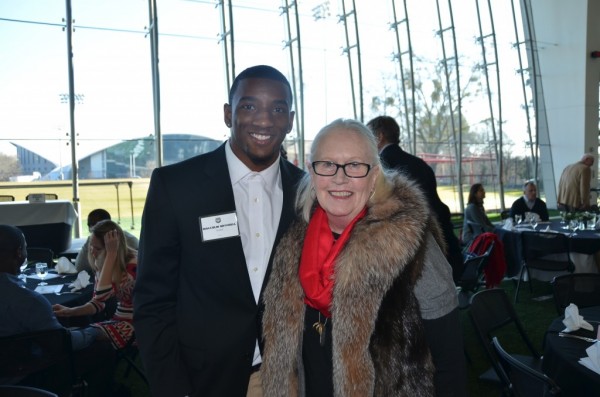 Football player Malcolm Mitchell added to Landers' sentiment and invited all 16 of the Farmer family's scholarship athletes to the stage to show their appreciation.   The group gathered reminded all in attendance of the impact Vickie and Leon Farmer,Jr. as well as Rebecca and Leon Farmer, III have on UGA Athletics.  It was an incredible representation of young men and women from every sport.  Big Leon will be missed greatly but his legacy lives on and his family is there to continue sharing his passion for the Bulldogs.  His grandchildren Beau and Brooke beamed with pride as they posed for photos with their scholarship football player Nick Chubb.  Georgia is forever grateful to the support of the Farmers.
The tribute was the perfect kick-off to a lovely brunch with remarks from student-athletes about how the investment endowment donors make creates the opportunity for them to pursue academic and athletic excellence while at the University of Georgia.
The Leavy Family and The Brunswick News Publishing Co. Football Scholarship had the privilege to endow Chris Conley.  It has been an honor to watch this young man grow during his time at the University.  So many of these student-athletes truly Commit to the G and Conley is one of them that has done so both academically and athletically.  The commitment is impressive of these young men and women and this is certainly one of those days that I am reminded why it is so great be a Georgia Bulldog!
[foogallery id="51114″]