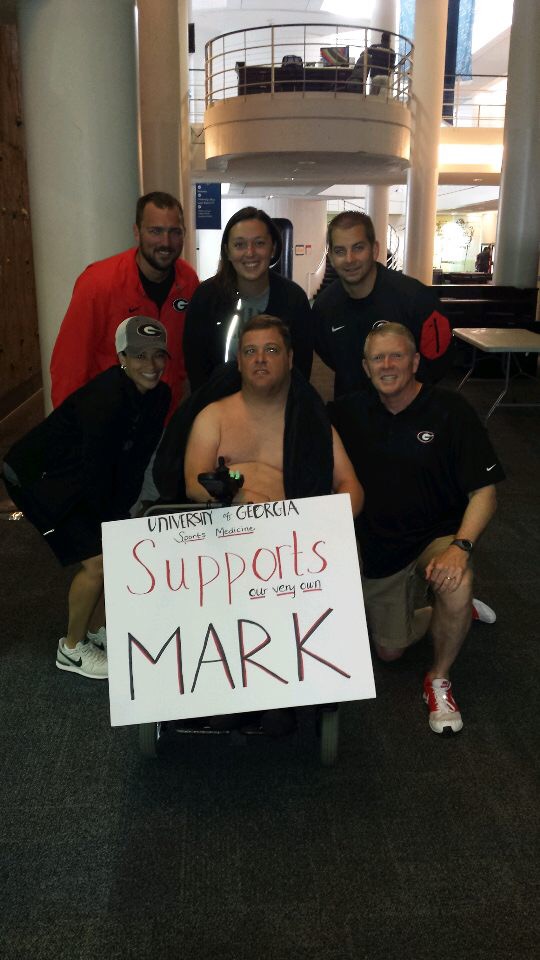 Mark Christensen, a rehabilitation assistant with Georgia Athletics, placed third in the 25-meter assisted swim and fourth in the 10-meter assisted swim at the Georgia Special Olympics on Sunday.
Christensen has been a familiar face in the training room since 2000. In his job as rehab assistant, Christensen greets, motivates and encourages UGA athletes to maintain positive attitudes as well as keeps track of exercise repetitions for rehabilitating and conditioning athletes.
"I'm very proud of Mark and his accomplishments," Ron Courson, Senior Associate Athletic Director Sports Medicine, said. "In sports, student-athletes have to learn how to handle adversity when it strikes, whether it be an unexpected turn of events, a poor performance, injury or illness. Mark has dealt with significant adversity in his life and handles it so well. With his work in athletics, he has the opportunity to help our student-athletes through his own experiences. Mark has an abundant spirit and a great passion for the University of Georgia and our athletic programs. He is a great role model for our athletic staff and student-athletes. He represents us well."
The Commerce, Georgia native was born with cerebral palsy. He is a quadriplegic confined to a wheelchair and limited to only partial use of his right hand.
Christensen started swimming about two years ago and this was his first time competing in the Georgia Special Olympics.
"Swimming has given him a new outlook and he feels healthier because of it," said Christensen's father, Paul. "We put a pool in at our house this year so that he can continue swimming. It gives him a lot of pride and he does a lot of training at home. He's been trying to keep himself physically fit and as a result he's lost a lot of weight. It has helped him build and establish his stamina. He's eager to compete some more, but right now it's back to training."
"It's a win-win," said Courson. "It has been great for Mark to be here, but it's even better for us to have him here."
Paul Christensen add, "The University of Georgia has opened so many doors for him. He thoroughly loves working here."