[su_youtube_advanced url="https://www.youtube.com/embed/iExP5RAJS78″ autohide="no"] [su_spacer size="20″]
We are excited for the opportunity to help get the word out for one of our sponsors, Georgia Theatre Company. If you haven't visited the newly renovated Beechwood Cinemas in Athens, you should very soon. Last week, they hosted a group which included food and cocktails from the full service restaurant and bar.
Even though it was lunchtime, I pulled the trigger on a Honey Spiced Margarita. Bueno indeed! The drink was made with all fresh ingredients. And the same could be said for the order of fish tacos, which passed my very stringent Coastal requirement of rarely eating seafood inland.
Finally, the plush leather seats that recline are perfect for the folks who normally struggle to be  comfortable for a two hour movie.
Bulldog fans, I know what your number one viewing choice is, but at least I've given you an excellent option to occupy some time between now and August 29.
Additional story:Beechwood Cinemas adds restaurant and bar to movie going experience via Athens Banner Herald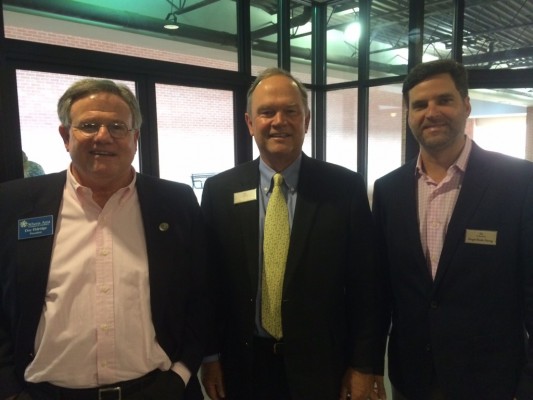 Doc Eldridge (Athens Chamber of Commerce, President/CEO), Bill Stembler (Georgia Theatre Company CEO)  and Bo Chambliss (Georgia Theatre Company (President)