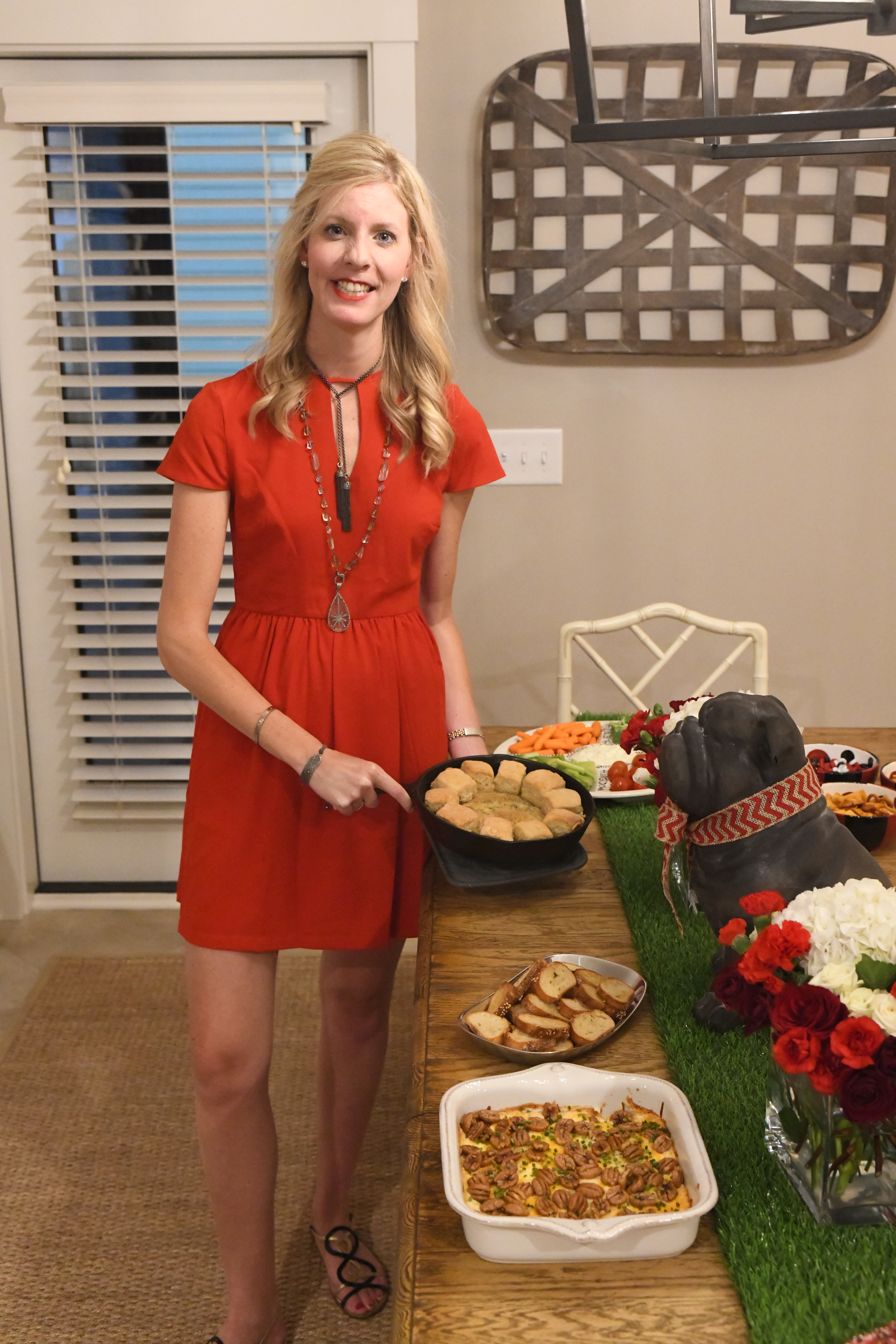 Every Bulldog belle knows hosting a proper Georgia tailgate party requires plenty of the following: fabulous food, great libations, team spirit and most important of all good company. We had all that in abundance when my book club recently gathered at the lovely Athens home of Sara Hughes.
Let us share some of Sara's offerings and our favorite recent books here for your inspiration.
Food Recs:
Chicken Salad and BBQ from GeorgiaBob's Barbecue Company in Warner Robins

Callie's Charleston Biscuits Cast Iron Spinach Artichoke Dip

Spicy Pecan Cheese Dip from

Southern Living's

September issue.

Smoky Snack Mix from

Southern Living's

September issue

Crudites and Ranch Dip

UGA Cupcakes from Rosanne Frazier of Warner Robins.

UGA Cookies from The Hayneville Hostess.
Book Recs:
We got on quite a WWII historical fiction journey and here are some of our shared favorites:
  

Lilac Girls

by Martha Hall Kelly,

All the Light We Cannot See

by Anthony Doerr,

We Were the Lucky Ones

by Georgia Hunter,

Beneath A Scarlet Sky

by Mark Sullivan,

The Alice Network

by Kate Quinn
Some of our recent favorites: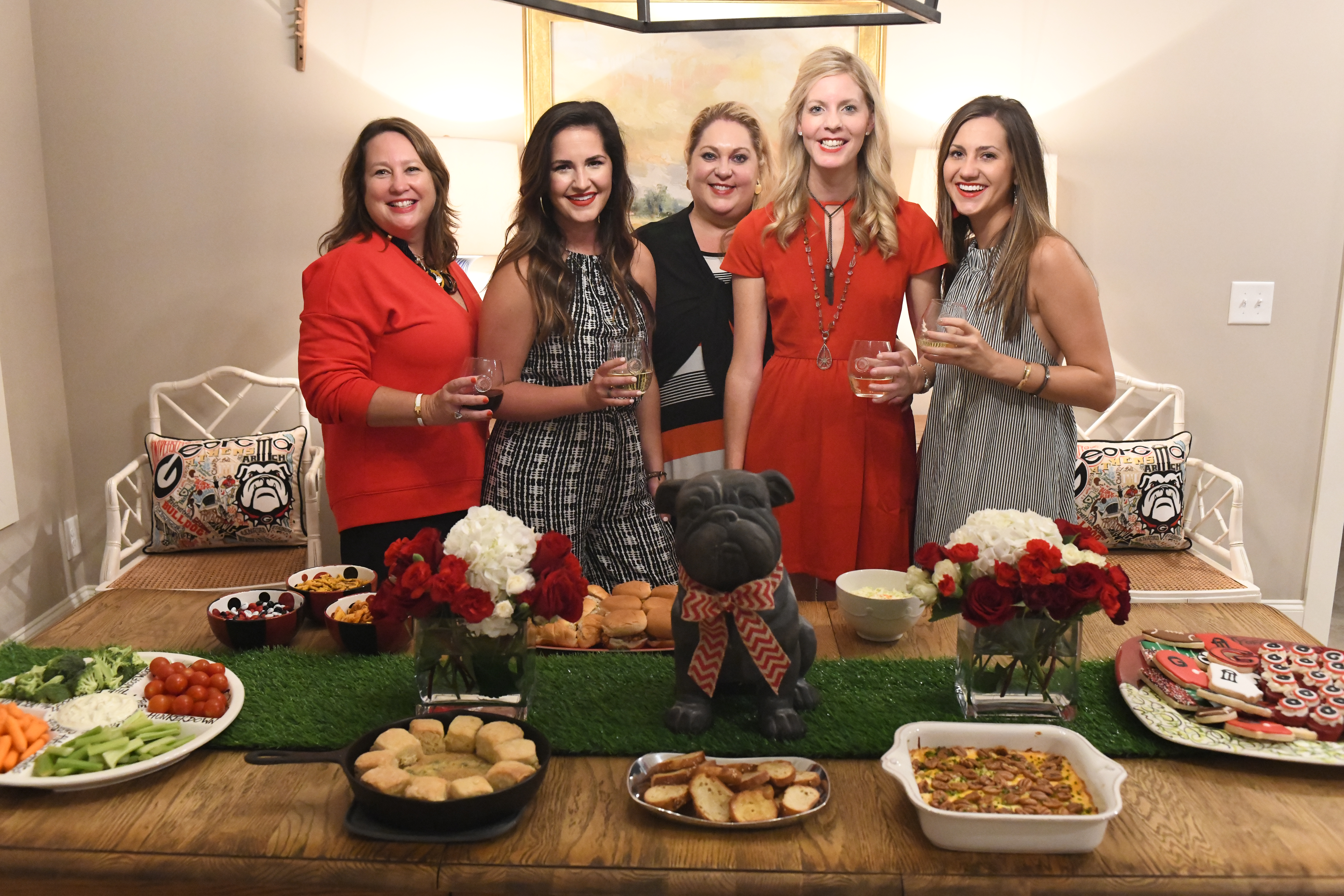 Cheri Leavy –

Whiskey in a Teacup

by Reese Witherspoon

Hannah Groseclose –

Rules of Civility

by Amor Towles

Apryl Hughes –

Prince of Tides

by Pat Conroy

Sara Hughes –

I Am Charlotte Simmons

by Tom Wolfe

Lindsay Lucas –

The Nightingale

by Kristin Hannah
Callie's Charleston Biscuits Cast Iron Spinach Artichoke Dip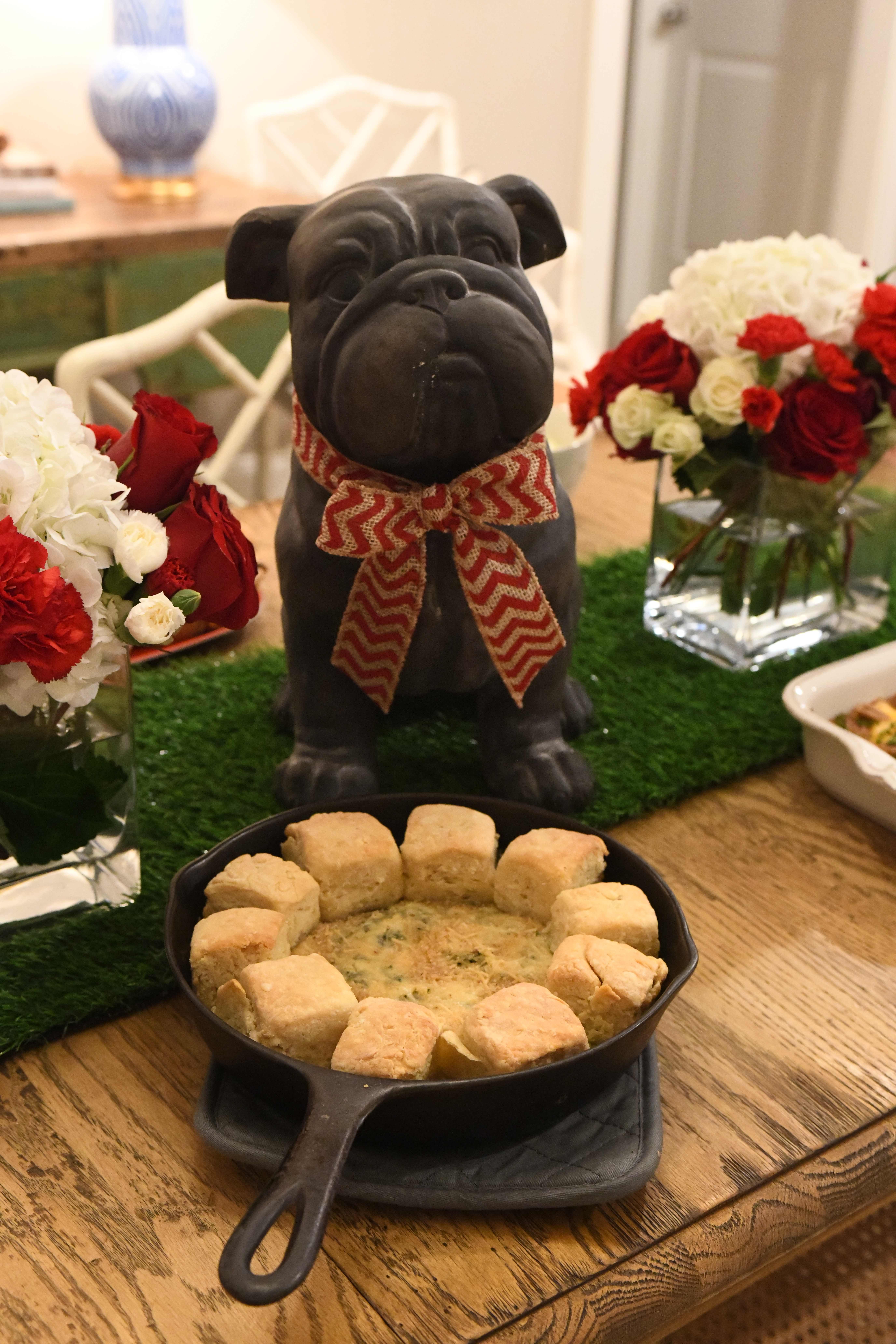 Ingredients:
1 pound (12 ounces) frozen spinach, thawed and squeezed dry.

2 cans artichoke hearts, drained and chopped

1 small onion, chopped

2 cloves garlic, minced

1 cup mayonnaise

1 block cream cheese, room temperature

1 cup shredded Parmesan, plus 2 tablespoons for topping

1 teaspoon crushed red pepper

Juice of half a lemon

¼ cup fresh parsley, chopped

10 to 12 Callie's Buttermilk Biscuits

3 tablespoons breadcrumbs
Instructions:
Preheat oven to 375. Using a stand mixer or handheld mixer add the cream cheese and beat until smooth; scraping down the sides. You can also mix by hand. Add in the spinach, artichokes, onion, garlic, mayonnaise, parmesan, crushed red pepper, lemon juice and parsley. Mix until just combined. Using a 10 or 12-inch cast iron skillet, place the dip in the middle of the skillet. Place the biscuits all around the edges of the dip. Top with remaining 2 tablespoons parmesan and ¼ cup breadcrumbs. Bake for 30 minutes covered with foil. Remove the foil the last 10 minutes. Cook until biscuits are golden brown and the dip is bubbling. Remove from oven and let sit for 10 minutes. Serve and enjoy!