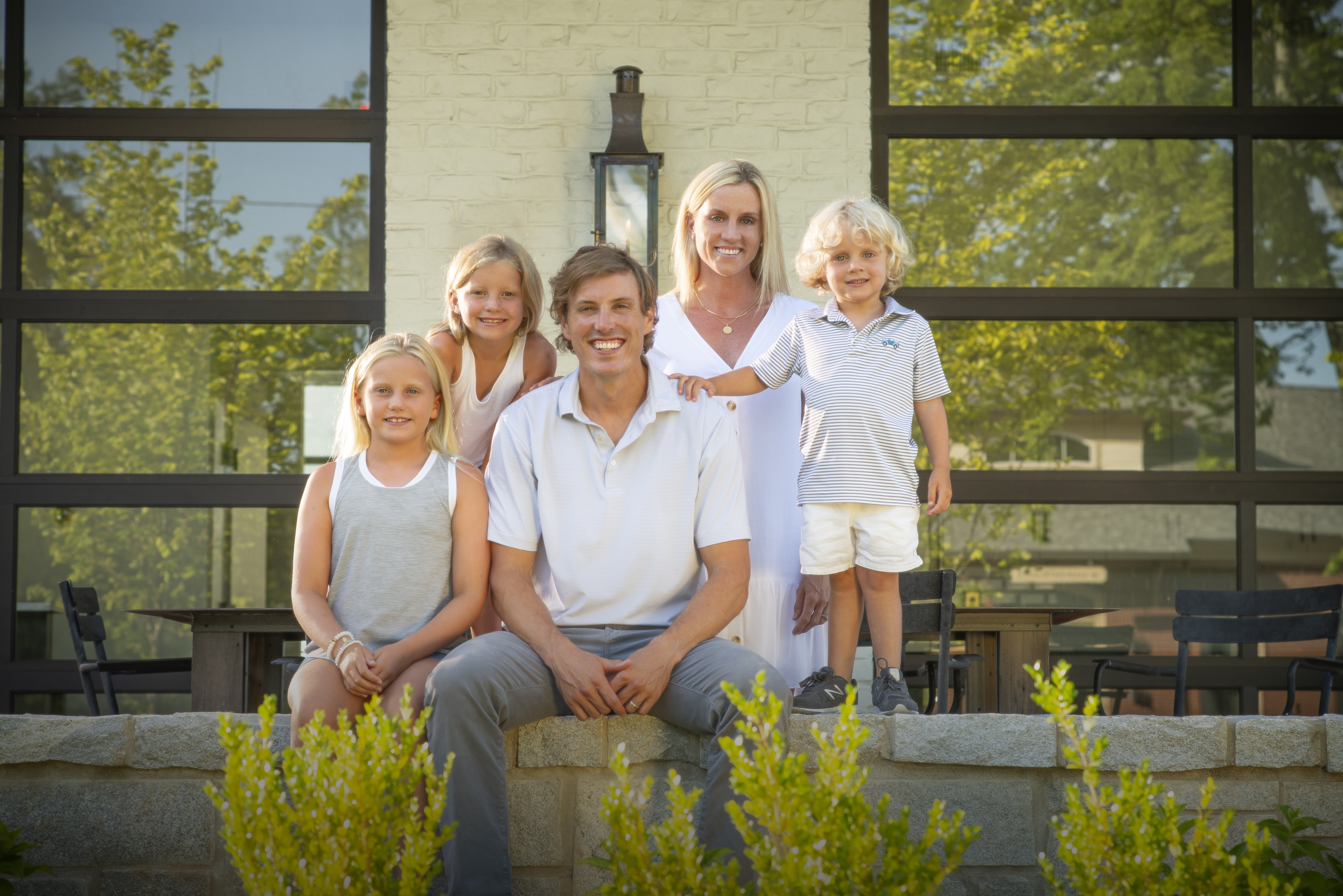 Name: Chase Lawrence
Family: I am married to Courtney Lawrence. My oldest daughter, Breckyn, is 9, my middle daughter, McKinley, is 7, and my son, Harry, is 4.
Hometown: Atlanta, GA
Current town: Athens, GA (I consider Athens my home town!)
What years at UGA: Graduated UGA in 2005 and never left Athens.
School/Degree: Housing & Consumer Economics with a B.S in Housing
Profession: Real Estate – Student Housing ; Founder of College Town Properties
Accolades: UGA 40 under 40; winner best new boutique student housing development in America 2017 by Student Housing Business; 3x placement in UGA Bulldog 100.
What was your biggest take away from UGA? I loved the local feel of my major at UGA. The faculty always pushed to bring in real world entrepreneurs from around Athens that were doing exactly what I wanted to do, and they'd help show us the path they took. It was really inspiring and felt a lot less academic and a lot more practical.
What was your favorite class at UGA and why? I remember taking a demographics class with the late Professor Douglas Bachtel. It was really eye-opening to see the actual data on our State going County by County. Professor Bachtel spent his career accumulating an unbelievable amount of data to show trends around our State and how those trends impact things we all care about like homelessness, joblessness, healthcare, housing, etc. It was an awesome course.
How did your experience at UGA influence your career? UGA was a launching pad for so much of what I've worked on. It got me plugged in here in Athens, the faculty in my major were responsible for some of my first business relationships, and it provided me with solid course work in things like finance and property management that I still use today.
What achievement are you most proud of? Being a Husband to Court and being a Dad to my kids. Anything I do professionally is just an effort to free up more time to spend with them.
What is your favorite part about your career? I've been extremely blessed to build a business doing something I love in the city that I love. I've spent the last 10 years growing CollegeTown Properties into an industry leader in Student Housing, and it's so much fun to see the lifestyle that having a strong, local brand can create. We have a lot of flexibility, fun and room for creativity in what we do.
What is one skill you would like to improve? Patience – I know it's probably not a skill but I consider it one. We are pretty hard-charging and sometimes I let situations get the best of me. It's good to sit back and reflect before making decisions, engaging in a situation or saying something you might want to take back later.
What do you typically do in your free time? I'm surrounded by a real close group of friends and a lot of them have insanely healthy lifestyles. We spend a lot of time outside. In the spring and summer that's mountain biking the incredible trails around Athens or hitting long road rides. In the fall we do a lot of bow hunting. We've made some incredible memories right here in-town Athens whether its hunting or riding. You have to make your own fun, make time for it, and ensure it's a priority. Keeps me in a good head-space.
Who is your favorite writer and why? I read a lot and from a really diverse group of writers. I like to keep 3-4 books going at a time because I have a tendency to get bored quick. I read a lot on faith, business, history and always the Bible (it's got lessons on all of those!).
What is your favorite part about Athens? Where to start – I love the size of Athens and I love knowing pretty much everyone I see each day and still getting to meet new people. It's small enough to have those types of close relationships but big enough to still offer opportunity. I love Athens Church. What God is doing through that place right now in our city is truly amazing and really special to watch. I also love being able to raise my family here. We live right in town and have so many fun times like nights playing at the UGA track, going to parks, walking to dinner and of course walking to Sanford on Saturdays!
Who would you consider your hero? Easy one – my Dad & Mom. I owe any successes I've had to the way they raised me and also any failures I've overcome to the way they taught my brother and I growing up. They are incredibly selfless people who sacrificed so much for us. They set a really high bar never compromising their faith, always working so hard to provide for their family and being kind in everything they did. You don't appreciate those things until you're a parent trying to raise a family in today's world, and you realize just how impressive those selfless acts of service are.
To view the rest of my summer series, click the links below!
https://bulldawgillustrated.com/oh-the-places-theyll-go-former-intern-carrie-west/(opens in a new tab)