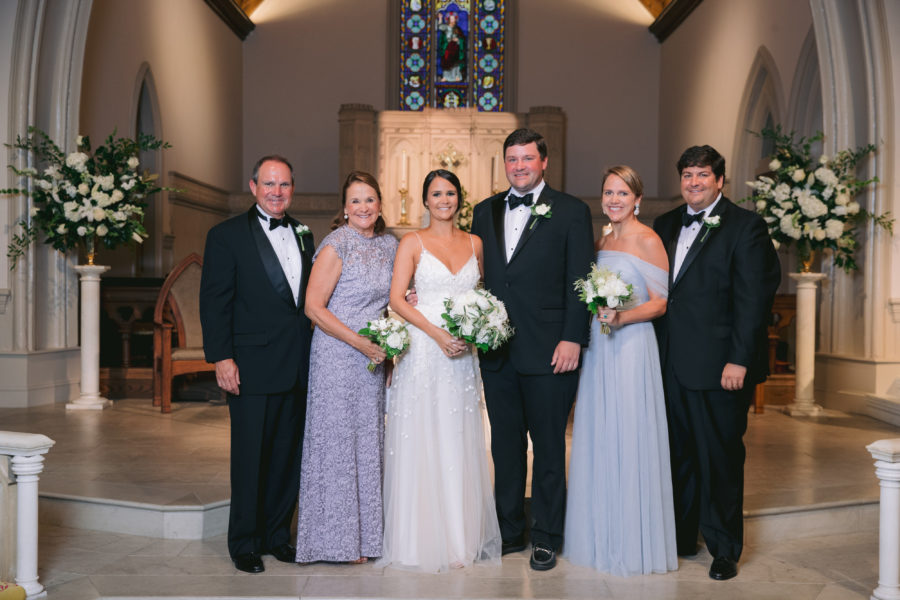 Family:  Wife, Katie (UGA grad!); Daughters Molly and husband Ford Knight, Sara (UGA '08) and husband Andrew Elias (pictured); Granddaughter, Eleanor (2) and grandson, Andrew (1).
Hometown: Born in Tampa, Florida but moved all over, ending up in Atlanta, Georgia.
Current town: Athens (for the past 25 years!)
What years at UGA: 1974-79
School/Degree: Terry College of Business, Real Estate
Profession: Restaurant Owner (Hilltop Grille and Marker 7 Coastal Grill)
Accolades: Father of Molly and Sara
What was your biggest take away from UGA? Definitely the people I met, the friends that I made who have been lifelong friends, of whom I still stay in touch with. They are definitely the best part about Georgia! I can't forget the fact that I met my wife there.
What was your favorite class at UGA? Real Estate Appraisal— it was probably the most interesting and beneficial class that has helped me through the years. While not always the easiest or most fun, I gained a lot from it.
How did your experience at UGA influence your career? I was a stock broker for the first 25 years of my career, and the contacts and friends I made at Georgia were key into getting into the finance world. The knowledge I gained in those 25 years in both my career and through those contacts has been foundational for my success in the restaurant business.
What achievement are you most proud of? Honestly, it's opening up two successful restaurants with no past experience in the industry. I had no background, didn't marry into it or anything, yet I was able to go out, jump in the deep end, and thankfully I didn't drown.
What is your favorite part about your career? Again, all the people that I meet that come through the restaurants— meeting new people or ones I haven't seen in 25 years. When I first opened my restaurants, old friends were coming through with kids who were just starting at Georgia. I was getting to see all of my friends again who heard I opened up a restaurant in town. To go back to my most proud achievement— there is nothing better than getting college kids ages 18-20 come in, work for me, and learn solid life skills that they will carry them through their careers. Being a small part of their life and helping them be successful, and even having them come back years later to thank me, is so meaningful. If you can wait tables and do it well, there are a lot of different directions you can go in and be successful!
What is one skill that you would like to improve? Patience. It's tough to be in the restaurant industry and be patient. It's not a business that goes perfectly all the time, with a lot of moving parts, so you better have some patience!
What do you typically do in your free time? Usually play golf or exercise.
Who is your favorite writer? That'd have to be Stuart Woods. I've read most of his books, and my favorite of his is Under the Lake. It was the first book I ever read of his, and it got me hooked!
What is your favorite part about Athens? Living in a college town! The students, the ebb and flow of them leaving in the summer, going from a really small town to a bustling town in a matter of a few weeks. Even the restaurants and the music scene— it keeps you young! There's just so much to do here.
Who would you consider your hero? It's a slam dunk— my father. He was in the Air Force, both World War II and the Korean War. He received two flying crosses awarded to him in both wars, meaning he should not have made it back from the missions he was on. He really was a hero!