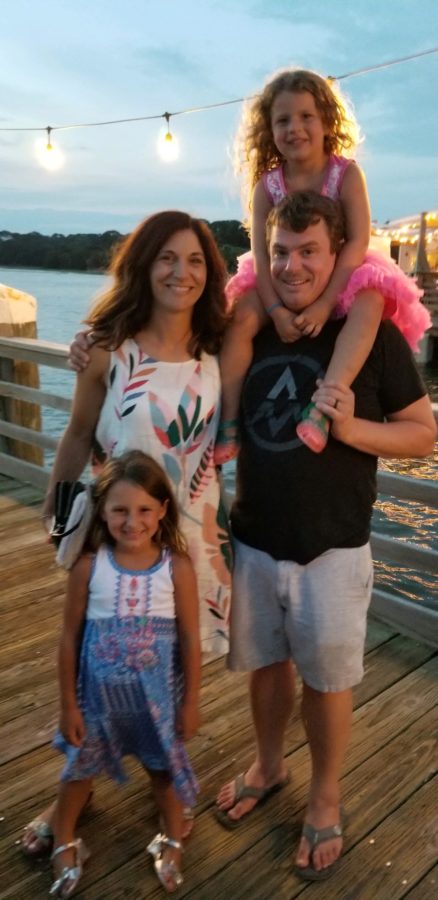 Name: Drew French aka @thedawgfather
Family: Natalie is the love of my life, Anna (6) and Scarlett (4) are our amazing daughters who drive us to get better and make me laugh nonstop. Ellie (16 year old lab), Emma and Dude are our dogs. We also have incredible parents, siblings, and an awesome niece, Brynn.
Hometown: Alpharetta, GA.
Current town: Athens, GA (I have lived here most of my life!)
What years at UGA: 2001-2005
School/Degree: BBA Marketing
Profession: Founder of Your Pie Pizza
Accolades: 40 under 40: UGA; Atlanta Business Chronicle, Georgia Trends; Bulldog 100: 6 years in a row; Member of the US Pizza team for winning best pizza in the east, and we represented Your Pie and the US in the World Pizza Games in Parma, Italy
What was your biggest take away from UGA? The connections and memories always were and will be number one. I wish I had taken more advantage of the things outside of the classroom that the University offered. I should have studied abroad and been more involved in the student organizations. I was offered a manager position for the basketball team and turned it down because I'd have to get up a 6am every day. At the time that seemed crazy, but now I don't sleep past 5am ever! Get involved with as much as possible to maximize your college experience.
What was your favorite class at UGA and why? I took a sales class that used case studies and forced us to be involved in each lecture in a group setting. It really forced us to be prepared for each session. At the end of it, we had to interview someone in sales. I picked the sales manager for Sweetwater Brewing. At the time, they had a small little brewery well before the craft beer movement. That was a fun interview!
How did your experience at UGA influence your career? UGA has always been a huge influence. It helps that I still live in Athens and have the support of UGA, but I believe the influence would still be great if we had chosen other cities to call home.
What achievement are you most proud of? Seeing others succeed. The restaurant industry is not the most glamorous in the world, but we have an incredible platform to make someone's day better. Whether it's helping someone that has had a tough day crack a smile because we gave them an incredible pizza experience, team members starting a career, a franchise owner taking a risk for their family and succeeding, or the community we serve getting better by allowing us to be there, we take for granted that we are blessed to be able to make a difference. I'm so proud when I see that happen.
What is your favorite part about your career? I love getting to get up each day with the mission to improve the lives of the Your Pie family. I'm so passionate about what we are trying to accomplish that I have never felt like I was working. When our franchise owners are successful and improving their team's lives and the communities they serve, I am so happy.
What is one skill that you would like to improve? Communication.
What do you typically do in your free time? We love to be with other people. Usually, that involves cooking or going to a live show. My favorite thing to do is go with the girls and the dogs on an adventure, which a lot of times, is just out our front door. I have also gotten into being healthy and ran my first marathon this year.
Who is your favorite writer and why? Seth Godin: he adds value to my day and never asks for anything in return.
What is your favorite part about Athens? It's a small town with big town benefits. You can go to an incredible restaurant, see an incredible show, go to an incredible sporting event, be running in the woods or kayaking within minutes, and all without the traffic a big city brings.
Who would you consider your hero? I have so many, but if I had to pick one it would be my grandfather. I was lucky enough to grow up with him near. He lived to be 98 and experienced the great depression, WWII, moved across the country to provide a better life for his family, worked out every day until his time came, and brought smiles to everyone he came in contact with. He loved everyone he met and had great relationships because of it. He valued people and relationships more than anything else, and I hope I live as full of a life as he did. Love you grandad!
To view the rest of my summer series, click the links below!
https://bulldawgillustrated.com/oh-the-places-theyll-go-former-intern-carrie-west/(opens in a new tab)
https://bulldawgillustrated.com/bulldawgs-in-business-chase-lawrence-of-college-town-properties/(opens in a new tab)
https://bulldawgillustrated.com/oh-the-places-theyll-go-former-intern-hannah-tosch/(opens in a new tab)
https://bulldawgillustrated.com/bulldawgs-in-business-connie-popwell-of-pure-barre/(opens in a new tab)
https://bulldawgillustrated.com/bulldawgs-in-business-chase-hopkins-of-plantation-dentist-associates/(opens in a new tab)
https://bulldawgillustrated.com/oh-the-places-theyll-go-former-intern-ashley-hanna/(opens in a new tab)
https://bulldawgillustrated.com/oh-the-places-theyll-go-former-intern-karson-bankhead/(opens in a new tab)