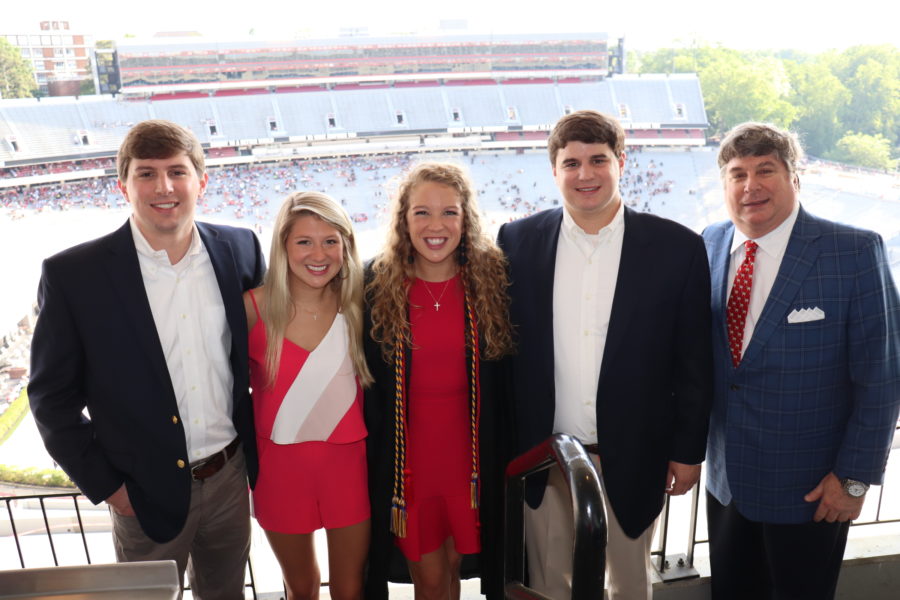 Family: Mr. John Neel and the late Summer Neel. Four children: Ford, Sanford Caroline, Summer Dawn and Smisson (pictured)
Hometown: Griffin, Georgia
Current town: Macon, Georgia
What years at UGA: 1980-1984 (I was a freshman when Herschel was a freshman!) That was four great years to be at UGA!
School/Degree: BBA, Business Management from Terry College of Business (1984)
Profession: CEO of The Sanford Company (www.SanfordUSA.com)
Accolades: Chairman of the Board, The Children's Hospital (2000-2002), President of The Central Georgia UGA Alumni Association (2004-2007), Trustee of The UGA Foundation Board (2009-2018)
What was your biggest takeaway from UGA? While I love everything UGA, my biggest takeaway has to be the relationships I formed as a result of being a Lambda Chi at UGA. It's impossible to list all the things I learned from my brothers in the fraternity. Those relationships turned out to be lifelong friendships that remain strong 35 years later. It's a story I've told my kids countless times. "I could have a flat tire in almost any county in Georgia and can call a friend in that county that I share a bond with like no other." Other than the diploma, the fraternity experience was the best thing that ever happened to me at UGA.
What was your favorite class at UGA and why? Accounting I and Accounting II. My instructor was a huge fan of bird dogs and hunting and would entertain us with his stories during class. My roommate, Kirk Friedlander, and I took the courses, and we were both big hunters. We struggled through both quarters of accounting but enjoyed the class because this instructor made it fun to attend. Although I passed the class, I have never been very good at accounting. But I'm a heckuva bird hunter!
How did your experience at UGA influence your career? The moment I stepped onto campus there were all sorts of opportunities for me to pursue. Whether it was an immediate job just to get through college or planning for a future career, I had all of the necessary tools at my disposal. Through the guidance of my professors and counselors at Terry College, I had access to some of the most brilliant minds and creative thinkers. I tried my best to take advantage of what I was learning along with my personal relationships to help jumpstart my career. To this day I have been very blessed and owe everything I have learned to UGA. It changed my life for the better.
What achievement are you most proud of? Without a doubt, being a father to four of the most wonderful young adults you could imagine. I am very proud to be their dad.
What is your favorite part about your career? The ability to interact and help others. In my business, clients need special attention when insuring their business, home or family. Because of this I can get to know my clients in much more detail than just normal service sales. This leads many times to a new friendship that lasts for years. As I have grown in my business I have made new friends and even formed relationships with the next generation of clients. It's a very fulfilling career to be able to assist your friends.
What is one skill that you would like to improve? I would like to be more technical. I have limited technical skills which hampers me at times in my business and social life. I still rely on my kids to set up my phone, laptop, iPad, etc. I think I could be much more efficient if I knew how to take advantage of technical efficiently.
What do you typically do in your free time? I spend most of my free time traveling with my children or at home relaxing. I don't have a lot of free time, but when I do, I try to make the most of it with family. We've just come back from a vacation out of the country with the family and had an unbelievable time together. We are only able to all get together about once every few months, so we take advantage when we can. For the last ten years, the one thing that has remained our number one family pastime is watching the Bulldogs together in Sanford Stadium. We are huge UGA fans and love to travel to cheer on the Dawgs.
Who is your favorite writer and why? Alex Walker. His "Toltec" series is an unbelievable read. And the fact that I have met and gotten to know the writer and knowing what a great guy he is makes the read even better.
What is your favorite part about Athens? My favorite part of Athens has to be the people. The UGA staff, students and the citizens of Clarke County make this the city's best asset. As you can probably gather, relationships are very important to me. The relationships and friendships I have made in Athens will remain my entire life. Being a major college town, the folks in Athens all work together to form one of the best cities in the country. My family calls Athens "God's Country" because we all think it is just about perfect in every way.
Who would you consider your hero? Jesus. I strive every day to live and love in ways that would be pleasing to HIM. He should be everyone's hero!