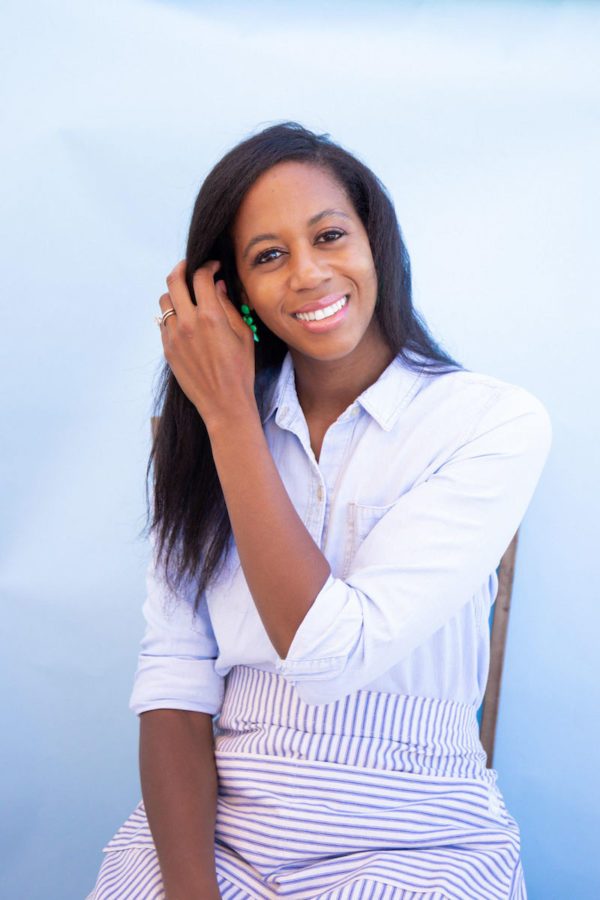 Name: Alexis Randall
Family: Kheeston Randall (husband) and I are parents of two pups: Kardi D (Doberman) and Bella (Coonhound Mix). Kardi is definitely named after Cardi B and Bella is named after the character in the movie Twilight. I can't believe I am admitting that in this article!
Hometown: Champaign, Illinois
Current Town: Athens, Georgia
What Years at UGA: 2004 – 2008
School/Degree: College of Family and Consumer Sciences, BSFCS; Georgia State University, Master's in Sport Administration
Profession: Alumni Director by day for the UGA College of Family and Consumer Sciences (FACS) and baker by night! I started working for FACS in October 2017, and it's been really fun to be back in Athens working for the college I graduated from. FACS is such an awesome college! Follow us on Instagram at @ugafacs and @ugafacsalumni
I also launched my own baking business, Batter and Baked, in October 2018. I specialize in custom cookies, cakes and cupcakes. It's a busy schedule, but I love every minute of it!
ATHENS + UGA:
Describe Athens in three words: spirit, charming, classic
Fave bars and restaurant in Athens: Blue Sky – First time going was last year, and I love the relaxed vibe. Great place to go and hang with friends. Last Resort – The crab cakes are so good, especially when paired with a caesar salad. I love it for a lunch spot! Sweetie Pie by Savie – The croissant dough cinnamon rolls have become a Saturday tradition.
Fave shops in Athens: Shiraz – This is a neat spot to shop for wine and cheese.
Fave Athens landmark: North Campus. The quad is so pretty. I also love Broad Street during the holidays when the lights are up. It's so magical!
Describe your typical Bulldog game day: Tailgating with our neighbors! Everyone pulls out their grills, and we set up a tent and a TV outside, play games and have fun. Pre-COVID homecoming game days were the best. I love the Black Alumni tailgate at Myers Quad. Everyone comes back in town and it's a lot of fun to see old friends and reminisce.
Share a tailgate recipe: Cowboy Caviar served with tortilla chips. It's quick, easy and so good.
BEAUTY:
Fave lipstick: NARS lip gloss. I love that they have a light color – very simple.
Fave mascara: L'Oreal Luminous Lash Paradise
Fave skin care line: CeraVe – It is simple, but so good!
Fave hair product: I haven't found a favorite, but I've had my eye on Tracee Ellis Ross' new hair care line – Pattern Beauty.
Product you can't live without: Kitchen Aid Mixer – can't bake without it!
Best budget buy product: Decoy by Duckhorn – Cabernet Sauvignon
Biggest product splurge: Food! I splurge on all things food. I love a really delicious meal.
STYLE:
Fave fashion designer: I don't have a favorite … I say wear whatever is comfortable to you! But I do love a good pair of Nike leggings.
Fave interior designer: I don't have a favorite but I very much admire the work of interior designers because putting a room together is definitely not my ministry! It's pretty cool to walk through Barrow Hall and see what some of the furnishings and interiors students put together. They are so talented!
Fave jeans: Old Navy – They have tall sizes which is very much needed for my long legs!
Fave tee: It's a gray T-shirt with a bulldog on it. Lyft was giving out free promo shirts in Athens a while back. This is the softest, most comfortable shirt I've ever worn!
Fashion idol: Michelle Obama
Fave flower: I love tulips and calla lilies.
Fave accessory: A good, cute sneaker! I love sneakers and will wear them whenever I can. I even wore some hot pink Chuck Taylors under my wedding dress!
Fave stationery: Sticky Notes – You will find them all over my desk and laptop to help me remember things. These are definitely a great invention!
INSPO:
Who inspires you? My friends are really a big inspiration to me. They are so driven and accomplished, and I love seeing each of them walking in their truth and purpose. They inspire me and encourage me to follow my dreams, and I couldn't ask for a better group of people to be surrounded by and supported by.
Fave blog: Tony Evans
Fave instagram: @arloscookies I follow a lot of bakers – her work is incredible. I love her holiday creations.
Fave magazine: Essence Magazine
Fave song: Fall for You by Leela James
Fave artist: I really like Katherine Smith Jewelry – Her Instagram is @Katherinesmithjewelry.