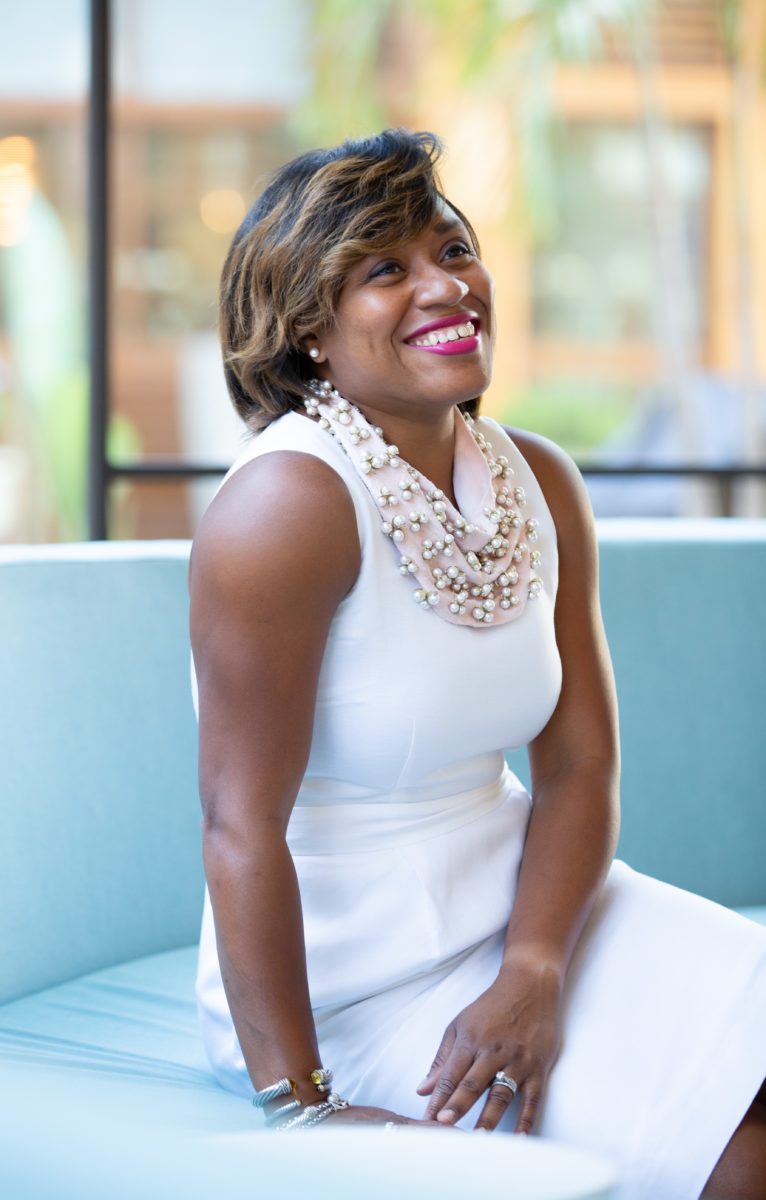 Name: Amelia H. Dortch
Family: Married to Corey Dortch (also a UGA alum and we met in college) and we are the proud parents to our 4-year-old son, James McArthur.
Hometown: Newnan, Georgia
Current Town: Marietta, Georgia
What Years at UGA: 2002-2006 & 2010-2012
School/Degree: Grady College of Journalism & Mass Communication (B.A. Broadcast News) School of Public and International Affairs (Master's Degree in Public Administration)
Profession: My passion has always centered around compelling storytelling and impactful imagery. Fortunately, I've been able to combine both during my career.
As a communications and outreach professional, I work in the metro-Atlanta area to build awareness of and create opportunities for our urban agriculture community. In this role with the United States Department of Agriculture, I've had the opportunity to connect amazing people to resources that will help them continue expanding access to fresh produce in urban communities while being good stewards of the land.
When I'm not serving our urban growers and sharing their stories, I operate a boutique branding agency, Hines Dortch Consulting. I work with small business owners and startups to create memorable brands through my digital marketing, graphic design, website design and brand management services.
Named one of UGA's 40 Under 40 (2017)
Advancing Georgia's Leaders in Agriculture and Forestry (2015-2017)
Leadership Georgia (2020-2021)
Book: Big Little Lies
Magazine: Atlanta Magazine
Podcast: The Skimm's 9 to 5ish
Blog: Anything related to DIY
Instagram: @fleurdelisspeaks because her daily affirmations are amazing!
Brand: Disney
Fashion designer: Sergio Hudson is amazing!
Interior designer: Amber Guyton
(@blessedlittlebungalow)I love how she uses colors, mixed media and patterns to make any space inviting. (2)
Chef: Matt Moore (@mattrmoore); check out his series Serial Griller!
Historical figure: Maya Angelou (5)
Quote:
Doing the best at this moment puts you in the best place for the next moment. -Oprah Winfrey
Describe Athens in five words or less: A great place for memories.
Restaurants and bars: Last Resort, Porterhouse Grill and Little Italy.
Shops: Agora Vintage.
Athens/campus landmark: The Arch.
Memory while in school: Holding a parabolic microphone on the sideline during football games for television networks so that viewers at home could hear sounds of players and the ball on the field.
Professor/class: Michael Castengera, Broadcast News.
Gameday ritual/plan: Always wear red and black!
Tailgate Recipe: Anything dippable.