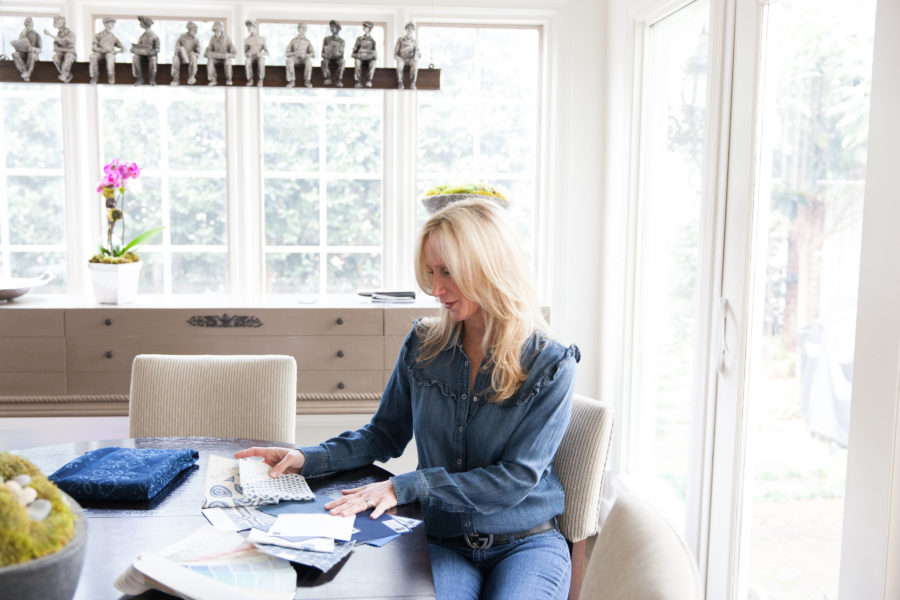 Family: Husband – Gordon Morse, Children – Jessica, Madeline, Carly; Madeline  (BBA Marketing '18) and Carly (BBA Marketing '18) are twins that attended UGA. 
Hometown: Atlanta
Current Town: Atlanta
What Years at UGA: 1984-1986; I transferred to UGA in 1984 and graduated in 1986. I started out at Ohio State University and decided I missed the south and wanted to come back home.
School/Degree: BA in Communications
Profession: I am an interior designer for Atlanta and beyond, specializing in full-service design as well as a one-day consult program. It's very important to me that my clients have a world-class experience with the end result being a thoughtful and successful collaboration with a timeless grace to be enjoyed in years to come. One's home must reflect the lifestyle of the occupants and resonate with beauty and functionality. One does not have to be sacrificed for the other. It is very possible to have both. The best is seeing the happy faces of my clients at the end of a project. At that moment, I know I have done a great job for them!
Accolades: Interviewed recently for an online article for HGTV.
ATHENS + UGA:
Describe Athens in five words or less: Eclectic, friendly, diverse, southern town.
Restaurants and bars: Last Resort Grill– always good and casual, Five and Ten– a little nicer and delicious, The National– next level up, Mama's Boy-the best breakfast biscuits, Pauley's– the best desert crepes, ever. Also, Heirloom Cafe– great food that is all natural and a little healthier with a cute atmosphere.
Shops: Threads– great clothes, Insomnia-great cookies, Book Stores for UGA stuff- always love a college bookstore.
Athens/campus landmark: UGA Arch- always viewed the Arch with awe because I couldn't walk through it until I graduated. I stuck to the ritual and didn't walk through it till I graduated. It was a big day in my head.
Gameday ritual/plan: Meeting up with my twin girls that are alumni now and getting there in time to pregame at their place or a sorority party, then going to the game for about one quarter because it is too hot. Always ended up at a bar. Also, always found time to go to Pauley's for a meal, drink or desert.
Memory while in school: Honestly, just having fun, all the time! Not having any real responsibility other than to myself was great.
Professor/class: Honestly, I can't remember my professor's name, but had one man that I had for almost all of my major classes and he really taught me how to handle myself with people.
INSPO:
Book: Becoming, Michelle Obama, what isn't inspiring about her, her entire being!
Magazine: Elle Decor, has a level of sophistication that not all magazines have. Filled with ideas that you can have "take-aways" without going full blown.
Podcast: "How I Built This." Always interesting to hear and find out how people got to where they are in life.
Blog: The Identite Collective – fabulous for interior designers giving ideas on how to brand yourself and work social media, Pencil and Paper Co.- super creative and shows you the latest and greatest fashions that are reasonable as well as some higher priced.
Instagram: Studio McGee– love Shea McGee, she is adorable, very real and seems approachable. You feel like she could be your friend. Also, love the aesthetic of her firm. Love almost every project they do.
Brand: Serena and Lilly, Spanx
Fashion designer: Ralph Lauren, classic design, everything he designs is classic and still good five years later.
Interior designer: Shea McGee- for all the reasons I listed for Studio Mcgee, Suzanne Kasler- classic, timeless design, love her use of lighter colors.
Chef: Kevin Rathbun- I have never had a bad meal at any of his places. And his customer service is excellent.
Historical figure: Eleanor Roosevelt- she symbolizes a strong, contemporary woman who was ahead of her time. I love the strength she had and her belief in women! She makes me feel as if I can do anything.
Quote: "When Women Support Other Women, Amazing Things Happen"
– unknown. So true!