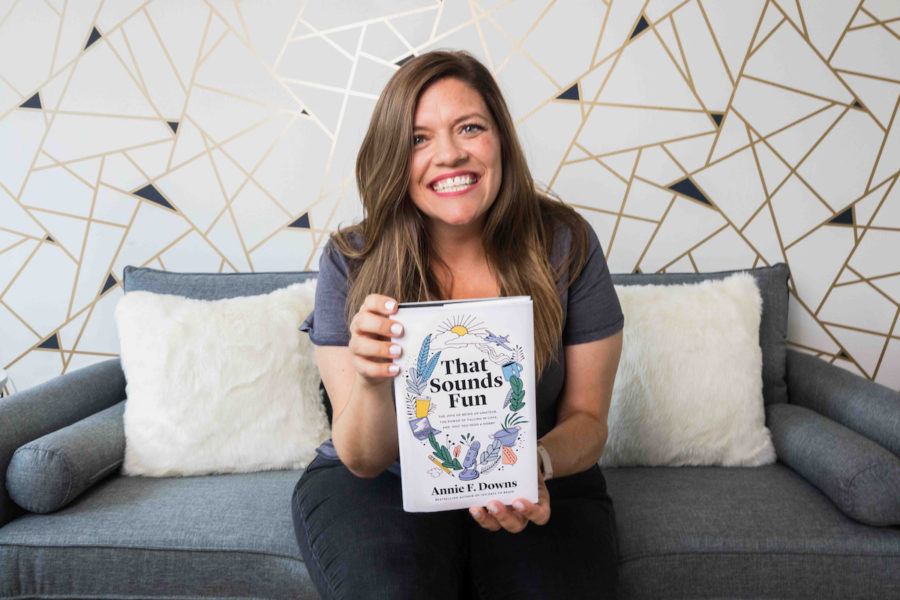 Name: Annie F. Downs
Hometown: Marietta, Georgia
Current Town: Nashville, Tennessee
What Years at UGA: 1998-2002
School/Degree: Early Childhood Education
Profession (Share your elevator speech): Annie F. Downs is a bestselling author, sought-after speaker, and successful podcast host based in Nashville, Tennessee. Engaging and honest, she makes readers and listeners alike feel as if they've been longtime friends. Founder of the That Sounds Fun Network—which includes her aptly named flagship show, That Sounds Fun—and author of multiple bestselling books like 100 Days to Brave and Remember God, Annie shoots straight and doesn't shy away from the tough topics. But she always finds her way back to the truth that God is good and that life is a gift. Annie is a huge fan of laughing with friends, confetti, soccer, and boiled peanuts (preferably from a backroads Georgia gas station). Read more at anniefdowns.com and find her (embarrassingly easily) all over the internet at @anniefdowns.
ATHENS + UGA:
Describe Athens in five words or less: So many lessons learned.
Fave restaurants and bars in Athens: Last Resort (pecan chicken every time), Jittery Joe's (I miss the old spot right in the old gas station at the corner in five points, but I still make multiple stops at the location by Hodgson's Pharmacy) and the Grit are my must haves every time I'm in town.
Describe your typical Bulldog game day: When I was a student, we always met up at a house on Hall Street— before we had cell phones we just all showed up on time and ate pancakes and drank coffee and then walked to eat (again) with our friends' parents on North Campus. Then head to the game, rain or shine, sit in the student section (maybe 112-113?), then pizza for dinner after the game. Now that I live in Nashville, a bunch of Dawg alumni gather together and watch the games or text through the whole game while we're out at events on the road.
Share a tailgate recipe: My roommate Candace and I were known for our "salad" recipe— we would show up at every tailgate with a bowl of M&Ms of all different kinds: peanut, peanut butter, regular, dark chocolate, really any kind we found at the grocery store. Will poured them all into one red and black Tupperware bowl and called it salad. Ridiculous but delicious. 🙂
BEAUTY:
Fave lipstick: Queen by Bare Minerals. PERFECT year round.
Fave mascara: Honest Beauty— the primer is the real game changer.
Fave hair product: AG Hair Texture Dry Wax Matte Finishing Mist— fixes all your issues.
Product you can't live without: Nature's Way Sambucus Elderberry Gummies— with as much travel as I normally do for my job, the best beauty products are health products. Keeping my immune system hustling is a huge deal for me.
STYLE:
Fave fashion designer: I'm a huge fan of the Faherty's guys and the clothes they design.
Fave tee: Madewell v-neck. I have it in so many colors and rebuy every year.
Fave flower: Succulent— it is the only thing I can keep alive.
Fave accessory: I can't resist any of the jewelry at ABLE, but I'm particularly in love with the stackable rings.
INSPO:
Who inspires you? My pastor Kevin Queen, who was at UGA the same time I was and now pastors my church here in Nashville, my mentor Nancy, Madeleine L'Engle, Jimmy Fallon, Andrew Peterson and every artist I see play at the Ryman Auditorium.
Fave Instagram: I am currently obsessed with @halfbakedharvest. I want to make EVERY SINGLE THING she makes.
Fave book: Christy by Catherine Marshall— that story was the biggest influence in the choosing of my major at UGA and pursuing an Elementary Education degree and teaching for five years in the Georgia public school system before moving to Nashville to pursue this career.
Fave artist: Mumford and Sons are my very favorite. To see them play in Athens someday is a total dream!