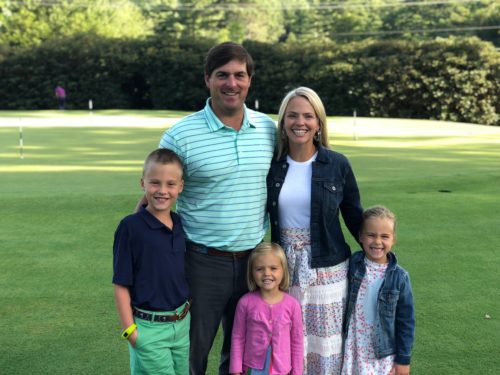 Name: April Rooker                     
Family: husband John and children: Will (9), Lola (6), Tatum (3)
Hometown: Dallas, Tex.  
Current Town: Athens, Ga.
What Years at UGA: 1998-2002
School/Degree: Terry College of Business, BBA Marketing
Profession: Currently a stay at home mother. After school, I did TV advertising sales followed by fundraising for the Muscular Dystrophy Association (both in Atlanta). I also did calligraphy for a while until I had my second child. Then I couldn't keep up!
ATHENS, GA
Describe Athens in three words: Relaxed, welcoming, fun
Fave bars and restaurant in Athens: I love the bars at Five and Ten and The Expat. As for restaurants: The Last Resort, The National, Clocked for a good burger and shake fix.
Fave shops in Athens: BMA at Home, Heery's and Agora Vintage

Fave Athens landmark: UGA's North Campus (my kids love to bike all through there) or being in Sanford Stadium when everyone gets loud.
UGA gameday
Describe your typical Bulldog game day:
It usually begins with going to our six-year old Lola's soccer game.  It has become a joke in our house (although it is very true) that my husband works his tail off in the tailgating department … before/during/after …and I just show up and tailgate.  So, I like to tailgate! The kids are tailgating with us more often than not, and they have a big old time. Then it's game time! #WTT#WTG
beauty
 Fave lipstick: Chantecaille Brilliant Gloss 
Fave mascara: Trish McEvoy high volume
Fave skin care line: Elta MD
Fave hair product: Beauty Counter Volume and Shape Shampoo and a good brush. If I'm out and about and you poke around in my bag, there will always be the mini-brush or lately a comb (my daughters run off with the mini brush)
Product you can't live without: Klorane Dry Shampoo
Best budget buy product: Smith's Rosebud Salve
Biggest product splurge: Phloretin CF by SkinCeuticals
style
Fave fashion designer: Rebecca Taylor  
Fave interior designer: Lanier (Whitlock) Gupton a UGA grad
Fave jeans: Frame or Mother
Fave tee: Rag and Bone, Velvet
Fashion idol: First came Kate Middleton then Meghan Markle. I love watching these new young royals.
Fave flower: Peony
Fave accessory: I have a gold bangle bracelet by English Norman with all three of my kids' first and middle names engraved on it.  I love it.
Fave stationery: anything and everything from Marguerite Peele Papers in Atlanta.
inspo
Who inspires you? Here in Athens, Caroline Ward! She truly wants to make everyone better, inside and out.
Fave blog: I'm bad at blogging!
Fave instagram: a photographer named Laura Izumikawa (lauraiz).  There's lots of ridiculous costumes involved and I love a costume. The baby has some very creative costumes.
Fave magazine: People, Elle Decor
Fave book: "We Were the Lucky Ones" by Georgia Hunter. It's amazing!
Fave song: I love so many by The Rolling Stones, particularly the "Sticky Fingers" album which really makes me miss Harry Bissetts from back in the day.  It's also tempting to belt out tunes by Lionel Richie and Elton John. Our first dance at our wedding was "Stuck on You" so that's obviously a big favorite!  I'll never stop loving the Red Hot Chili Peppers either.
Fave artist: Sally King Benedict and Stewart McDonald along with Bulldogs Catherine Whitis and Winston Wiant.