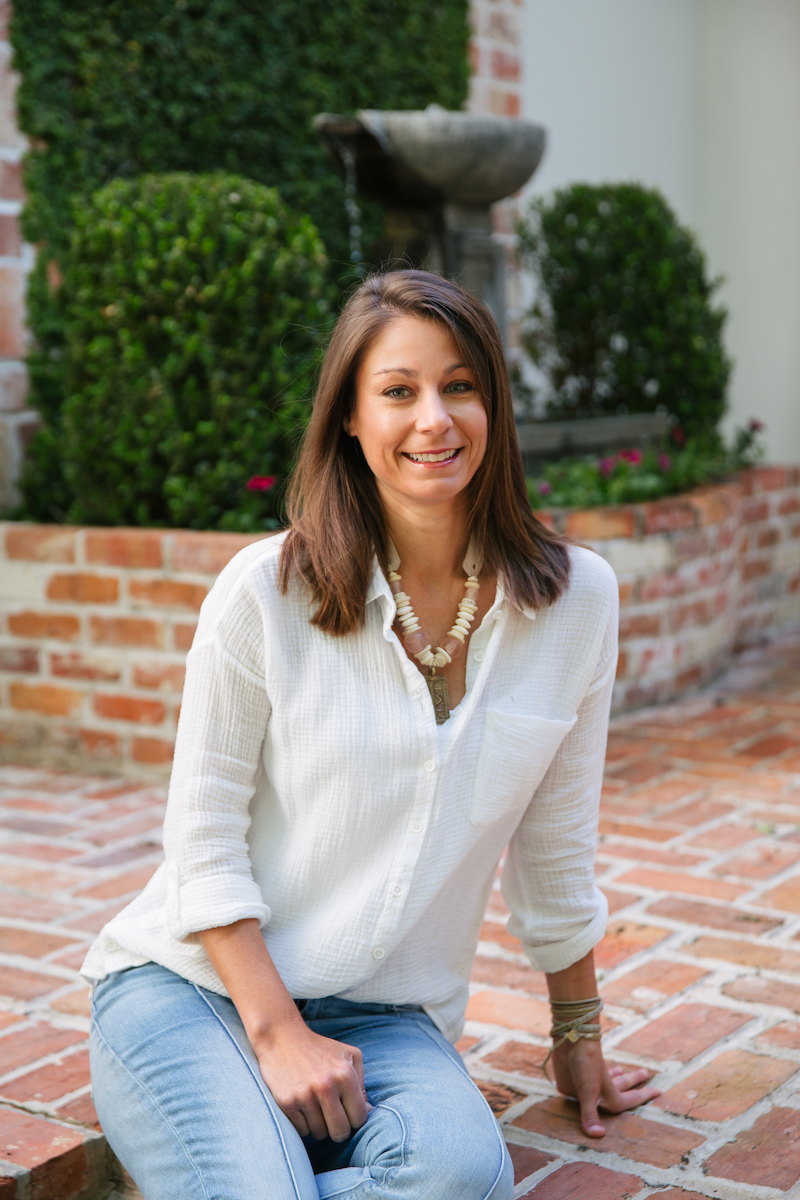 Name: Brandy Pellicano Dew
Family: Stephen Dew, Kids- Tillman (15yr son), Avery (12yr daughter), Forty (chocolate lab), Coal (Cavapoo)
Hometown: Albany, Georgia
Current Town: Albany, Georgia
What Years at UGA: 1996-2000 (Jr and Sr. year at MCG School of Nursing satellite)
School/Degree: pre-nursing at UGA, BSN from MCG and MSN from Emory
Profession: By degree I am a Pediatric Nurse Practitioner. I enjoyed working with pediatric patients for 15 years in primary care and pediatric neurology until I made the decision to take a hiatus so that I could be more available to my children. In the meantime, art, specifically painting, was a hobby of mine. As it often does, when one door closes, another opens. Just when I had decided to temporarily break from the medical field, I had the opportunity to start selling my art at several retail stores, Summer House Lifestyle in Grayton Beach, Custom Interiors in Albany, Georgia, and Two Friends in St. Simons Island. As time has gone on, the demand for commissions and art for the stores has turned my hobby into more of a profession, however, it is still something that I enjoy doing very much. Painting gives me the opportunity to lay my faith onto canvas. I often paint abstract landscapes where I can put my heart and soul into the sky, which has always been a representation to me of God's invitation to worship. I also enjoy doing small remodeling project, mainly kitchens and baths. Selecting natural stone countertops is like choosing a work of art.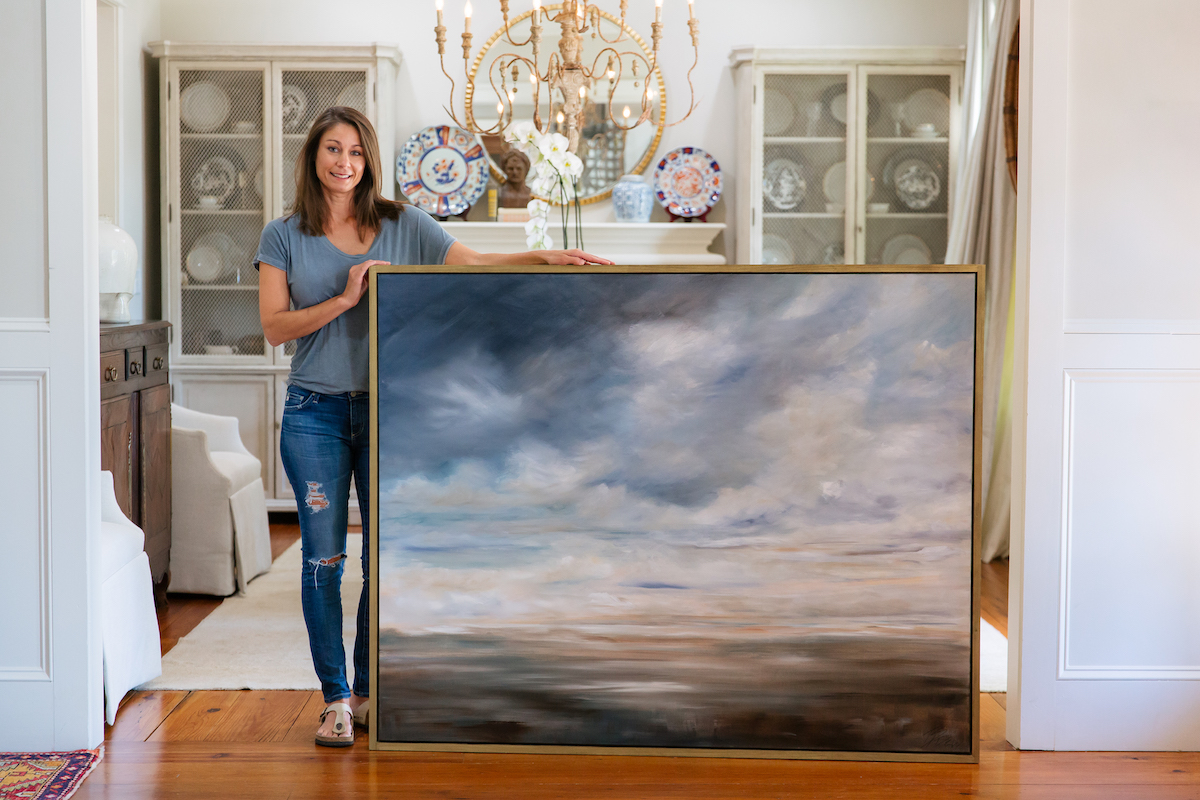 INSPO:
Book: I love any and all fiction novels, but the best "recipe" is a historical context, a witty character, and a strong lead female character. I have a reading buddy that we will read a book that we can tell people about such as Before We Were Yours or The Nightingale and alternate with not so intellectual books of which I won't name titles!
Magazine: Southern Home, Atlanta Home, any home magazine…
Instagram: @summerhouselifestyle @marieflaniganinteriors @beckmannhouse @marthastewart
Brand: Free People
Fashion designer: Christian Siriano – I've watched all the Project Runways with my daughter!
Interior designer: I work with several very talented designers- Melissa Skowlund, Shelly Green, and Paige Rice. Some of my favorites on Instagram are Marie Flanigan Interiors and Rivers Spenser
Chef: Anybody but me. My husband cooks an unbelievable steak!
Historical figure: Amelia Earhardt- She paved the way for women to pursue nontraditional roles
Quote: Favorite Verse.. Jeremiah 29:11
"For I know the plans I have for you," declares the LORD, "plans to prosper you and not to harm you, plans to give you hope and a future."
This verse gives me peace knowing that God's in charge with my best interest in mind.
ATHENS + UGA:
Describe Athens in five words or less: My fountain of youth! I seem to act like I'm still in college every time!
Restaurants and bars: Back in the day I loved Gus Garcia's, still love Last Resort for the food and memories! Every game day morning starts at the Mayflower for biscuits and gravy!
Shops: Heery's is a classic, favorite new store is Cheeky Peach
Athens/campus landmark: I still love walking from the library through the quad. That is where my then boyfriend, now husband, used to meet after class and walk to the Mayflower for lunch.
Gameday ritual/plan: Mayflower for biscuits and gravy, Bloody Mary at Last Resort, pop into the Cheeky Peach for some shopping, tailgate with friends at the Holiday Inn, Dawg Walk, Field Suites to watch pregame warmups and cheer the Dawgs on! My family, especially my husband and son, are Bulldawg fanatics and rarely miss a game.
Memory while in school: So many great ones, but I still remember meeting some of my very best friends right away in Brumby who ultimately became Chi Omega pledge sisters. One particular memory that still makes me laugh is that these same friends and I were sitting in my dorm room the Friday of Ga. vs Fla. and Steeplechase. We had planned to stay in Athens, but quickly discovered that we were basically the only people in town. We all looked at each other and had the same exact idea…pack a bag and head to Saint Simons to join the rest of the Dawg fans. In our youthful, spontaneous state, we went without really knowing where we would stay or how to get tickets, but it all worked out and we had the time of our lives!
Professor/class: My cellular biology and anatomy class…making sure I did not get the smelliest spot at the head of the cadaver during lab.