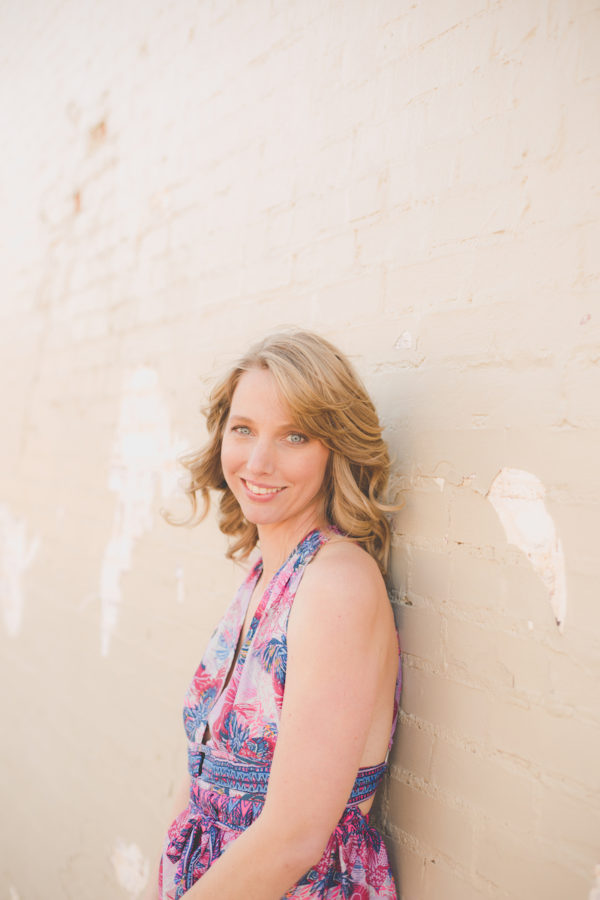 Name: Brooke Bradshaw Henze
Family: Kevin, Isla (6), and Evey (4)
Hometown: Atlanta, Georgia
Current Town: Highlands, North Carolina
What Years at UGA: Graduated in 2005
School/Degree: B.S.A. Agricultural Communications
Profession: In 2014, I started a unique online personalized blanket company called Swell Forever that focused on American Made products. We added sentimental personalized messages on our fabric message tags that were stitched into both our adult and baby collections. I always had a heart for running a mission based business and we supported foster and adoptive families as part of our giving. Getting to start my own business while pregnant and then raising two young children as it took off was such an honor and an experience that has brought many people into my heart through the years. Our blankets were gifted for celebrations and in between, but we were also a go-to special gift during loss. The years of connecting with customers through their grief and heartache left a deep impact in my life.
Unfortunately, watching our most reliable mill partner fall due to forced COVID shut downs and not having consistent child care support due to COVID led me to the painful decision to close this fall so I could focus on my family's needs.
Since owning and managing a vacation rental property for the last four years I have fallen in love with hospitality, land and real estate. Who knows what is next!
Accolades: Top 10 Most Inspiring Moms – Gladys Magazine
ATHENS + UGA:
Describe Athens in three words: Cozy, classic and vibrant
Fave bars and restaurant in Athens: Bourbon Street was a late night spot I dragged my girlfriends to and they will never stop reminding me. I always loved the feta fries at The Grill.
Fave shops in Athens: I feel like I never had money to go shopping!
Fave Athens landmark: The Fiji House because my dad started the fraternity with a motley crew as a transfer and I spent more time visiting that location with him than anywhere else growing up on game days.
Describe your typical Bulldog game day: I transferred in as a junior and almost always joined my parent's tailgate with their friends and their friends' kids across from the Fiji house. My best friend typically joined and we alternated going to games with various friends. I was the worst at dressing for game days. I have never loved the color red on me so I had nothing in my closet to fit the bill. I probably looked like I was going to a funeral in all black.
Share a tailgate recipe: Hawaiian Rolls stuffed with ham and swiss cheese with a squirt of brown mustard inside. Baste with butter. Bake at 350 until they melt. I am a bit of a lazy cook.
BEAUTY:
Fave lipstick: I don't own any! I do like Beauty Counter lip gloss though.
Fave mascara: A very inexpensive brand that doesn't irritate my eyes, Worth the Hype (Target).
Fave skin care line: Eminence … organic and everything smells like you can eat it.
Fave hair product: A rubber band … Unfortunately I am going through a permanent ponytail stage of life.
Product you can't live without: Magnesium Lotion, google it because you need it if you have a lot of stress in your life!
Best budget buy product: Green and Lovely Skincare, owned by a friend, and her corn silk skin cleanser is a very gentle exfoliating product that lasts a very long time. My face is instantly softer after without redness despite my sensitive skin.
Biggest product splurge: I am trying an eye cream called ISDIN K-ox Eyes that my derm recommended and it is insanely pricey for the amount you get.
STYLE:
Fave fashion designer: I have no idea but I am always drawn to Anthropologie's more colorful dresses.
Fave interior designer: My sister, Caroline Weigel out of Nashville. I love home design and have done multiple renovations and soon start our second home build. My sister just cuts through my roadblocks and sees space design opportunities so quickly. She was decorating my room when I was barely able to read. She's designed kitchens for Southern Living showhouses.
Fave jeans: Free People
Fave tee: A Smokey the Bear comfy shirt from Wander in downtown Clayton, Georgia
Fashion idol: I normally only notice what people are wearing if they happen to forget their clothing!
Fave flower: My mom was a Home Economics major at UGA and is now a floral designer. She loves to plant my garden so much so that she has a reputation for sneaking flowers in while no one is looking. Her mom loved Zinnias and my mom plants them in my garden. They are an easy favorite that always carries a memory of people I love.
Fave accessory: I wear my grandmother's simple gold wedding band on a gold necklace my husband bought pretty much all the time. I would not say my grandparents had an easy life having to live apart from each other to pay the bills but it was so obvious how much grandaddy loved her after she passed so I really treasure that little circle that understates how special their love was over the years. It was hard won and authentic. I found it randomly in a drawer and feel like it was meant to be with me. (One of their accomplishments was being able to send all three of their kids to UGA!)
Fave stationery: My daughter is a prolific artist and turns all my index cards and white copy paper into doodles.
INSPO:
Who inspires you? My husband for sure. He has been estranged from much of his family for years but learned how to create a world for himself full of friends while embracing my extremely close-knit family. In his early 20s I found out he would handwrite Christmas cards and mail to people he knew. He works hard to make authentic connections with others. He also bought me a beautiful engagement ring by selling his car while many of his successful peers were buying BMWs. Kevin was diagnosed with Type 1 diabetes at the age of 16 and has worked incredibly high stress career roles all his adult years. I struggle to wake up in time to even get my kids to school and he can rally through the most exhausting, sleep-deprived days even better than others who have far fewer daily challenges than he does. His work ethic is impeccable. My dad has always been the same way. While I was happy with passing classes at Duke for my MBA, Kevin was ranked in the top 10% of our graduating class!
I discovered long ago that the people that inspire you most are often right in front of you and it is easy to take for granted the people really living life well staring back at you each day!
Fave blog or podcast: I am still waiting to have time to read a blog or listen to a podcast!
Fave instagram: @chinupsandchocolatechips – another Georgia girl and friend that has four kids and is in crazy great shape. I spent most of last year with mono and unable to do much so I enjoy scrolling and thinking "in my next life I am going to be able to do that."
Fave magazine: WNC magazine. I was born in Western North Carolina and as a Highlands resident I have loved the features in this magazine. I feel so inspired by everyday people just living their lives after reading it. I discovered it while at the Old Edwards Spa so now I link it to relaxation.
Fave book: Before We Were Yours by Lisa Wingate. I have an emotional reaction when I even think about this book. The cover features two little blond girls like my daughters and from years of championing the needs of children suffering, broken families, this incredible story just did me in.
Fave song: Iris by the Goo Goo Dolls. He was my first major music crush and I still get tingles when I hear the opening chords of this song.
Latest Netflix binge: Poldark
Fave artist: Lulie Wallace out of Charleston. I love her floral paintings and have some of her originals that I treasure. I wallpapered our master bath in her Lara print and just never tire of her style.