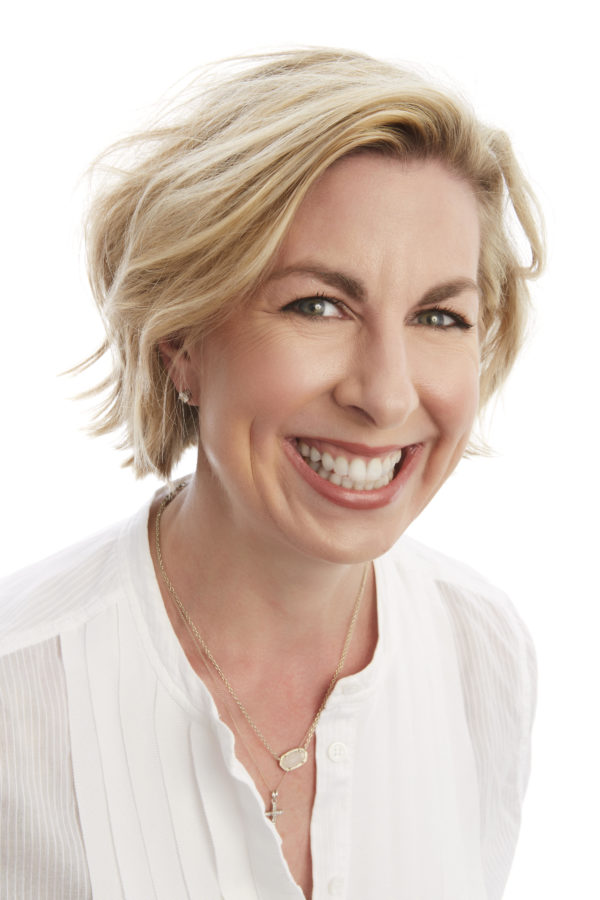 Name: Carrie Peeples

Family: Husband, Craig, 2 step kids, Nick (20) and Emma (16), and mini Schnauzer, Edie.

Hometown: Gainesville, GA

Current Town: Marietta, GA

What Years at UGA: 1990-1992

School/Degree: Lamar Dodd School of Art, Bachelors of Fine Arts, Drawing and Painting
PROFESSION
Share your elevator speech: I started a Professional Organizing business in 2012 to combine my love of beautiful spaces with my compulsion to organize and create order from chaos. I know that your home influences your entire outlook, and it's a great feeling to be able help people enjoy being home again. I help busy women make their lives easier by getting their homes organized. I've taken my process improvement and editing skills honed in my 15+ year career in corporate America and turned them into my favorite job ever: helping busy, overwhelmed women not feel stressed and anxious when they open their closet and pantry doors.
Accolades: It's been a thrill to speak at different clubs and organizations but I was honored to be asked to speak (twice) at the UGA Administrative Professionals Day this year and in 2015.
inspo
Book: Better Than Before, Gretchen Rubin. I've read most of her books and love that with all of her ideas about people's personalities and quirks, she reminds us that we are all different and are motivated differently. Everyone is looking for the quick solution to any problem but you have to figure out what YOU need and how YOU tick, not how your neighbor does. The Obstacle is the Way, Ryan Holliday. Nothing is more inspirational to me than tenacity and pushing through obstacles. Although sometimes it's the obstacle that makes us better, and we change course for the better. The Power of Habit, Charles Duhigg. I learned about this book from Gretchen Rubin and am fascinated by how our habits shape us. Essentialism: The Disciplined Pursuit of Less, Greg McKeown. This book defines how the "less is more" motto gives us freedom to focus on what really matters. His lessons on the importance of boundaries is the best part. Classic Style, Kate Schelter. In my constant pursuit of "less but better", this book is chock full of beautifully illustrated vignettes. All in Good Taste, Kate Spade. Modern manners, entertaining, and dressing classically stylish. Never fully in fashion means never fully out of fashion. The Perfectly Imperfect Home, Deborah Needleman. This is my hardcover version of five years of original DominoMagazine.
Magazine: Good Grit, Real Simple, Magnolia Journal
Podcast: "Happier" with Gretchen Rubin, "How I Built This", "ArtCurious", "Goal Digger", "RISE" with Rachel Hollis.
Blog: Habitually Chic, Design Indulgence, Furbish, You Need This… I promise by Ann Mashburn. This one is more of a newsletter but I love it.
Instagram: Pinckney Palm, Pencil and Paper, Cattlebaron in Cashmere, Living with Landyn, The Southern C
Brand: Ann and Sid Mashburn—I just want to move in to their Atlanta store; AERIN just seems like the chic friend whose parties you'd never miss, Parker Thatch.
Fashion designer: Carolina Herrera, Kate Spade, any Liberty of London print.
Interior designer: I love a good high/low, curated mix and Emily Henderson does this so well. I don't like rooms to look too perfect because then you don't want to sit down!
Chef: Doug Turbush has ignited the restaurant scene in East Cobb (Marietta, GA) which formally consisted of only pizza and bad food chains. His three restaurants all deliver consistent outstanding food, attentive without being obsequious service, and a beautiful atmosphere. The fact that they are less than a mile from my house is an excellent bonus.
Historical figure: Mary Cassat. My grandmother was pretty amazing. She lived to be 100 and was the consummate gracious hostess who could have a meaningful conversation with anyone.
Quote: "Perfect is the enemy of the good" -Voltaire. The pursuit of perfection is what keeps so many of us from achieving our goals or trying new things.
ATHENS + UGA:
Describe Athens in five words or less: Perfect combination artsy and classic.
Restaurants and bars: For nostalgia: Normal Bar. For treating my sweet tooth: Zombie Donuts. For a nice, sit-down meal: Five and Ten or Harry Bissett's.
Shops: Heery's, and I love the needlepoint accessories at Onward Reserve.
Athens/campus landmark: The classic Arch. It's the classic Instagrammable spot that existed before IG.
Gameday ritual/plan: My game-day ritual has changed dramatically since I married a Bama graduate and super fan. Let's just say we celebrate football Saturdays in separate rooms. 😉
Memory while in school: I'm still amazed at the high caliber professors that I was able to learn from. UGA had the reputation of just being a party school when I first looked at it but the Art department had amazing professors and resources. It was inspiring to learn from professors like Jim Herbert, Art Rosenbaum, or Scott Belville and then learn they had solo shows at major Atlanta art galleries or directed R.E.M. videos. Now, UGA has been recognized as the excellent school that it is, and I'm afraid I couldn't get in if I were applying today!
Professor/class: One of my favorite classes was my Anatomy for Drawing class taught by Francis Ruzicka. I had several drawing classes with him and rearranged my schedule to take this class with him. We had a field trip the week of Halloween to look at cadavers, and I was amazed at how casual he was showing us dissected bodies. We didn't do any drawing on site but I'll never forget taking the elevator down to the the chilly morgue. Spooky but a great experience. I felt like Leonardo da Vinci!