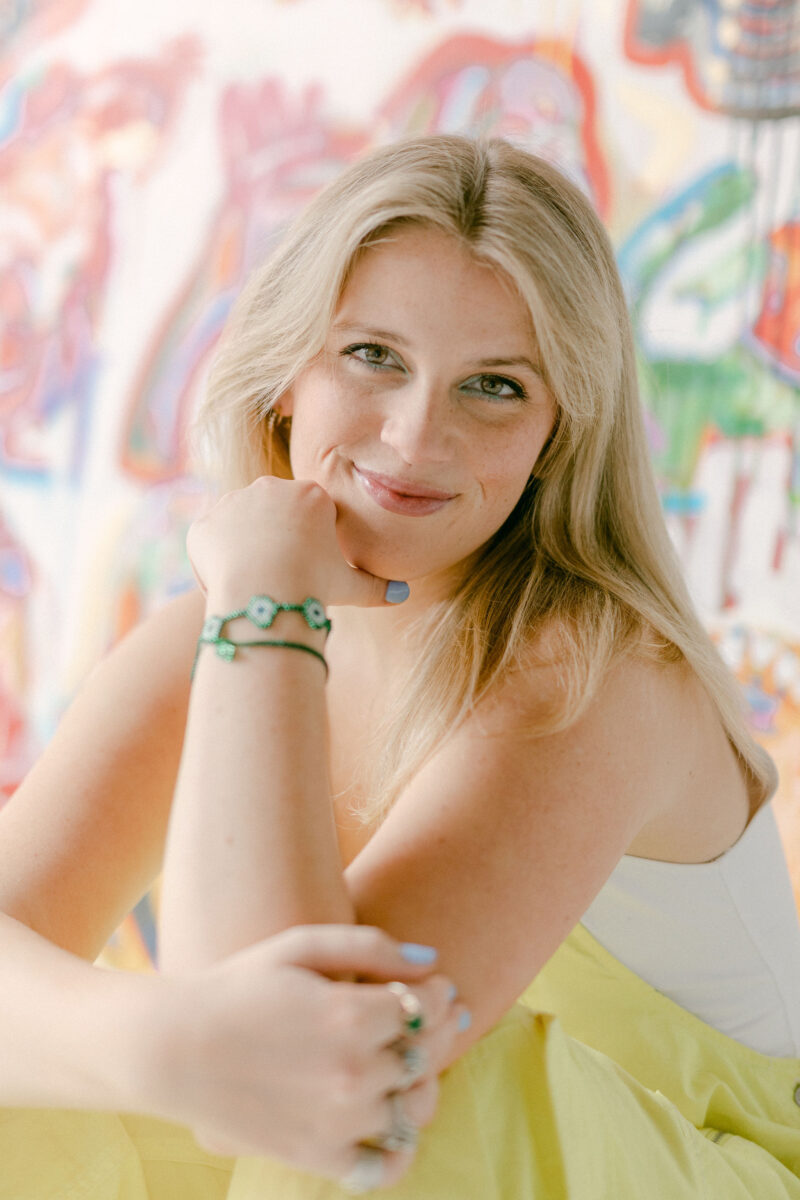 Name: Chandler Sherry              
Family: Kevin (father); Lee Ann (mother); David (brother); Blake (brother, Warnell School of Forestry 17'); Danny Bracco (boyfriend, Terry College of Business 22') 
Hometown: Marietta, Georgia 
Current Town: Atlanta, Georgia 
What Years at UGA: 2018-2022
School/Degree: Lamar Dodd School of Art, BFA in Textile Design; Double Minors in Fashion Merchandising and Design and Media Studies
Profession: I am the owner, artist, and creative director of Chan Art! Chan Art curates a creative twist to our favorite classic collegiate mascots (GO DAWGS!). I use untraditional colors and styles to depict school mascots. As a textile design major, I have been concentrating on color composition and textures to enhance my paintings, prints, and products. I love to use bold strokes and abstract lines to create loose images and serendipitous pieces of work. I do custom commissions, pop-ups, and wholesale! From fine art to the perfect tailgate accessories, I have you covered! I fulfill a niche for FUN and colorful artwork, that gives a nod to your favorite college memories, yet maintains a balanced modern, tasteful, and fun approach! Right now, I have expanded to nine schools and you can find my work in 14 different locations across Georgia and Tennessee! You can also find me online at chanartchanart.com
• I did over 25+ trunk shows in my first year from June to December.
• I was the featured live artist at the SEC Championship 2022.
• I have officially signed a deal with a company to collaborate on my first clothing line… More details to come on that!
Book: Cultish: the Language of Fanaticism by Amanda Montell (1)
Magazine: I love Vogue. Most inspiration and styles start at large fashion houses and trickles down to what we see every day.
Podcast: I am a BIG podcast girl! My favorites are Morbid, The Dream, S Town, and The Opportunist. When I need something a little more educational and positive, I have been loving How'd She Do That?
Blog: Baked by Melissa – I love to cook and she has great recipes!
Instagram: @ashleylongshoreart – FUN and cool art!! 
Brand: Editions Ventinove – I discovered this incredible silk scarf store in Sorrento, Italy. Great inspiration for a traditional product, with a modern flare. One of my scarves is aperol spritz themed!
Fashion designer: One of my favorite artists is Yayoi Kusama, known as the 'princess of polka dots.' Her collaboration as an artist and designer with Louis Vuitton is iconic!
Interior designer: The fabulous ladies at Athens Interiors Market! (3)
Chef: Kevin Rathbun – Atlanta Chef
Historical figure: Mary Lyndon – She was the first woman to graduate from the University of Georgia and the first Associate Professor in 1919. She opened the door for so many others, including myself! A few of my products are named in her honor.
Quote: 
The Most Powerful Woman in the Room is authentic in the way that she sells herself and her vision to other people. She is unafraid of presenting her true self and her vision.
– Lydia Fenet
Describe Athens in five words: Eclectic community of creativity, innovation and tradition.
Restaurants and bars: World Famous is my absolute favorite. The cocktails are fresh, the food is delicious, and the space is filled with character. Also, Last Resort–you can't go wrong here! (4)
Shops: Dukes, Cheeky Peach and Monkees! 
Athens/campus landmark: Looking into Sanford Stadium from the scoreboard.
Memory while in school: Winning the National Championship for the first time in 40 years in my senior year of college and attending the game! 
Professor/class: Screen Printing with Professor Crenshaw. 
Gameday ritual/plan: My 'Chandana' and a mimosa! 
I am always the one to show up with homemade buffalo chicken dip. It's nothing crazy but is 100% essential.