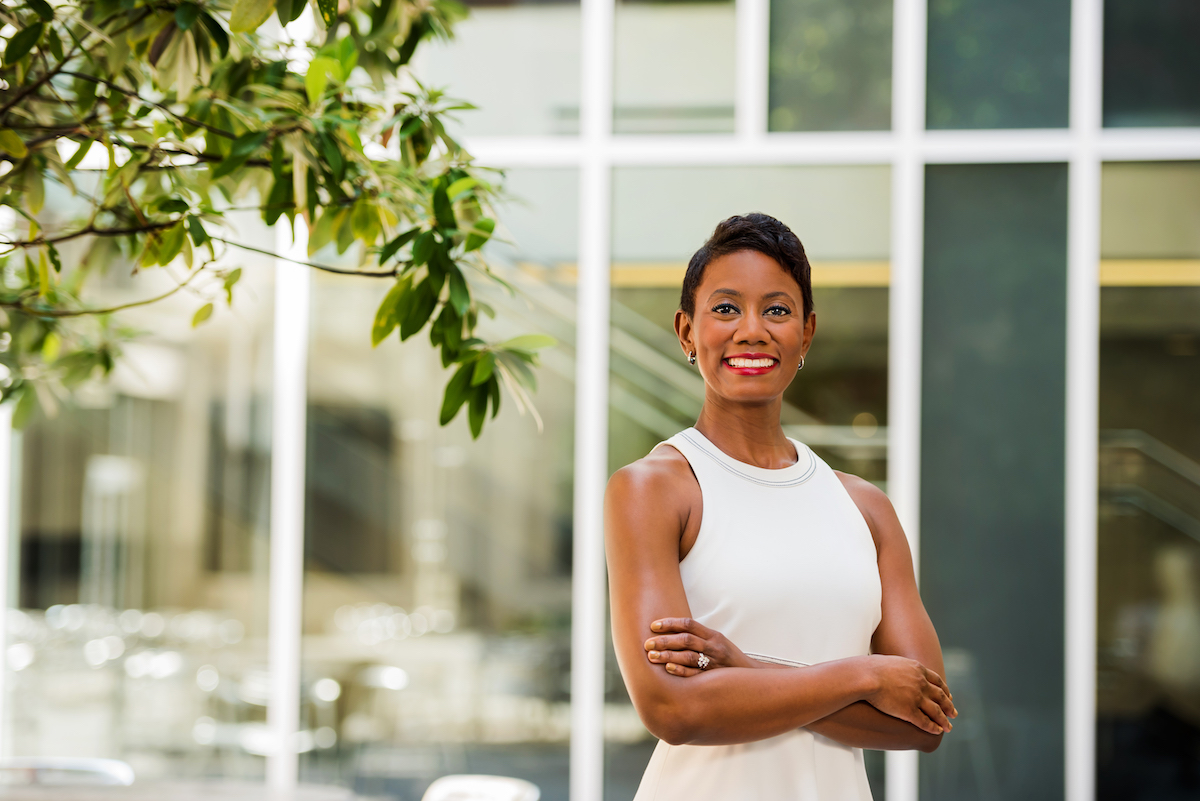 Name:  Dominique Holloman
Family: Son: Evan, 12 
Hometown: Atlanta, Georgia 
Current Town: Atlanta, Georgia
What Years at UGA: 1997-2004
School/Degree: Franklin College of Arts & Sciences: BS Psychology AB Sociology, Mary Francis Early College of Education: MEd Sport Management, School of Law: JD 
Profession: I am in my third career working in the Public Policy/Government Affairs space. Currently I am the Government Affairs Manager for MARTA (Metropolitan Atlanta Rapid Transit Authority). I am grateful that my Georgia education has given me the flexibility to have a variety of professional experiences. 
Accolades: Those special to me are the ones I have received from UGA and they are being 2017 UGA 40 Under 40 and the 2018 Recipient of the Nyota Tucker Trailblazer Award from Georgia Law's Davenport-Benham Black Law Students Association
ATHENS + UGA:
Describe Athens in three words: Food. Fun. Football.
Fave bars and restaurants in Athens: I have lots of fond memories from Flanagan's, but now enjoy having a drink at South Kitchen + Bar. I always have a great meal at Hilltop Grille, cannot resist the Uptown Shrimp at Five Bar, and appreciate I can have chocolate cake for breakfast at Mama's Boy.
Fave shops in Athens: Heery's and Agora Vintage
Fave Athens landmark: The Arch and Herty Field
Describe your typical Bulldog game day: Every game day is different depending on who I am spending it with. However, my day usually includes a trip to the Bookstore, popping by a tailgate or two on South Campus, and a pre or postgame snack and drink at Mellow Mushroom to catch the other games. 
Share a tailgate recipe: What's a tailgate without a refreshing beverage? 
My favorite is …
The All American:
1 oz bourbon
1 oz Southern Comfort
6 oz Coca Cola
BEAUTY:
Fave lipstick: Spanish Fly by MAC
Fave mascara: Lancôme Definicils
Fave skin care line: Trying out new skin care products is one of my favorite things. Therefore, I do not have a favorite line however Cerave products never disappoint me. 
Fave hair product: My secret pleasure is having my hair washed and that makes my favorite hair product whatever shampoo my stylist is using.
Product you can't live without: Lipstick. My grandmother said you should never leave the house without your lipstick on and I take that to heart. 
Best budget buy product: Cerave (anything made by them is amazing. See above.)
Biggest product splurge: This year so far—the product collection of Necessaire and the rose gold razor from Oui the People.
STYLE:
Fave fashion designer: Carly Cushnie. Her clothes are so beautiful and make me feel beautiful when I wear them. 
Fave interior designer: Erika Ward. She is a classmate of mine from undergrad and it has been a treat to watch her transition careers, create beautiful spaces, and grow a business that has made her a highly sought-after interior designer. 
Fave jeans: Good American
Fave tee: Cremieux
Fashion idol: I get a lot of style inspiration from tv and the Jessica Pearson character on Suits is who I want to dress like when I grow up. 
Fave flower: Gardenia. My grandmother had gardenia bushes in her backyard and the smell reminds me of her and summers at her house. 
Fave accessory: I never leave home without wearing a pair of earrings. I feel naked without them. 
Fave stationery: Crane & Co. If you have ever received a handwritten note from me, it was likely on Crane stationery. 
INSPO:
Who inspires you? My mother inspires me. She is the smartest woman I know with a penchant for numbers I will never have and a knack for solving every problem. Whatever I cannot figure out from how to pack an item to what is the best next thing to do, I know she can tell me how to do it or what I should definitely not do. I doubt I will ever achieve the level of grace and graciousness she possesses though I certainly try to emulate it. 
Fave blog: 365 Atlanta Traveler and StyleBlueprint Atlanta
Fave instagram: @thewelldressedhouse @liketoknow.it.home
Fave magazine: Garden & Gun makes me love being a Southern girl. The answers to the G&G's Burning Question in the weekly Talk of the South newsletter usually give me a good belly laugh too. 
Fave book: Seraph on the Suwanee by Zora Neale Hurston
Fave song: A Song for You by Donnie Hathaway
Fave artist: Sade