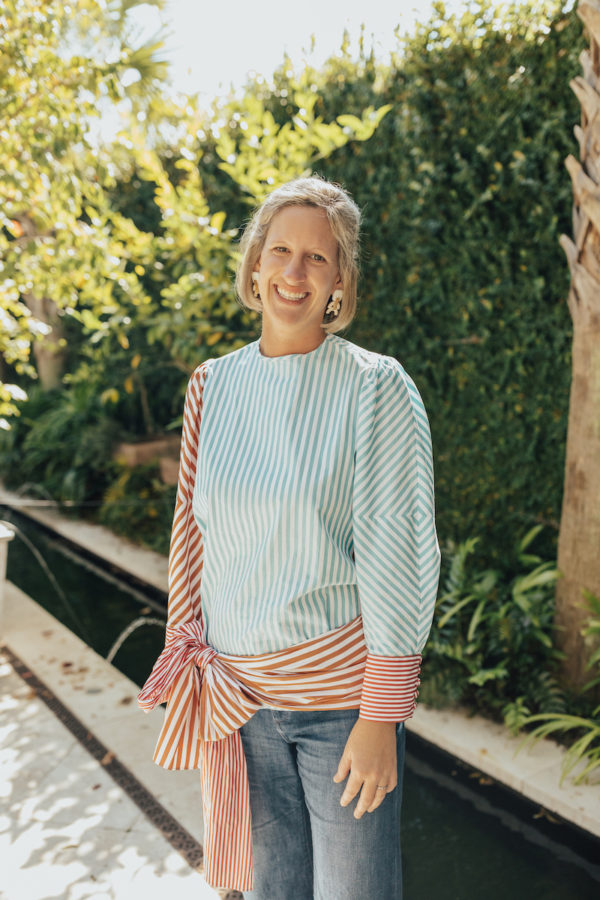 Name: Everett King Waldrep      
Family: Clark, husband; Thomas (7), Jack (5), Evie (2), and lab Captain
Hometown: Columbus, Georgia
Current Town: Greenville, South Carolina 
What Years at UGA: 2003-2007
School/Degree: Biology major 
Profession: Art consultant and construction management. EKC adds happiness to your home and workplace by helping place original art in your life. 
ATHENS + UGA:
Describe Athens in three words: Lively. Energetic. Charming.
Fave bars and restaurant in Athens: Bourbon Street, Last Resort, Blind Pig Tavern
Fave shops in Athens: R. Wood, Agora Vintage, Hawthorne House 
Fave Athens landmark: The Bell!  
Describe your typical Bulldog game day: Always start by saying "Wake up! It's Gameday!" Pour a mimosa, turn on the fight song followed by Pat Green and reminisce about the glory days  
Share a tailgate recipe: 
Black Bean Dip
2 cans black beans, rinse and drain
10 oz bag frozen corn (do not thaw)
1 red bell pepper, chopped
1 small bunch green onion, chopped
Mix 
1/4-1/2 cup lemon juice
1/4 cup olive oil
10-12 oz picante sauce
1/2 – 1 tsp garlic salt
1/2 – 1 tsp cumin
Salt and pepper
Mix all together and let sit in refrigerator over night.
BEAUTY:
Fave lipstick: Umm chapstick
Fave mascara: Whatever is within reach
Fave skin care line: Clearasil facewash
Fave hair product: Oribe dry texturizing spray
Product you can't live without: Under eye concealer which still doesn't conceal enough 
Best budget buy product: Again, chapstick
Biggest product splurge: Beauty counter body wash (Have we figured out beauty is clearly not my area of expertise?)
STYLE:
Fave fashion designer: Everyone at Hampden Clothing but specifically Laura Krude and CO
Fave interior designer: Taylor Hill, Ashley Gilbreath, TD interiors
Fave jeans: Rag and Bone 
Fave tee: Lee Matthews
Fashion idol: Kate Middleton 
Fave flower: Sunflower 
Fave accessory: My great grandmother's pin turned into a necklace. I wear it daily  
Fave stationery: Glory Day Loftlin stationary 
INSPO:
Who inspires you? Women who follow their dreams. Often times we go down a path society or our college major deem "successful" without considering our innate passions.  Maybe that got suppressed over time or you were told it'll never work.  Go back to what lit you up as a kid.  Just maybe you have a future doing the thing that supposedly couldn't be done.  
Fave blog or podcast: How I Built This and Hitting Rock Middle by Sallie Holder 
Fave instagram: Golden Goodness Infinity
Fave magazine: Garden & Gun. Fashion, art, and culinary all wrapped into one. 
Fave book: The Big Leap and Hitting Rock Middle by Sallie Holder
Fave song: Currently the one playing on repeat at our house is "Dirt on my Boots" but "Amazing Grace" always makes me shed a tear and Pat Green "Wave on Wave" will forever remind me of Athens.  
Latest Netflix binge: Madam Secretary 
Fave artist: Whoa! Too many to name— Kiah Bellows, Laura Deems (Go Dawgs!), Dorothy Shain, Kit Porter, Allison James, Kathy Cousart