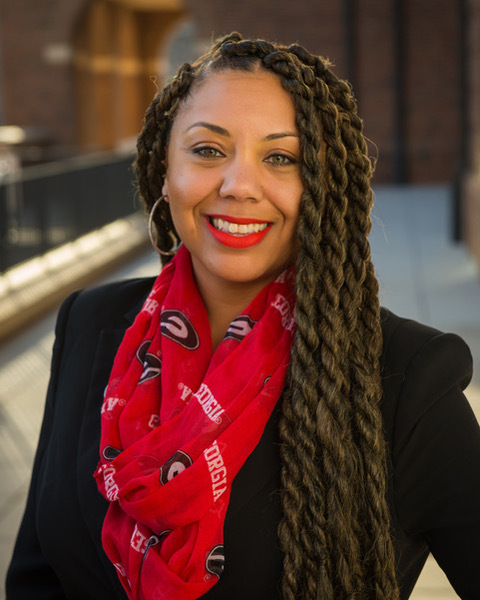 Family: Olivia, my adorable dachshund; no kids/never married (I'm single and ready to mingle!)
Hometown and Current Town: Atlanta
What Years at GA: 1997-2001
School/Degree: BS in Microbiology from Franklin; MS in Medical Microbiology from College of Vet. Med.
Profession: I wear two hats in my career- I am a Commander in the U.S. Public Health Service and a Health Scientist at the Centers for Disease Control and Prevention. Under both titles, I respond to domestic and international public health emergencies and develop science policies to protect and advance the health and safety of the nation.
Proud to serve as the Vice President of the UGA Black Alumni Council. Also, I received an Achievement Medal and Presidential Unit Citation from President Barack Obama for serving on the frontline in response to the Ebola outbreak in West Africa.
Book: No One Succeeds Alone by Compass founder and CEO, Robert Reffkin (1)
Magazine: Conde Nast Traveler, HBR
Podcast: Pod Save America, How I Built This with Guy Raz, Stuff you Should Know
Blog: Holy Sip (by Shannon Evans)
Instagram: @kizzyphd, @thedogist, @humansofny, @newyorkermag
Brand: Peloton
Fashion Designer: vintage Tom Ford for Gucci (2)
Interior Designer: Tavia Forbes and Monet Masters (Forbes Masters)- This dynamic duo is great at incorporating eclectic design elements into modern interiors. (3)
Chef: Gabrielle E. W. Carter
Historical Figure: Audrey Hepburn (4)
Quote:
"God can dream a bigger dream for you than you can dream for yourself…" -Oprah Winfrey
Describe Athens in Five Words: My home away from home.
Restaurants and Bars: Last Resort and Manhattan Café.
Shops: Agora Vintage.
Athens/Campus Landmark: The Tree that Owns Itself on Finley Street and The Arch.
Memory while in school: Joining my sorority (Delta Sigma Theta) and being active in student organizations (e.g., University Union, Arch Society) are among my favorite UGA memories.
Professor/Class: Dr. Margie Lee and Dr. Jose Cordero are two major professors who have deeply impacted my life. I am forever grateful for their mentorship.
GameDay Ritual/Plan: UGA Black Alumni homecoming tailgate on Myers Quad .
Tailgate Recipe: Any cocktail spritzer is my game day beverage of choice. Go Dawgs! (5)