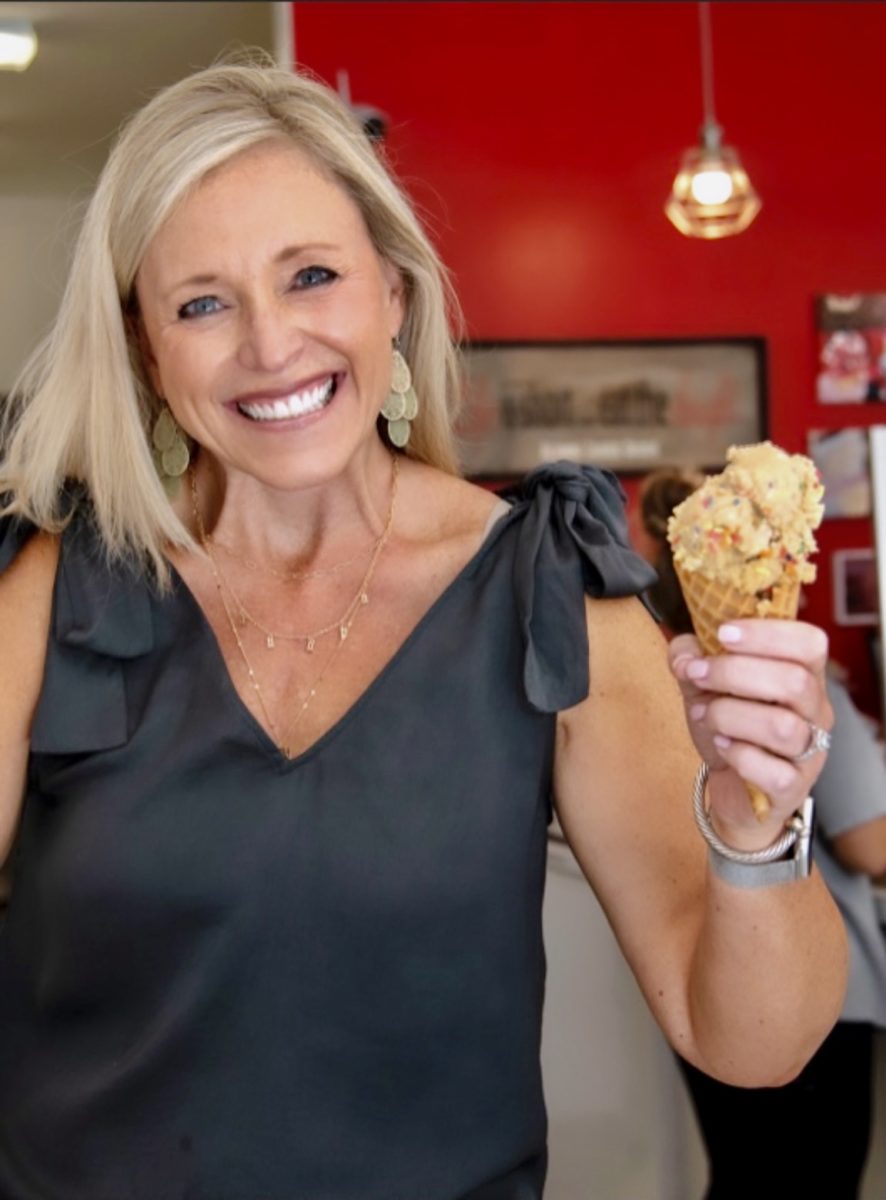 Name: Jennifer Sawls Dollander
Family: Husband, Mike (UGA Alumni, class of 1990) Five children, Will (24), Stephanie (22), Dreyton (21), Payne (18), Addy Kate (14)
Hometown: Born in Birmingham, raised in Peachtree Corners and call Athens home!
Current Town: Athens, Georgia
What Years at UGA: 1991-1995
School/Degree: Child Life in the School of College of Consumer and Family Sciences
Profession: After 15 years of teaching, regular and special education, I felt an itching to make a change. I've always believed if you want to make a change in your life, do it! This life is so short and time is precious. After much prayer, the cookie dough business presented itself on a trip to New York City with our daughter Stephanie, for her 18th birthday celebration. It was truly a lightening strike moment and I've never ignored these life changing moments. Less than six months after the birthday trip we opened the doors to our first Alumni location at 480 N Thomas Street in downtown Athens. Less than a year later we opened our second location in Augusta, franchised in 2019-2020 and currently have four franchises sold. Our wholesale division has exploded with over seventy locations. With Mike and I both working the business full time it's truly a dream come true. (1)
Board of Directors for Extra Special People, 2020-2022. Chairperson for the Leadership Committee of the American Heart Association. Alumni Cookie Dough was awarded the Georgia Business Journal's Best of Georgia award for best dessert in Georgia, 2021.
Quote:
"Trust in the Lord with all your heart and lean not unto your own understanding. In all your ways acknowledge him, and he will direct your paths." Proverbs 3:5-6
Describe Athens in five words or less: Greatest place to call home!
Restaurants and bars: Mike and I love date nights downtown. Georgia Theater Rooftop and concerts, Hybar, Creature Comforts, The Place and Paloma Park are among our favorites. Our all-time favorite will always be FIVE Bar, it's where we had our first date! Their Jalapeno Margarita is to die for! (2)
Brand / Shops: I am not a brand girl! I am however a huge bargain shopper, I love really nice things at great prices!
Athens/campus landmark: Just driving into downtown still gives me chills. It's such a special place … it's where I have so many wonderful memories as a student, it's where I raised my children, it's where Mike and I had our first date, and now it's the place of our business. I still have to pinch myself, sometimes it feels like a dream. (3)
Memory while in school: Walking through North Campus is a favorite, then and now. It's a special place and often feels magical. I also loved living in the AOII House, what treasured memories in such a gorgeous house. I absolutely love passing by the house and seeing that beautiful red door.
Gameday ritual/plan: We love tailgating with friends in the Reed Hall Quad, enjoying yummy apps and cocktails, and of course dressed head to toe in red and black.
Tailgate Recipe:
Cookie Dough Brownie Bites
Make bite size brownie cups, top with Alumni Cookie Dough Red Velvet Dough and drizzle with melted chocolate. It's DOUGH-licious! (4)