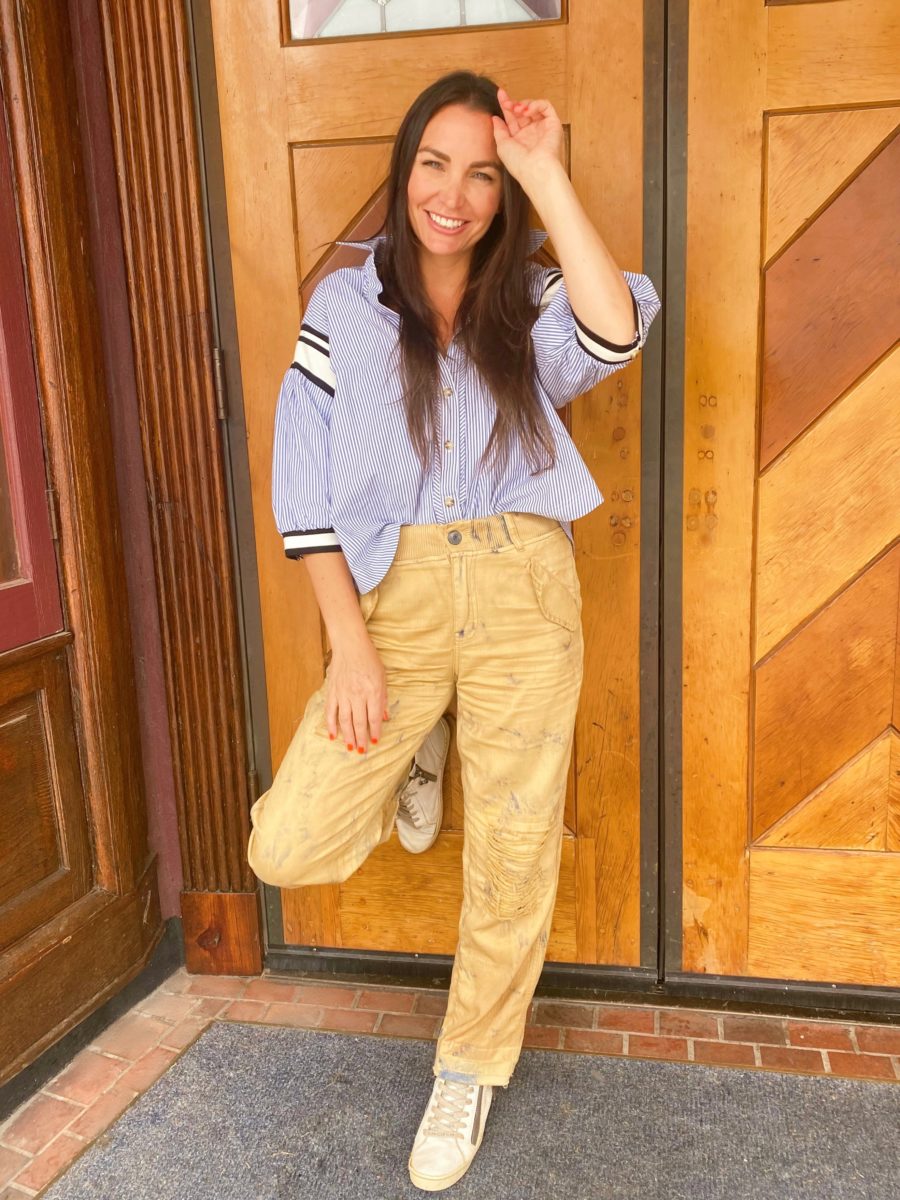 Name: Katie Foley Jacobs
Family: Jason Jacobs (former UGA baseball player, coach, and UGA Alumni) Sons: Johnny Lee (8) Griff (6) Mack (1)
Hometown: Alpharetta, Georgia by way of Chicago.
Current Town: ATHENS!
What Years at UGA: 2003-2005.
School/Degree: Magazine Journalism with an emphasis in Photojournalism.
Profession: I've loved owning and operating Cheeky Peach in downtown Athens for 12 years, creating transformative styling experiences in a wildly exciting atmosphere. In April of 2021 we expanded our passion into the Buckhead neighborhood of Atlanta with the help of our former Athens stylist Shelbi Watts. Opening this second location has been a wonderful extension of Cheeky! Shelbi has done a beautiful job of keeping the vision and obsession with styling aligned in Atlanta.
Arch Award Recipient (2022) UGA Alumni Association 40 under 40 Award (2017) Bulldog 100 List ('16, '17, '18).
Book: I love to read and I'm trying to pass my passion to my kiddos. I just finished reading them Where the Mountain Meets the Moon by Grace Lin, it's a beautiful story I recommend to children and adults alike. (1)
Magazine: I take 10-15 fashion magazines. It's hard to pick a fav! W Magazine is really artfully curated, I also love Architectural Digest, and Bon Appétit.
Instagram: I've been making a concerted effort to use instagram less, and more exclusively for work purposes – so @cheekypeach (shameless plug!) (2)
Brand: Dolce Vita shoes are my weakness. You can't get better design, quality, and comfort for the price. (3)
Fashion designer: Celine! The perfect combination of sexy rock & roll while incorporating classic themes, and a southwestern flair.
Interior designer: Beata Heuman – her work is delightful. I'm slowly filling my house with her goodies and inspiration! (4)
Chef: My friends Peter Dale of Athens fame and Elliot Cusher of Grana in Atlanta. Both great talents and people.
Historical figure: Dolly Parton and Amelia Earhart are two extraordinarily bold women I revere, who shattered glass ceilings and perceptions. (5)
Quote: "Be sure, then go ahead"  – My husband, summarizing Davy Crockett. We use that saying in all decisions big and small, simple but effective!
Describe Athens in five words or less: An electric, eclectic community.
Restaurants and bars: Hi Lo, Expat, Seabear, and Chuck's on rotation.
Shops: CHEEKY PEACH!
Athens/campus landmark: There's something magical and awe-inspiring about North Campus. I never cease to be overwhelmed with gratitude that I live in the best college town in America.
Memory while in school: Meeting my husband at Sons of Italy (IYKYK) has to be the top memory! Riding on the Equestrian Team and all the wonderful memories surrounding that time places close second.
Professor/class: Conrad Fink for Journalism Ethics. Fink is a legend within Grady. I was one of the lucky ones who had the opportunity to learn from him.
Gameday ritual/plan: A few years ago we moved a mile from downtown. We love walking our kids up to North Campus to get donuts and throw a football pre-game, to enjoy the buzz of the morning with them. Seeing Saturday in Athens through their eyes is such a joy.
Tailgate Recipe: Cheesy olive bread that is SINFUL from Pioneer Woman. It's a tradition at this point, but boy don't count the calories!