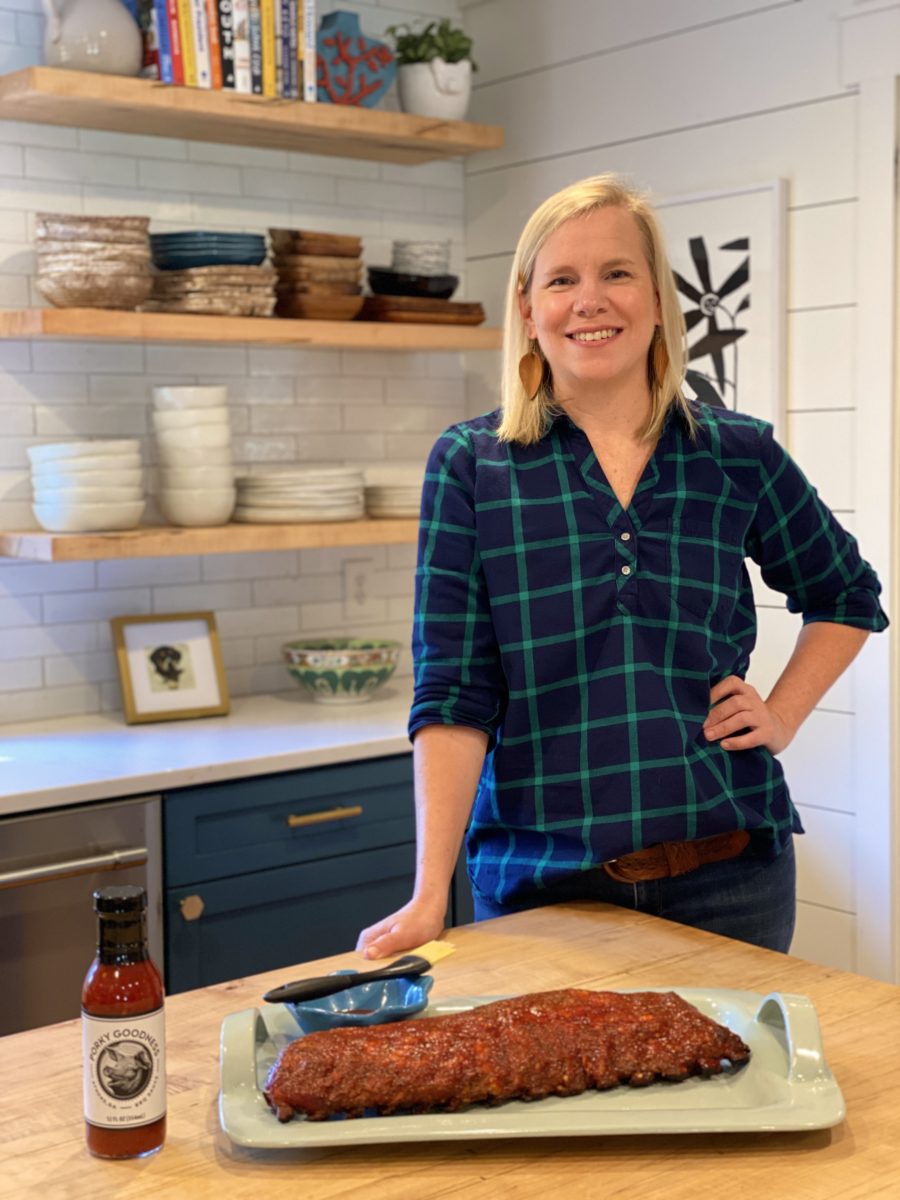 Family: 6-yr old Coonhound named Jimmy.
Hometown: Augusta, Georgia
Current Town: Athens, Georgia
What Years at UGA: 1994-1998
School/Degree: Franklin College of Arts and Sciences, English.
Profession: I own a small-batch BBQ sauce company in Athens called Porky Goodness. For the last decade, the sauce was just a gift in a mason jar so it was really exciting to finally bottle it earlier this year. I also recently launched a new line of BBQ rubs called Tanya Clucker and Patsy Swine. I have also been in real estate in Athens for 16 years and I am an Associate Broker at Sound Real Estate, Inc.
Hearing folks say Porky Goodness is their favorite BBQ sauce is really all the accolades I need. Making people happy through my food is the best reward!
Book: Beach Music by Pat Conroy
Magazine: Garden and Gun
Podcast: The Splendid Table, all things food hosted by Francis Lam
Blog: Serious Eats, www.seriouseats.com. Talk about recipe testing! These writers won't steer you wrong. They try every method possible and it's fascinating.
Instagram: @porkygoodness, @castironkt (2) and @ktrealestate (My friends laugh at how many food photos are on my phone right now. Literally, a million.)
Brand: I love the Meat Church brand. They do a great job.
Fashion designer: Hedley & Bennett (they make aprons!)
Interior designer: Athena Calderone – she is an amazing interior designer who also knows how to create a beautiful plate of food, @eyeswoon.
Chef: Vivian Howard
Historical figure: Flannery O'Connor
Quote: Food is symbolic of love when words are inadequate – Alan D. Wolfelt
Describe Athens in five words or less: Laid-back, eclectic, cultural oasis.
Restaurants and bars: Home.Made, The Table Bistro, The World Famous, Normal Bar.
Shops: Wonderful shop owners make wonderful shops! I love the ladies at Appointments At Five and The Avenue.
Athens/campus landmark: The 40 Watt – I can't tell you how many bands I have seen in there over the last 25 years at all stages of my life. Everything has changed around here except for The 40 Watt. It is exactly the same! That's what I love about it! (5)
Memory while in school: Panic In The Streets! I'll never forget that day and this amazing town! (6)
Professor/class: I am so old that we were on the quarter system when I went to UGA so this is a stretch to remember! I did have a Biology T.A. named Tomer Tishgarten, who somehow helped this English major get an A in Biology. That may have been my proudest academic moment. How can you forget a guy named Tomer Tishgarten? He was awesome.
Gameday ritual/plan: I love to start my Saturday by drinking coffee on my porch with a little College Game Day and then tailgate with a great group of friends at Kid's Tailgate by Clark Howell Hall.
Tailgate Recipe: My latest obsession and tailgate favorite is smoked cream cheese! The recipe is on my Instagram @porkygoodness.