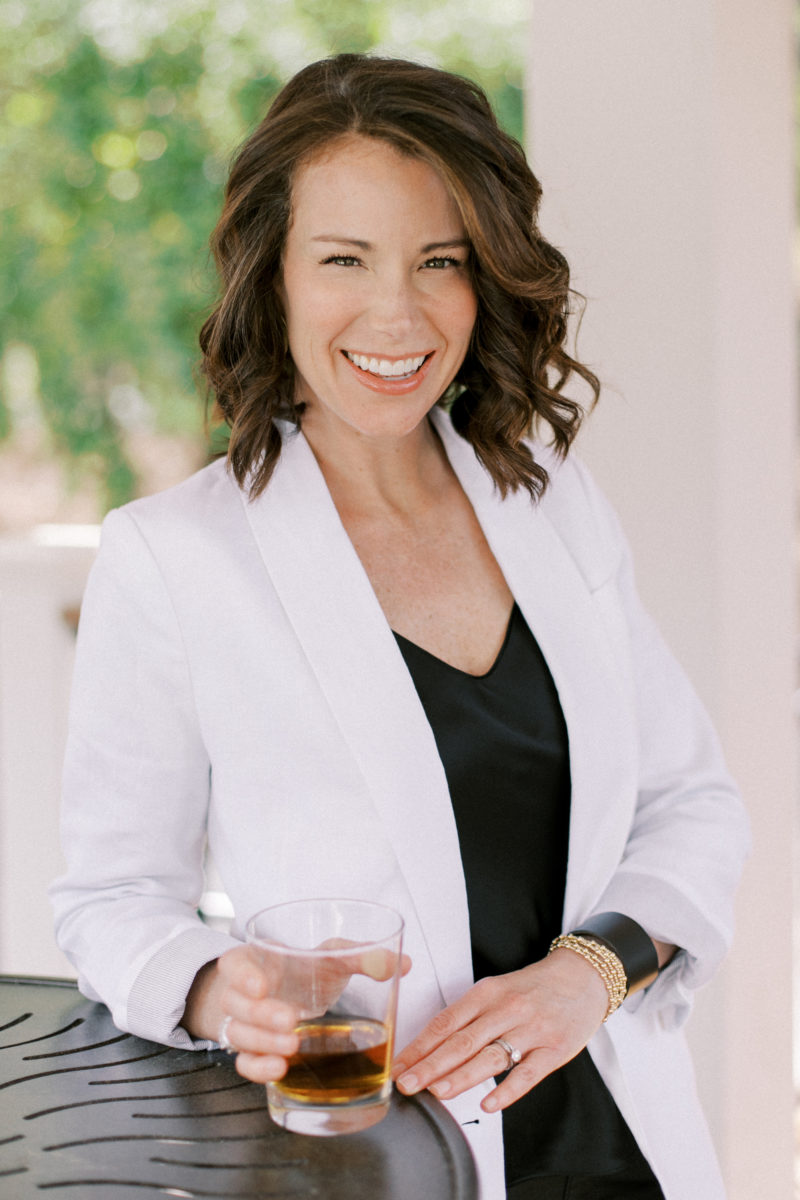 Name: Kelly Frey Chasteen         
Family: Married to Jim Chasteen (BSBA '98, Athens native), we have one son, Jonathan (18) and our daughter, Calla (15), Barley (american bulldog) and Oatis (sheepadoodle)
Hometown: Snellville, Georgia (where" Everybody is Somebody")
Current Town: Atlanta
What Years at UGA: 1996-2000
School/Degree: Mary Frances Early College of Education, Bachelor of Science Degree in Special Education '00
Profession: Partner and Head of Private Events, Retail and Interior Design at ASW Distillery
ASW is the most awarded craft distillery in the country at the prestigious San Francisco World Spirits Competition (SFWSC). Won the Georgia Small Business Rock Star Award in 2019. Named to the Bulldog 100 of fastest growing business owned or operated by UGA Alumni in 2020 and 2021. Voted Mother of the Year by my kids that came with an awesome t-shirt.
Book: Flash, The Homeless Donkey who Taught Me about Life, Faith and Second Chances (if you know me, you know my unending love for donkeys)
Magazine: Inc. Magazine and Magnolia (2)
Podcast: Just Branding
Blog: Chris Loves Julia
Instagram: @ houseliftdesign (1), @theramblingredhead and @reesewitherspoon
Brand: Serenbe, Orvis, Enewton, FreeFly, Nickel & Suede
Fashion designer: Ralph Lauren, I still love to rock a blazer. He's had my heart since the 90s.
Interior designer: CLD Interiors, Elle Design House, Michele Gratch Interiors, Margaret Long Interiors, Steve McKenzie, Melanie Davis Design,Weaver Shurling interiors, Oliver Carter (Architect and Interiors), Amanda Orr (Architect and Interiors)… I am blessed to have surrounded myself with amazingly creative and talented friends.
Chef: Too many to name, but Suzanne Vizethann Barfield of Buttermilk Kitchen and Kevin Gillespie of Red Beard Restaurants inspire me with not only their cooking, but also their balance of life and work.
Historical figure: Florence Griffith Joyner, Good gravy she was fast! I ran track in high school, not fast, but loved to believe that I could be like FloJo. (3)
Quote: Every person you meet, every single one, is looking for their story. There are no exceptions. You become part of it by how you treat them. -author unknown
Describe Athens in five words or less: The place I found me.
Restaurants and bars: Last Resort, Flanagan's/Half Moon (where I met my husband), The Grit (4).
Shops: Appointments at Five, Heery's Too, Onward Reserve.
Athens/campus landmark: Founder's Memorial Garden (where he proposed).
Memory while in school: So many laughs with my sisters at Delta Zeta, so many dance parties at the Lambda Chi House, football games, student teaching and learning about the Eastside of Athens from Jim's family.
Professor/class: Food and Nutrition, Professor Fischer, She saved me as a Freshman. I had an A+ in her class, but wrote the date of the Final down wrong and missed it. I called her sobbing. She took pity on me and allowed me to take my final later that week. What a gift that was!
Gameday ritual/plan: Dress in our red and black, listen to the Red Coat band on the drive to Athens, drop the kids off with my wonderful in-laws, and meet up with friends to enjoy Bloody Mary's before the game.
My sister-in- law, Trenton Chasteen's Mexi-Bites!
8 oz sour cream
8 oz cream cheese
4.5 oz green chiles (drained and diced)
1 cup shredded cheddar cheese
1/8 teaspoon garlic powder
1/4 teaspoon seasoned salt
5 10" flour tortillas
Blend together sour cream and cream cheese with a mixer. Stir in chiles, cheese and seasonings. Spread the mixture equally on each of the flour tortillas. Place in a 9×13 pyrex, cover with a damp paper towel, and refrigerate overnight. Slice into bite-sized pieces and serve with salsa.