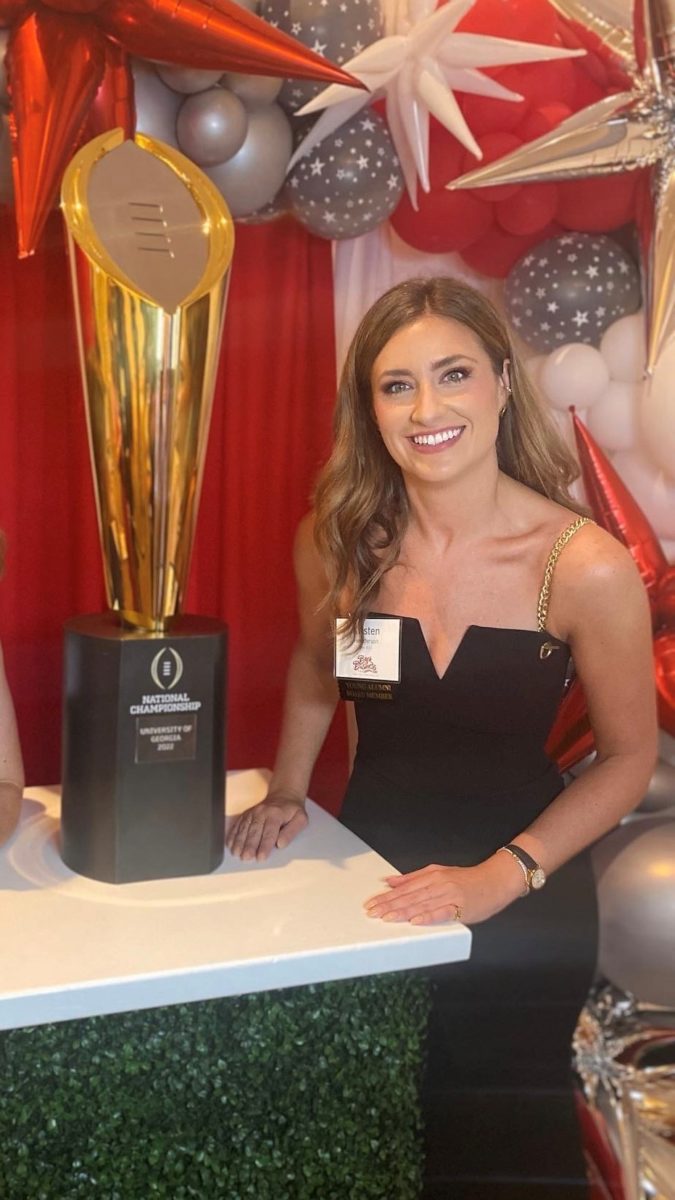 Name: Kristen Henderson
Hometown: Marietta, Georgia
Current Town: Atlanta, Georgia
What Years at UGA: 2006 – 2010
School/Degree: Terry, BBA in Finance
Profession: I am a Vice-President at Goldman Sachs in the Investment Management Division where I work closely with entrepreneurs, business leaders and non-profits. Current Chair of the Terry Young Alumni Board, Member of ILA's Inaugural Leadership Dawgs Class, Lead Goldman Sachs Women's Network for the Southeast
Book: The Alchemist
Magazine: ArchDigest or Travel + Leisure
Podcast: Armchair Expert with Dax Shepard and Monica Padman (also a UGA alum!) Blog: Goop
Instagram: @EyeSwoon or for a good laugh @DILFsof30A
Brand: Estelle Colored Glass (love a good coupe glass and a dirty martini)
Fashion designer: This is a loaded question for me. There are a lot of factors including my mood and destination but I'm wearing a lot of Rebecca Vallance right now. I'm also currently obsessing over pieces from David Koma and Alex Perry.
Interior designer: Amber Lewis, April Tomlin, Athena Calderone
Chef: Not technically a chef but I will blindly trust any recipe @DefinedDish creates
Historical figure: She is still alive but I would love to meet Dolly Parton. I think she is such a smart business woman, poised, funny, and extremely charitable.
Quote: You cannot get through a single day without having an impact on the world around you. What you do makes a difference, and you have to decide what kind of difference you want to make. – Jane Goodall (fun fact, I wanted to be her when I grew up)
Describe Athens in five words or less: Best college town in America!
Restaurants and bars: ZZ and Simone's is a new favorite but you can never go wrong at Last Resort.
Shops: So much has changed since I was there but Heery's continues to be a staple. Athens/campus landmark: This may be cheesy but probably the KD house because of so many fond memories.
Memory while in school: There are too many to count! I met the majority of my favorite people and closest friends at UGA. There are still 14 of us from college that are in a regular group chat.
.Professor/class: Mark Laplante's classes were always intense but I thoroughly enjoyed the challenge.
Gameday ritual/plan: Tailgating by the new Terry buildings.
Tailgate Recipe:
Avocado + Feta Dip
Ingredients:
1 avocado (not overly ripe), cubed
1 clove of minced garlic
1 TBSP EVOO
½ TBSP red wine vinegar
1 TBSP fresh parsley, chopped
½ TBSP fresh oregano, chopped
8 oz crumbled feta cheese
2 plum tomatoes, drained and
chopped
½ cup red onion, chopped
Salt & Pepper
Directions: Mix all ingredients together. If preparing early, add chopped avocado prior to serving and cover tightly with saran wrap to keep from turning brown