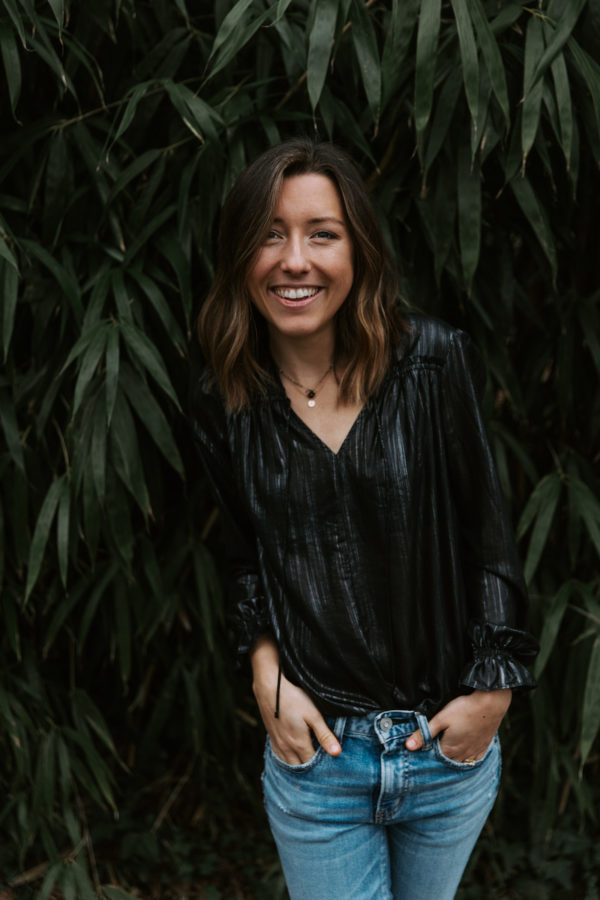 Name: Maggie Braucher
Family: Husband, John Braucher (UGA A.B., B.S. '16), and our pup Penn (a Vizsla)
Hometown: Atlanta
Current Town: Durham, North Carolina (previously Charleston, South Carolina … I'm still in denial I'm not a resident there!!)
What Years at UGA: 2013-2017
School/Degree: Advertising Major + Studio Art Minor
Profession: I dip my toes into a few different things and it always keeps my work life exciting!
I'm a freelance photographer and graphic designer. I work with start-up companies to develop their brand identity (logos, website, etc.) and creative marketing strategies— which often involves product photography, email design and such. My goal is to bridge the gap between the creative and business worlds for growing brands— creating visual content with strategy. I am currently also the Director of Marketing at Red Clay Hot Sauce, a foodie start-up based in Charleston that makes fermented, cold-pressed and flavor-forward hot sauces and hot honeys. It's all been a wild ride!
I also photograph weddings all around the southeast (so I definitely keep myself pretty busy …). During COVID, these weddings have seriously downsized, which has actually made each wedding day even more special— often it's now an intimate wedding with just the couple's closest friends and family members. I feel so inspired and honored to be able to witness and document their day. I'm finding that wedding photography holds an entirely new weight and importance right now, as it allows the guests who could no longer attend to be witnesses of this special day too. It's so special.
ATHENS + UGA:
Describe Athens in three words: My favorite town to visit!
Fave bars and restaurant in Athens: World Famous, Normal Bar and The Royal Peasant! We always get the pretzel bites at World Famous followed by a good cocktail at Normal Bar— this has become our classic date night when we're visiting Athens. And then getting Fish & Chips and a Bloody Mary at Royal Peasant for brunch the day after 😉
Share a tailgate recipe: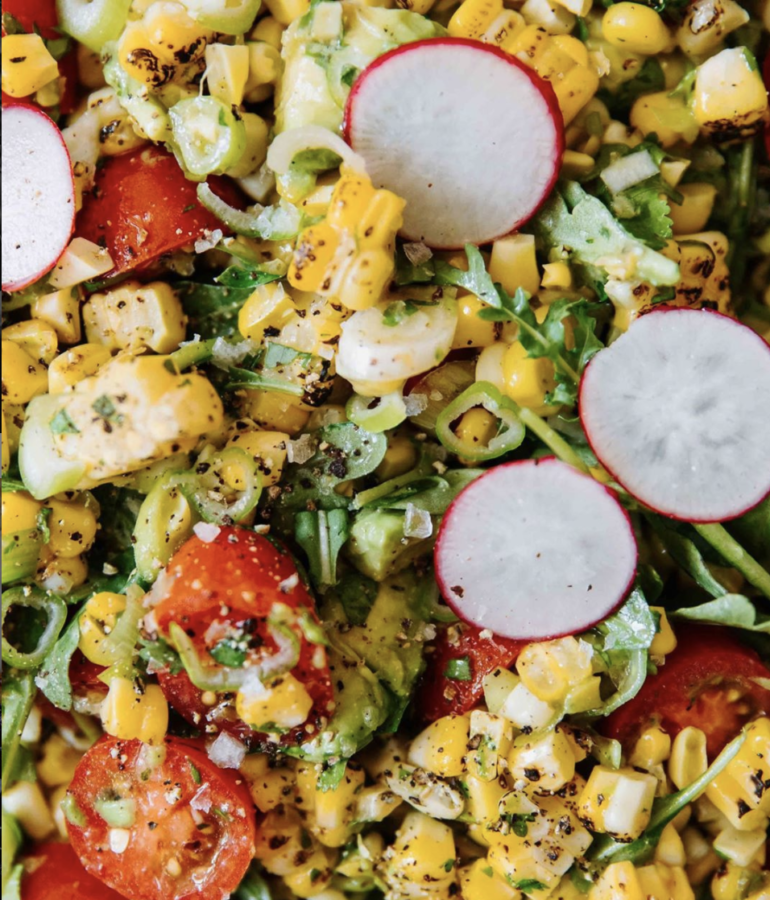 MADE WITH RED CLAY'S VERDE SAUCE
Ingredients:
4 ears of sweet corn, uncooked
16 oz cherry or grape tomatoes
1 cup cilantro
3-4 green onions
1 avocado
3 tbsp extra virgin olive oil
1/4 cup Red Clay Verde sauce
3/4 tsp sea salt (or more, to taste)
1/2 tsp fresh ground black pepper
1-2 cups arugula (optional)
sliced radishes to garnish
1. Grill the corn until it's cooked and a little charred. If not using the grill, boil the corn in salted water for 4 minutes until cooked, and then place into an ice bath. Once cooled, slice the corn off the cob and into a bowl. Cut all tomatoes in half, roughly chop the cilantro, dice the avocado and add to the bowl with corn. Slice the green onion thinly —white and green parts —and add to bowl.
2. For the dressing: In a small mason jar or bowl, whisk together olive oil, Verde sauce, salt and pepper. Feel free to add more salt or Verde to taste!
3. When ready to serve, toss the salad with arugula and the dressing. Garnish with thinly sliced radishes, cilantro, cojita cheese, etc. Enjoy!
BEAUTY:
Fave mascara: Thrive Causemetics Liquid Lash Extension Mascara. Seriously amazing, and the company gives to nonprofits that empower women in need!
Fave skin care line: RMS Beauty, another Charleston based brand -organic makeup and skincare products. 
Product you can't live without: Derma-E Vitamin C Serum for skin care and RMS Beauty's Uncover-Up Powder and Luminizer for makeup! And when I'm feeling really fancy, my Gua Sha.
Best budget buy product: Boy Brow by Glossier.
Biggest product splurge: All things RMS. their beauty oil is amazing.
STYLE:
Fave interior designer: Basic Projects (Kate Towill). She's a friend in Charleston who partnered up with her husband (a chef) to start an amazing restaurant called Basic Kitchen. She's designed some amazing homes, boutique hotels and restaurants on the east coast.
Fave jeans: AG
Fave tee: Everlane
Fashion idol: Hmm, Melissa Wood Tepperberg (she's more of a fitness person, ha.)
Fave flower: I think that the dogwood is absolutely beautiful! And I love the Easter story/symbolism behind it.
Fave accessory: My Rebekah Gough Saints choker or my Apple watch!
INSPO:
Who inspires you? All of the amazing business-owning women in my life! I have quite a few mentors that have (and still do) pour into me. They're the ones that showed me it was possible to pursue my dreams of starting my own business. And I'm also blessed to have incredibly gifted parents who also have encouraged (while still constructively challenging) me in this endeavor. They inspire me so much.
Fave blog: I'm a huge cook, so I love The Defined Dish.
Fave instagram: @halfbakedharvest
Fave magazine: Garden & Gun. I'm biased since I used to work there though!! I particularly have always been absolutely in awe of the magazine's incredible photography and editorial design. They are always pushing the boundaries on tradition by incorporating modern and creative elements of design.
Fave book: I don't read much, I listen to a ton of podcasts though! My favorite podcast right now is the HBR Ideacast or How I Built This!
Fave song: Agghhh, it's changing all the time! I've especially been loving Lake Street Dive and The Dip recently.

Fave artist: Two painters— Laura Deems (friend/dawg) and Meg Biram.