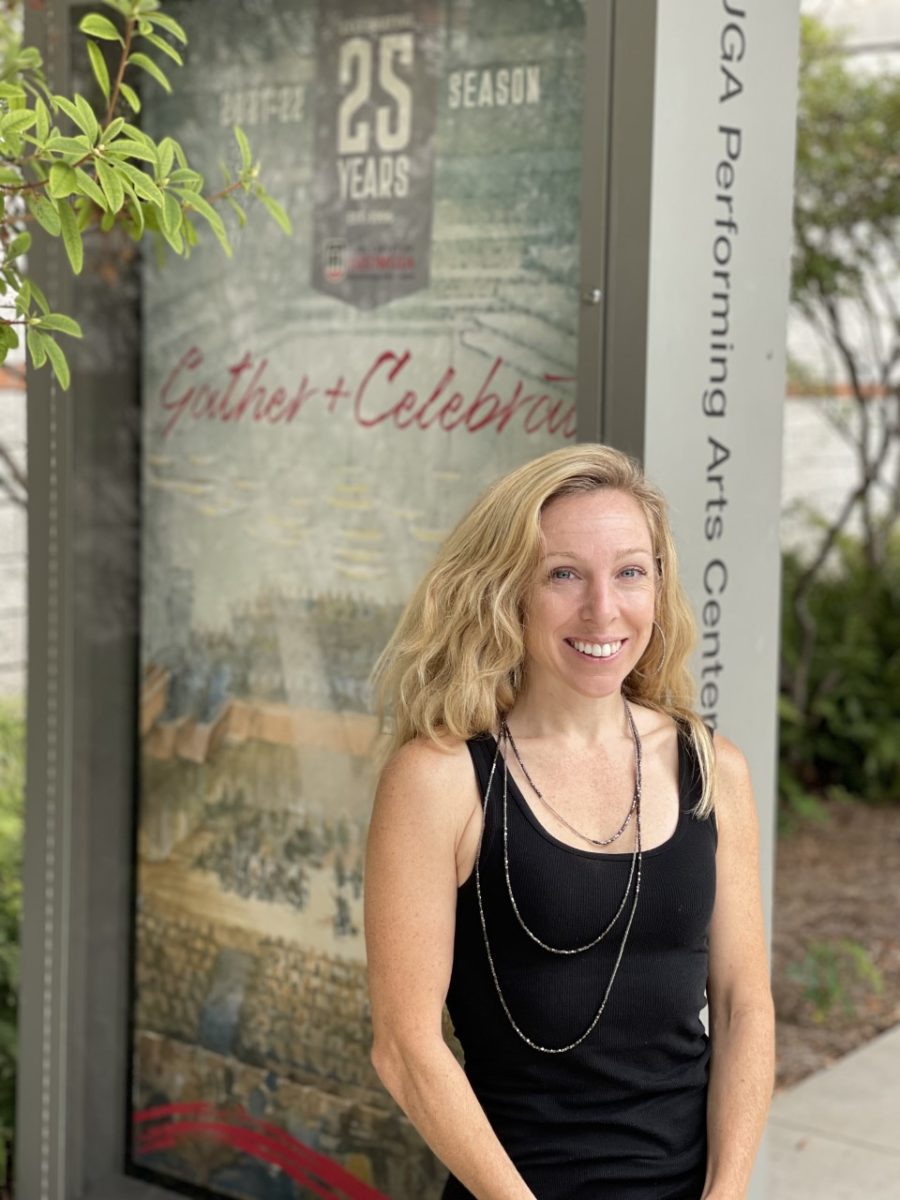 Family: I have two sons, Clay and Walker.
Hometown: Covington, Georgia
Current Town: Athens, Georgia
What Years at UGA: 1999-2001
School/Degree: I have a Master's in Historic Preservation from UGA's College of Environment and Design and a BA from Furman University.
Profession: I have recently returned to UGA to work in the Performing Arts Center. I'm excited to celebrate the upcoming 25th anniversary season, and I'm looking forward to helping the PAC expand its reach and create more opportunities for our community to experience live music, dance, and theater. I consider myself a cheerleader for the performing arts! Most recently, I was the executive director of Canopy Studio, a nonprofit aerial dance arts center in Athens. I still teach aerial classes whenever I get a chance — it's my passion!
Accolades: Nothing too official comes into recent memory because that 40 under 40 stuff was a long time ago…but I'm proud that Canopy is always voted a local favorite and considered a place to experience when visiting Athens.
Book: The upcoming book Familiar by Athens photographer Christy Bush. It'll be out just before the holidays and it's a hauntingly stunning collection of musicians, artists, and creatives. Prepare to be blown away!!!
Magazine: Garden and Gun (1)
Podcast: The Artist Athlete or NPR's How I Built This
Blog: Bitter Southerner. I can't say enough about how important their work is. #bettersouthbetterworld
Instagram: @ugapresents @canopystudio @ugadancedept and I check out @3porchfarm daily for mind blowing flower awesomeness! (2)
Brand: I might as well have black leggings painted on my body. Lululemon is just hard to beat — the local store on Prince is an active force in our community and they promote the Lululemon Here to Be Grant to fund outreach initiatives all over the country. (3)
Fashion designer: I'm still a goth at heart, so anything black and minimal (Theory or Prada). (4)
Interior designer: John Derian. Everything he does is magical! (5)
Chef: Peter Dale — not only a talented chef, but one of the best humans I know. (6)
Historical figure: Civil rights leader John Lewis.
Quote:
"Tell me, what is it you plan to do with your one wild and precious life?"—Mary Oliver
Describe Athens in five words or less: BEST CREATIVE COMMUNITY I KNOW!
Restaurants and bars: The National, Seabear, Dinner Party, Maepole, Los Amigos, Condor Chocolates and The Lark Winespace
Shops: Dynamite, Agora Vintage, Indie South
Athens/campus landmark: Founder's Memorial Garden + Oconee Hill Cemetery — beautifully designed and always a joy to visit! (7)
Memory while in school: Playing kickball against an older MHP class on Herty Field.
Professor/class: Pratt Cassity's Design Guidelines class is forever emblazoned in my memory. Fortunately, I worked with him for 10 years through UGA's Center for Community Design and Preservation. The work he did on behalf of UGA made a huge difference in communities across the world.
Gameday ritual/plan: I always watch the game with friends. And once a year I usually get to sit with my parents at their seats. It's always fun to watch a game with my dad. I've been going with them since I was teeny tiny and it's nice to still have that experience together.
Tailgate Recipe: WINGS. WINGS. WINGS.