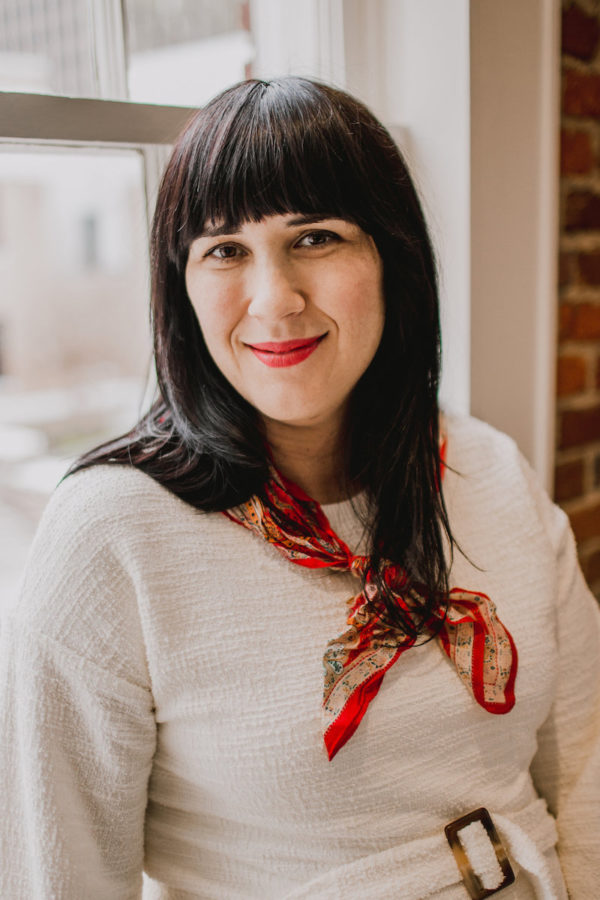 Name: Natasha Murphy
Family: Husband, Chris Houck (UGA BA, English '05); Daughter, Daisy James Houck
Hometown: Between, Georgia
Current Town: Atlanta
What Years at UGA: 1999-2006
School/Degree: Franklin College of Arts and Sciences; AB, Women's Studies; School of Social Work; MA, Nonprofit Management and Leadership
Profession (Share your elevator speech): I'm the principal developer and founder of Nicely Built where you can find me fostering my love for numbers and the art of shopping by building useful technology one coded line at a time. I launched Nicely Built in 2012 because I wanted to create a space where tech service providers and clients could come together to truly collaborate, and where employees would have the freedom to be innovative.
Accolades: Receiving a nomination for 40 under 40 and having Nicely Built in the running for Bulldog 100 have both been nice feathers to add to my cap this year.
INSPO:
Book: How to Be an Antiracist by Ibram X. Kendi. It isn't enough in this day and age to simply say you're not a racist. I believe we should all be actively finding ways to be anti-racist. 
Magazine: Atlanta Magazine. Since relocating from Athens to Atlanta five years ago, I spend my free time trying new restaurants, checking out events, and generally being a busy body about town. AM does a great job of highlighting what's new and exciting in the city!
Blog: Goop. Gwyneth Paltrow's online lifestyle brand catches a lot of flack at times for being nutty and out of touch, but it's my guilty pleasure! From fashion to parenting to wellness, I really love the broad range of topics the site covers.
Instagram: @takingcarababies. We have a five-month at home and are constantly focused on getting her to sleep through the night. And of course, @builtnicely, because the content is colorful, creative, and educational.
Fashion designer: Amy Smilovic of Tibi. I love Tibi's seasonal color palettes and the playfulness and functionality of their designs.
Interior designer: Emily Henderson of Style by Emily Henderson (@em_henderson on Instagram) for her perfect blend of modern and eclectic aesthetics.
Historical Figure: Kathleen Hanna has always been a hero of mine. Love how she marches to the beat of her own drum and has always readily spoken what's on her mind.
Chef: Peter Dale (Athens) or Maricela Vega (Atlanta)
Quote: "Returning hate for hate multiplies hate, adding deeper darkness to a night already devoid of stars. Darkness cannot drive out darkness; only light can do that. Hate cannot drive out hate, only love can do that." ― Martin Luther King Jr., Strength to Love
ATHENS + UGA:
Describe Athens in five words or less: Those were some good times!
Restaurants and bars: Go Bar, Heirloom, Little Kings, The National, Seabear Oyster Bar, The Grit, Manhattan Bar
Shops: Agora, Kum's Fashion, Potter's House Thrift Store
Athens/campus landmark: Founder's Memorial Garden, where I spent many a lazy afternoon strolling with my family post Sunday brunch.
Gameday ritual/plan: On gamedays in Athens, the day would start early with friends, Bloody Marys, and an interesting, albeit fashionable look involving red and black. Depending on whether we had tickets or not, we would head to the stadium or downtown to watch the game. Regardless of whether the Dawgs won or lost, downtown Athens was always the best place to be after a home game!
Memory while in school: Oh wow, so many to choose from! The most impactful memory that comes to mind is organizing and hosting the 2002 Southern Girls Convention with my friends and classmates. We held the DIY conference over Summer semester and worked with the University to secure dormitory lodging space for out of town attendees. The workshops and discussions ran the gamut from bike repair to belly dancing. Our keynote speakers were Elaine Brown and Constance Curry. For a country girl, helping to orchestrate a large social justice conference was truly an awe-inspiring event. The New York Times even came down and wrote a piece on our efforts!
Professor/class: Dawn Haney, Gender and Computing. This course was one of the first I enrolled at UGA. One of the requirements for completion was a Computer Science 101 lab in which basic HTML was taught. Although I had used a computer all throughout high school, this was my first introduction to any type of coding and I was hooked instantly.