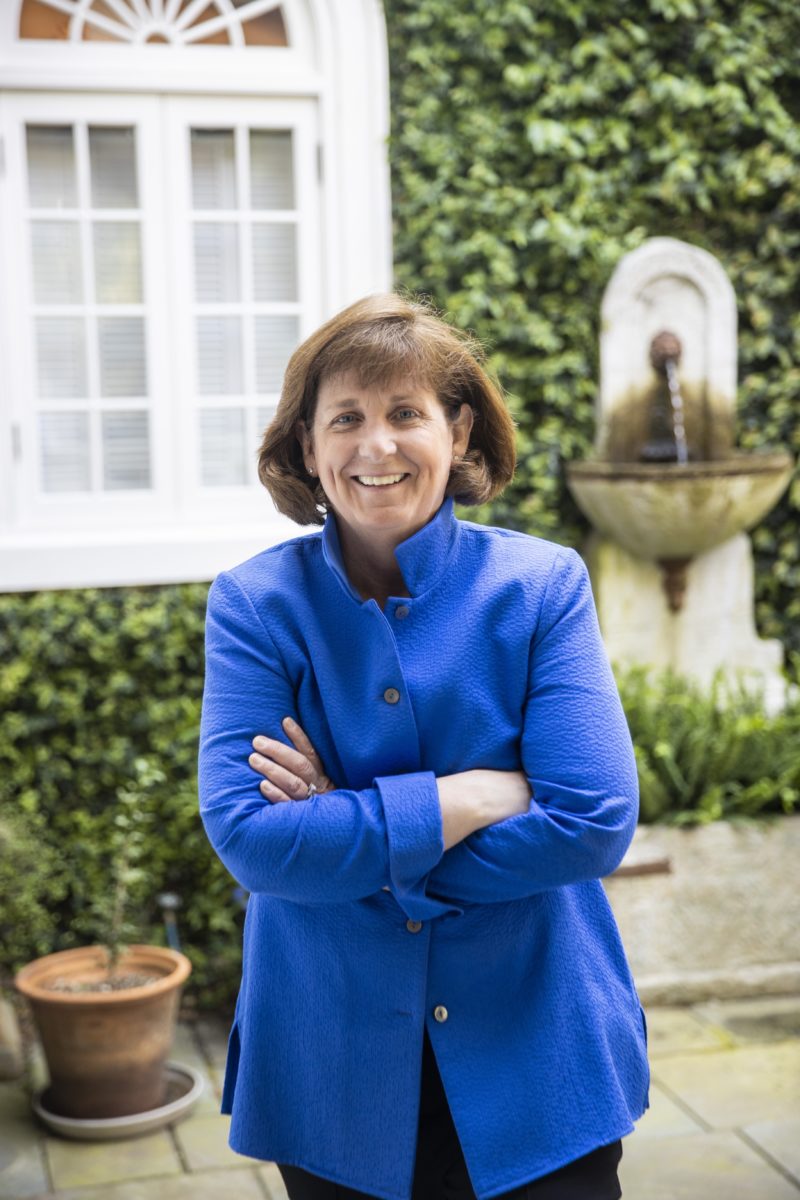 Family: Husband Troy Lanier (also a Dawg), two sons (Dawgs), two English labs (dogs). (1.)
Hometown: Marietta, Georgia
Current Town: Augusta, Georgia
What Years at UGA: 1985-1992
School/Degree: UGA Grady College of Journalism (Broadcast News), UGA Law School.
Profession: I joined Gracestone, an investment team within Synovus Securities, after a lengthy legal career. We craft investment plans for high net worth individuals, families and institutional investors. The best part of my job? I see real life examples of the American Dream every day. Anything is possible in our great country.
Accolades: Defended Aaron Murray on The Paul Finebaum Show (1/18/21); Quoted in Dixieland Delight, A Football Season on the Road in the Southeastern Conference (p. 139, paperback ed.) by Clay Travis (2); Thunderbird Bar & Grill Fan of the Year (1997, 1998).
Book: The Old Man and the Sea.
Magazine: Bulldawg Illustrated, of course! Garden & Gun in the offseason.
Podcast: Mill House by Andy Mill. Tight lines!
Blog: Bari Weiss – Common Sense (Substack).
Instagram: New favorite is @savannahrosewildlife, a photographer in Jackson Hole. Honorable mention to @looknfishy and @bigskyanglers.
Brand: Help! I should probably identify the shoe brand sported this season by my friends Lillian Magruder and Caroline Champion. (3)
Fashion designer: Does Kirby count? The Natty looks good on us!
Chef: Whoever cooks the burgers at Brogen's. I assume this person previously cooked the frank plate at Allen's.
Historical figure: Bulldog Bob, Wally Butts, Ernest M. Champion, Sr.
Quote: "You've got to take the emotional risk. And when we win, wallow in it. And when we lose, accept the wound." Troy Lanier, 12/22/17, coaching me up before the Rose Bowl.
Describe Athens in five words or less: Allen's. Cooper's. Five Points. DAWGS.
Restaurants and bars: The National (lunch), The Royal Peasant (soccer). Five Bar, Porterhouse (Friday night game prep).
Shops: Masada Leather, R. Wood Studio.
Athens/campus landmark: The Tree that Owns Itself, the double-barrelled cannon, Sanford Stadium.
Memory while in school: Everyday life on the third floor of the ZTA house was a blast, especially with my fantastic roommate, Lori Nicholson from Homerville. During law school, watching the Normaltown Flyers every Wednesday night at Allen's with my future roommate / husband was a good use of my time. (4)
Professor/class: Prof. R. Perry Sentell Jr. / Torts. "I think I might / I think I will / I'm headed down / to Jacksonville." Prof. Sentell, Friday morning before Georgia – Florida, 11/10/89.
Gameday ritual/plan: The Clinch County Bulldawg Club is a nationally-recognized tailgating organization, and I'm honored to be First Assistant to the Tailgate Chair, Jeff Brown. My specialty is logistics – tents, tables and chairs. Due to strict quality control measures, I do not have any food assignments. (5)
Tailgate Recipe: Our tailgate specialty is Meat on a Stick from Homerville. The recipe is a closely-guarded secret.