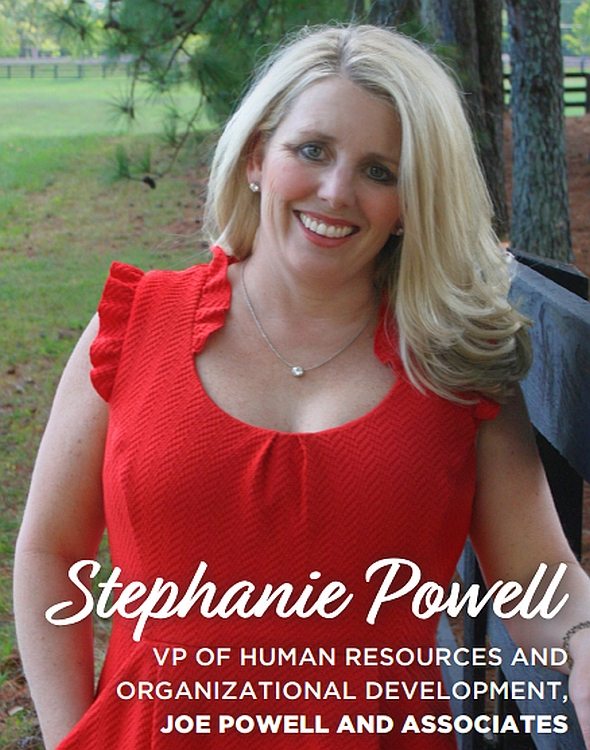 Cheri Leavy visits with fellow UGA grads to talk beauty, style, gameday, and more!

Name: Stephanie Powell
Family: Chad ('96); Kate (6th), Georgia (6th), and Bo (5th)- #HopefulFutureBulldogs
Hometown: Snellville, Ga. ("Where Everybody Is Somebody")
Current Town: Current roots are settled in Cumming, Ga.
EDUCATION: 1990-1994: Undergraduate B.S. Ed. (Early Childhood Education); 1998: M.Ed. (Educational Psychology); 2000: Ed.S. (Educational Leadership)
Profession: Lord have mercy, I have had quite a few jobs under my belt since graduating … began my career as a Traveling Leadership Consultant with Zeta Tau Alpha Fraternity straight out of the gate after graduating- was able to travel the United States for a year. Moved straight into a job with Gwinnett County Public Schools as a teacher and Assistant Principal; used the HR and leadership skills to move into my current role as VP of HR and Organizational Development with our family business, Joe Powell and Associates, Inc (a 2017 Bulldog 100 honoree); also am on the front end of a new adventure in event planning and social gatherings on our family farm, Greenfield Farm, in South Forsyth … my favorite job is that of professional volunteer and Mama to my three blessings!
Accolades: Being a Triple Dawg from the University of Georgia brings me so much pride. Serving as Chapter Advisor for Zeta Tau Alpha sorority on UGA's campus for over twenty years has kept my spirit young and allowed me to mentor to college age students in a positive manner. Serving on the UGA Alumni Association Board of Directors allows me to give back to the institution that has offered me much. I am blessed by my role as a Board of Trustees member at Wesleyan School, my children's school, in Peachtree Corners. To be able to contribute and give back to others brings me the most joy in life.


Describe Athens in three words: Hospitality; Tradition; Bulldogs
Fave bars and restaurant in Athens: Hands down for 24 years running is The Last Resort- Jaamy is hands down the very best at making his faithful patrons feel like family and inviting them into his "home." I also love gathering with friends at The Pine in 5 Points (who can resist the pimento cheese and crustini appetizer) which is always full of familiar faces and fine folks winding down after a long day. My favorite lunch spot is Add Drugstore… I still order the same things that I ordered as a college student. My kids are being raised sitting on the spinning stools at the counter, drinking milkshakes, and squeezing ketchup into the little white paper cup to dip French fries! Favorite Breakfast-Always has been and always will be… Mayflower Restaurant… love that it is family owned and operated … pancakes and cheese grits are something else!
Fave shops in Athens: TheTreehouse, Athens Interior Market, Epiphany, the UGA Bookstore, of course.
Fave Athens landmark: Sanford Stadium





Describe your typical Bulldog game day: Always starts on Friday when we drive in off Prince Avenue… hair on my arm still stands up when we turn right onto Milledge Avenue… I know we are home. The kids have grown up with Friday nights being spent watching the Redcoats practice on the fields … a highly suggested activity for those in town on game weekends with children. Saturday mornings come early in the Powell house as we can be found setting up our tailgate at 7 a.m. for home games in the Legion Field parking lot …We walk in just in time for kickoff and for me to hear the opening notes of the Battle Hymn played by the trumpet soloist in the South Upper End Zone Deck. And if all goes well in my world…I leave with a big smile and another win under our record. The homecoming game is always extra special for me because I get to go back out onto the field as an Alumni Georgette in the Redcoat Band and perform. The feeling never changes when you stand on the field and look up as Glory, Glory is played.





Fave lipstick: LipSense
Fave mascara: Bobbi Brown
Fave skin care line: Lancome Bienfait Multi-Vital Moisturizer and elta MD sunscreen products
Fave hair product: Mythic Oil
Product you can't live without: ColoreScience face
powder
Best budget buy product: Burt's Bees lip shimmer
Best product splurge: Secretly addicted to Chanel lip gloss





Fave fashion designer: Reese Witherspoon- Draper James
Fave interior designer: I enjoy designing my own projects but have always aspired to be a bit more Julia Sugarbaker from Designing Women since she is the sassiest Southern icon around.
Fave jeans: Not Your Daughter's Jeans – love that they have petite sizes to fit vertically challenged women like myself, and for the record, they are not Mom jeans.
Fave tee: My collection of vintage Georgia shirts- some I have had for years.
Fashion idol: I don't have one in particular but definitely am proud to surround myself with fabulous females of all ages who are secure in who they are and the attributes God gifted them with. Nothing makes a girl more beautiful than the way she treats others! As my mama taught me, "Pretty is as pretty does!"
Fave flower: A white violet and of course, magnolia.
Fave accessory: I wear pretty much the same accessories, gifts from my sweet husband, on a daily basis … nothing better than jewelry that has a story behind it and stands the test of time. RockStar in Rome made my favorite good luck gameday necklace (7.), a vintage Bulldog medallion with the national championship schedule engraved on it.



Who inspires you? I am inspired by many women of all ages … My twin daughters inspire me every day to be a better person and work hard to share blessings that I have been given from God with others around me. I am inspired by Carolyn Hester, a UGA Alumni and vintage Georgia cheerleader, who passed away in 2010 after a courageous battle with breast cancer. She taught me the art of living a life of grace and the tradition of proper etiquette like no other. I am inspired by the young women I work with in my volunteer life who are making their mark on the world and are constantly striving to pursue their passions.
Fave blog: handsfreemama.com
Fave instagram: @ugaalumniassociation (Who doesn't love seeing all of the stories and posts about the fie folks of the Bulldog Nation?)
Fave magazine:Southern Living
Fave book: Don't make me choose just one because I am a Southern writer junkie- Celestine Sibley, Mary Kate Andrews, Flannery O'Conner; Rick Bragg, Fannie Flagg, Lewis Grizzard … Have you read the recently published books by UGA Alumni, Matthew Guinn? Couldn't put them down!
Fave song: "Somewhere Over the Rainbow," "Amazing Grace," "Glory Glory" … all are required funeral song selections for me. Y'all be sure and remind my husband that I said that.
Fave artist: Courtney Khail, Heidi Hensley and Britt Bass.
Quote: "If you don't like the road you're walking, start paving another one." – Dolly Parton

---
SHARE A TAILGATE RECIPE:
Flossy's Finger-Lickin Good Ribs:
(Graciously shared with me, when I married her son, by my "MIL- Mother-In-Law"
who I refer to as Flossy)
Preparation
Place a rack of pork loin ribs on aluminum foil and rub down with the following ingredients: garlic powder, chili powder, black pepper, Lowry's Seasoning, and paprika. Seal foil around the ribs and cook at 250 overnight or for 8 hours in the oven. Take out and rewrap the cooked ribs in clean foil. Place in fridge to let them set for a spell. Heat on the grill or in the oven just before serving. Add your favorite Bar-B-Que sauce, mine is Sweet Baby Ray's- Hickory Brown Sugar, just before taking them of the grill.
---
FOR CHERI'S RECENT GEORGIA GIRLS POSTS with UGA ALUMNAE – click here 
FOR CHERI'S RECENT PROUST Q&As with UGA ALUMNI – click here
FOR CHERI'S RECENT POSTS on THE SOUTHERN C  – click here