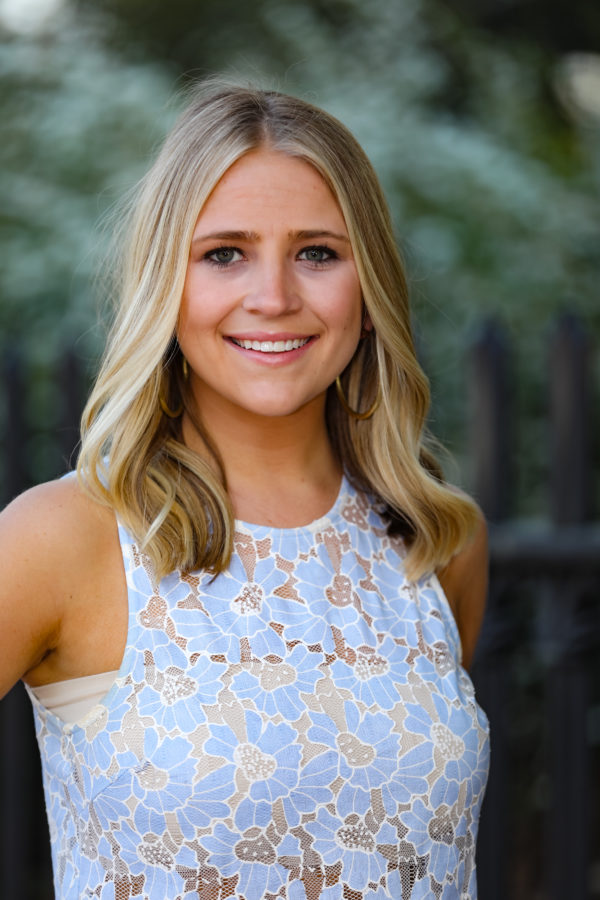 Name: Karson Bankhead
Family: The Bankhead Family
Hometown: Asheboro, N.C.
Current city: New York
What years at UGA: 2014-2018
School/Degree: Grady College of Journalism and Mass Communication/Journalism
Could you please describe your career? I currently work as a publicist
at a boutique entertainment PR firm.
What was your biggest take away from UGA? UGA really pushed me out of my comfort zone. I came to college knowing as many people as I could
count on both hands and not really knowing what I wanted to do. By the
end of my experience, I found my support group for life and learned a
lot about myself and where my strengths and weaknesses are.
What was your favorite class at UGA? I really loved my Italian classes
at UGA. They were challenging, but fun and all worth it when I studied
abroad in Florence, Italy my sophomore year and could hold a casual
conversation.
What is your favorite part about your career? Getting to interact with
new people every day. No day is the same in my job and that's why I
love it! I am constantly being exposed to different people and events
and getting to do very rewarding work!
What are some of your hobbies? I love traveling and trying new food– I
am a major foodie and always looking for the next new restaurant or
meal phenomena to try.
What is your favorite restaurant in Athens and what do you like to eat
there? Wow, that's a tough one since they were all amazing. My
favorite would probably have to be The Last Resort. That was the first
restaurant I went to when I visited Athens. Everything on the menu is so
good, but my favorite dish is for sure the white chocolate cheese
cake.
Were you involved in Greek Life at UGA? If so, what was your favorite
part about it? Yes, I was a Theta. My favorite part was meeting the
amazing and genuine friends that I have now. My pledge class is from
all over the U.S., so it's been really cool being able to visit new
places.
What did you do on a typical gameday in Athens? I was thankful enough
that my parents had season tickets, and I could see and hang with them
on game days! I would always start with brunch (Heirloom was a family
favorite) and then drinks at Rooftop with my friends before heading
into the game.
How has the transition from college life to the business world been?
Honestly, it's been fun! The key note that I was always given leading
up to the working world is that it's nice not having to study or do
homework. I think it's important for recent grads to live in a
different city while they are still young to meet new people and
explore something unfamiliar.
Who would you consider your hero? My sister. She is two years older
than me and I have always looked up to her ever since I was little.
She knows how to remain calm in any stressful situation and react so
rationally. She is the girl that no one can say a bad word about
because she is genuine, caring and kind.
To view the rest of my summer series, click the links below!
https://bulldawgillustrated.com/oh-the-places-theyll-go-former-intern-carrie-west/(opens in a new tab)
https://bulldawgillustrated.com/bulldawgs-in-business-chase-lawrence-of-college-town-properties/(opens in a new tab)
https://bulldawgillustrated.com/oh-the-places-theyll-go-former-intern-hannah-tosch/(opens in a new tab)
https://bulldawgillustrated.com/bulldawgs-in-business-connie-popwell-of-pure-barre/(opens in a new tab)
https://bulldawgillustrated.com/bulldawgs-in-business-chase-hopkins-of-plantation-dentist-associates/(opens in a new tab)
https://bulldawgillustrated.com/oh-the-places-theyll-go-former-intern-ashley-hanna/(opens in a new tab)