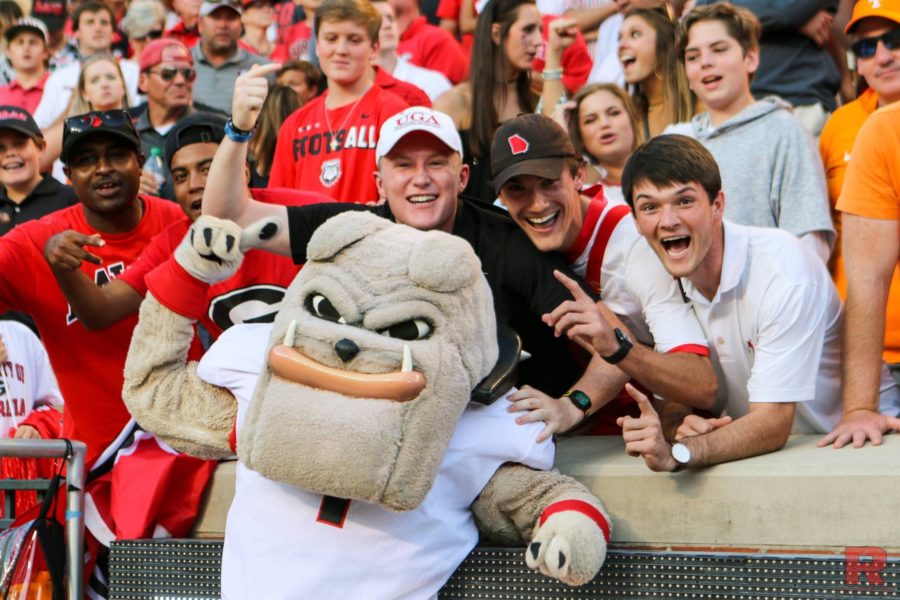 College football kicks off in a short nine days, which can either feel like forever or no time at all when you remember the days that have passed since January 7, 2019— when last season came to an end. All of the hype, season previews, countdowns, camps and practices have boiled down to this: the first matchup of the year.
The last time the Georgia Bulldogs opened the season on someone else's turf was six years ago at Clemson, not counting the Chick-fil-A kickoff game in Atlanta. What Georgia fans have come to know as normal in recent years is kicking off the season at noon in Sanford Stadium in scalding-hot temperatures with the sun beaming down. This year, though, the Bulldogs hit the road to the middle of Music City for a match-up with Vanderbilt.
Thankfully, this year our schedule boasts a solid seven games at home. For those five games on the road, I'm asking the question— what is the most important part of away games? In my opinion, it's Dawg fans showing up and showing out. Over the past few years as a student at Georgia, I've become familiar with the saying, heard from both Bulldogs and college football fans all over the country, "Dawgs Travel." I've begun to pride myself on this fact. The Bulldog Nation really does travel— largely, as one big pack, together, unwavering, a force to be reckoned with. They flood the streets, decked in their red & black and calling the Dawgs, usually with a beer in hand, to represent their beloved University and cheer on the boys in silver britches. We're committed. We mean business. We understand and take to heart the value of playing a role in carrying the Dawgs to victory. Remember all the talk two years ago when they claimed Notre Dame looked like a home game for Georgia? Well it did. And that's one reason why we brought home a win.
Whether you're a student at the University, a recent graduate with little pocket change, a parent with kids (maybe even ones that cry often and don't sleep through the night), or empty-nester— whatever your life stage, you have the opportunity to be a Road Dawg. What happens on the road with the Dawgs are memories that last a lifetime … and our players truly need and value the support of the Bulldog Nation. Where can you show up for them and make memories this season other than Sanford Stadium?
AWAY GAME SCHEDULE
8/31 @ VANDERBILT- Nashville, TN
10/5 @ TENNESSEE – Knoxville, TN
11/2 vs. FLORIDA – Jacksonville, FL
11/16 @ AUBURN – Auburn, AL
11/30 @ TECH – Atlanta, GA
Haven't planned your away game trips to support the men who now wear the red and black? It's not too late! Hear from some recent grads about their favorite memory on the road, then plan a trip to make your own unique memories!
What was your favorite away game memory?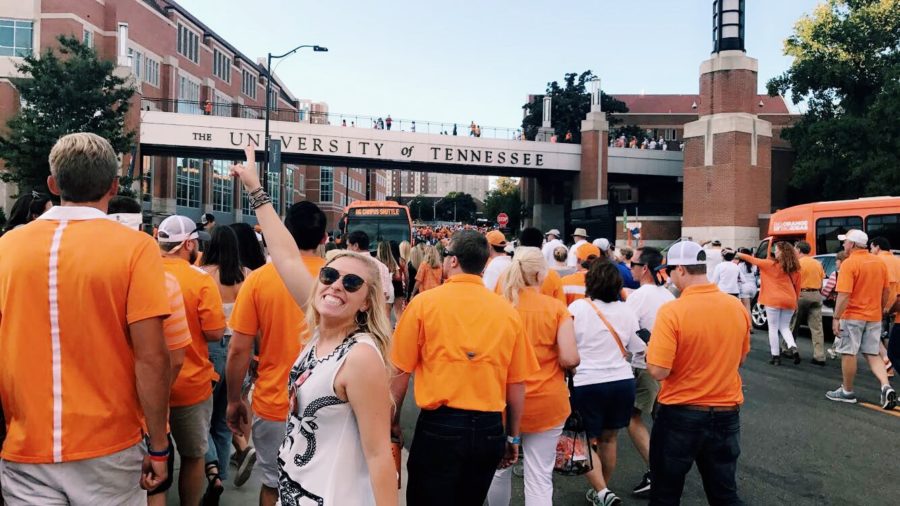 "When I went to the Tennessee football game my junior year, back in 2017, and we beat Tennessee 41-0. The year before, our hearts were broken after their Hail Mary victory (a real tragedy!). I remember standing speechless and stunned in Sanford that year for a solid 15 minutes just looking at the field. But, after walking out of Neyland Stadium with such a huge win, it was amazing and one of my favorite memories during my time as a student at UGA." – Saralee Amason, UGA '19
"Hands down the 2018 Rose Bowl. It was my senior year, and my whole family traveled to Los Angeles and spent a week there before the game! My family has always made Georgia away games into trips/vacations, which I've been incredibly thankful for as an avid Georgia football fan. While in L.A., we were able to check out the Santa Monica Pier, Venice Beach, see a basketball game in the Staples Center, and even see how the Rose Bowl floats were made and attend the parade. All the sightseeing, especially seeing how the Rose Bowl floats were made, was an unbelievable experience in its own right!The game itself was the best football game I have ever witnessed and probably ever will witness. To be down 14 at half instead of 17 only because of a miraculous special teams play by Tae Crowder, to have Sony Michel fumble late in the fourth quarter, and then to end up winning in double OT with a field goal block and Sony Michel walk-off touchdown to send us to the national championship was too much for me to handle! Not only the best football game I've ever experienced, but one of the best memories of my life as a whole!" – Taylor Burns, UGA '18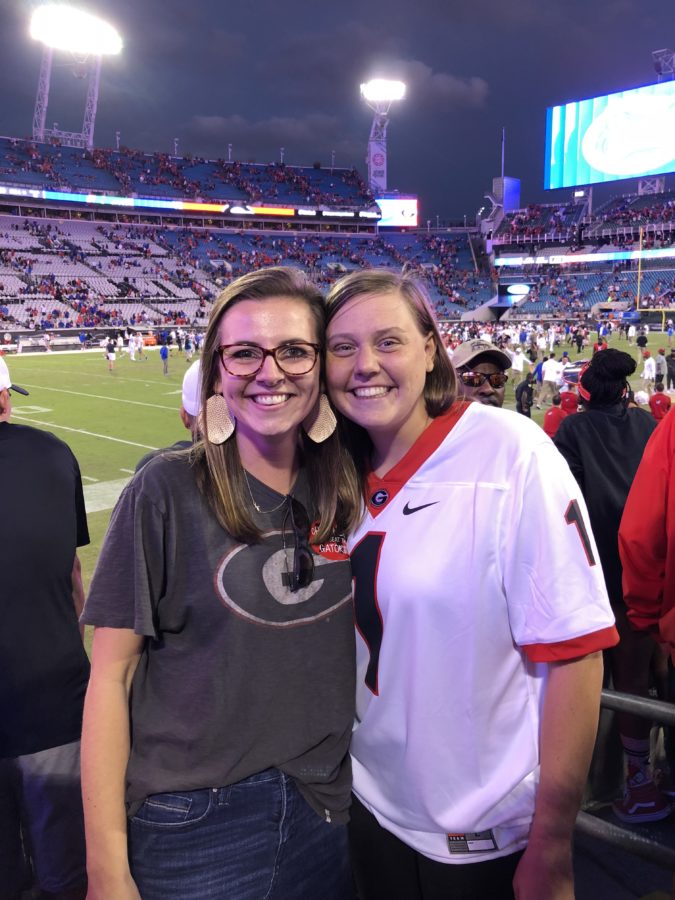 "My favorite memory Georgia-Florida last year. The day before, Becca and I randomly got tickets last minute that ended up being seats extremely close to the end zone, just two rows up from where touchdown after touchdown was scored against Florida. It was so much fun because, although I was in a different state, red and black was everywhere, and the same energy that is found in Sanford was roaring through that stadium. Plus we took home a win!" – Lily Goodwin, UGA '19
One of my favorite road games was 2017 against Tennessee. This was Georgia's first game against Tennessee since the "Dobbs-nail Boot" in Sanford Stadium the year prior, a play which quickly took one of the greatest moments I had experienced between the hedges (Eason to Ridley with 0:10 remaining) to a somber, downcast evening for a Sophomore student living on South Milledge Avenue. Both the team and fans alike were on the "revenge tour" and had every intention of righting the record against the Vols in their Smokey Mountain Grey uniforms. The game was all but over from the first snap as Tyrique McGhee picked off Quinten Dormandy with a flying interception. The Dawgs would go on to score forty-one points with the help of a pair of rush TDs from Jake Fromm. It would be the worst shutout loss in the history of Neyland Stadium. By the end of the game, even Georgia fans were singing along to "Rocky Top", given the majority of those still left in attendance were donning red and black. It sure felt like home, sweet home to me. In the words of Clisby Clarke, "They bite in Athens town, and they bite away from home. Don't matter where they are 'cause winning is the sweetest bone".

Ben Butler, UGA '19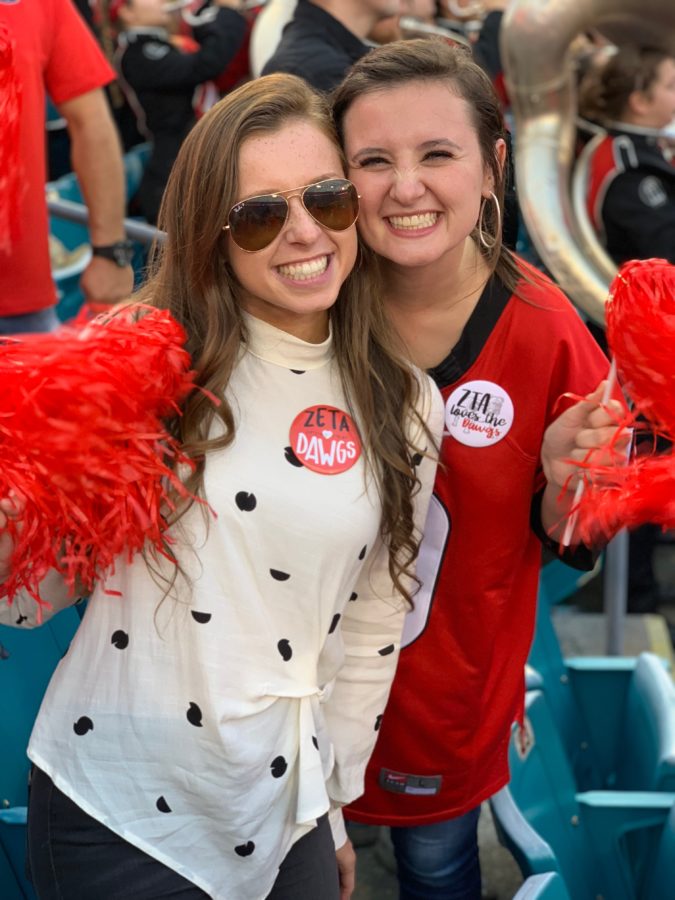 My favorite experience, besides the Rose Bowl, was probably Notre Dame because it was such a cool campus with great traditions. Obviously the game was amazing. It was a last minute decision for me, and a long car ride, but so worth it!! I had a goal of making it to as many SEC stadiums as I could before graduation… I made it to 10, in case you were wondering?Traveling with the team is so much fun because you get to see other campuses, and doesn't everyone love to travel?!
In college, working with recruiting for the football team, I worked all home games, so I loved away games because I got to dress up and sit with my friends. I love seeing other schools' traditions, cheers, fight songs, etc., exploring their town, and making the road trip with friends. Some of the best memories are made on the way there! – Madison McDoulett, UGA '19
My favorite away game memory was piling in the car on Friday with all my friends, once classes were over, and making the drive to away games. I remember going to Knoxville and seeing UT's tailgates for the first time, as well as the river, and watching the Dawgs in Neyland Stadium. It was awesome— just being on the road with my Dawgs and to watch them was what made it fun. Even though we didn't always come out on top, it was always worth it once you showed up to cheer them on live and be a part of the game, even away from home. Memories, for sure!

Harbor Hicks, UGA '17
My Personal Favorite Away Games through The Years:
Chick-fil-A Kickoff Game 2011

UGA vs. Auburn 2006
UGA vs. Ole Miss 2011

SEC Championship 2017

UGA vs. Notre Dame 2017
Rose Bowl 2018

UGA vs. Auburn 2017
As you can tell, there is an abundance of reasons to follow the Dawgs on the road— whether you long for memories with roommates, close friends, family, or fellow die-hard Bulldog fans, we hope to see you at away games this season!