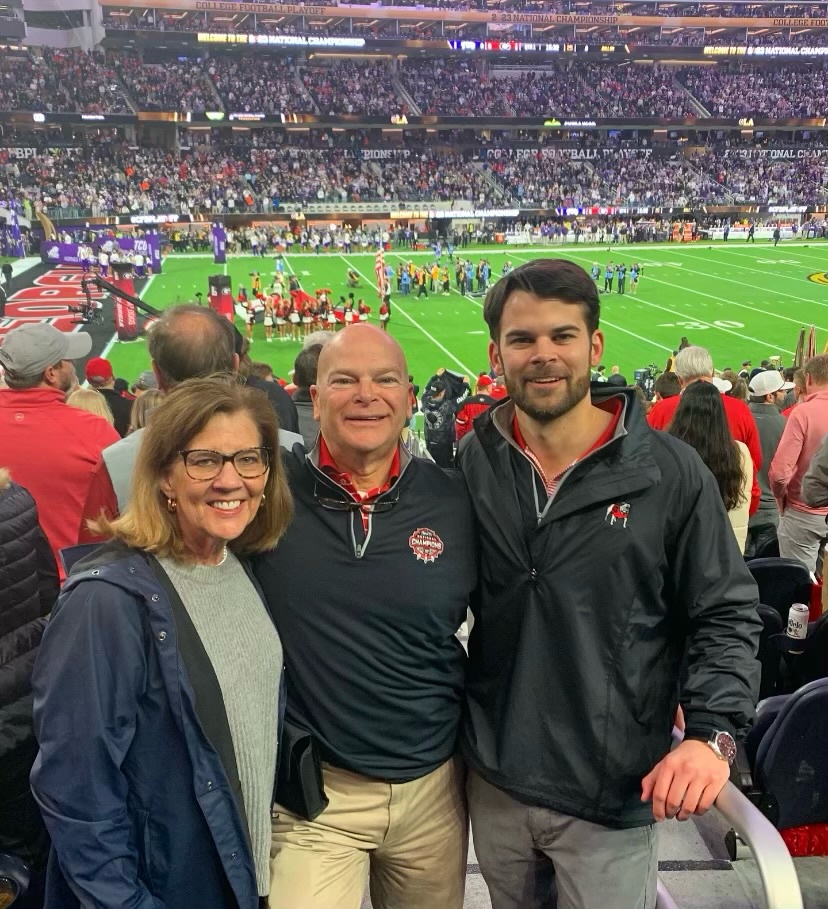 Name: Hunter Davis
Family: Parents – Andy "Sarge" Davis (Class of 1979, J.D. Class of 1984), and Janice Davis (Alabama); Sister – Claire McWhorter (Class of 2012); Brother-in-law – Seth McWhorter (Class of 2010); Nieces – Rosie McWhorter (3) (Class of 2043), and Frances McWhorter (1) (Class of 2045)
Hometown: Rome, Georgia
Current Town: Athens, Georgia
What Years at UGA: 2011-2015, 2015-2016, 2020-2023
School/Degree: University of Georgia – BBA 2015, MAcc 2016, expected J.D. 2023
Profession: Student
Accolades: Eagle Scout, Troop 113. Certified Public Accountant. 2010 Hustler Award – Darlington Varsity Basketball Team
What life lessons did you learn while at UGA?
​Considering my time as a UGA student hasn't come to an end just yet, I'm still learning meaningful lessons. A few lessons I've learned during my time at UGA: Be confident in who you are; Don't let your perception of time and age hinder you; Tough times will come and go, but those times are often necessary to grow and build stronger character; Self-reflection and introspective learning can be difficult at times but are invaluable tools; Purposefully enjoy the process.
This University has provided me an incredible education, lifelong friends and mentors, and remarkable experiences. I am blessed for everything UGA has given me. I'm sure that over the years I will identify more and more lessons UGA has offered me, so I will continue to reflect and let my mind actively quarrel.
What professor did you most admire?
Many professors at UGA have meaningfully influenced me, but one who particularly comes to mind is Professor Tim Keadle. His love for this University, his passion for teaching, and his genuine care for students are unmatched. Professor Keadle brings real life practice into the classroom, which is essential for future accountants. His wit and acting skills are also world-class. I'm grateful for his mentorship and friendship, which thankfully continue despite my change in professions. Professor Keadle: a DGD.
What do you consider your greatest achievement?
Becoming an Eagle Scout; Getting my CPA and Double Dawg status (and hopefully obtaining a JD and becoming a Triple Dawg); and rearing my two nieces, Rosie (3) and Frances (1), all the while avoiding changing any diapers or losing any sleep. They say, "It takes a village to raise a child," and my "Fun Uncle" role has indeed been pivotal to their upbringing thus far.
Which historical figure do you most identify with?
​Robert W. Woodruff endeavored to give back to his community and those around him, often anonymously. He strived to live by the creed: "There is no limit to what a man can do or where he can go if he doesn't mind who gets the credit." While I may not consistently live up to the standard Mr. Woodruff set, I recognize the value in working in the right direction that his standard exemplifies, and I hope to live by this creed like Mr. Woodruff did. I admire his giving spirit and willingness to serve. If Mr. Woodruff (and bees) can work in the dark, so can I.
Who are your heroes in real life?​
My parents. Their faith, humility, and love for others are exemplary. Their humble upbringings have tailored them into the caring, servant leaders they are today. Both of their work ethics, and the belief in themselves and those around them are qualities I strive to exude. Most importantly, they love this University and Athens as much as I do.
Quote to live by:​
"Don't ever give up." – Sarge (likely quoting some historical figure).​"Never take special for granted." – a bruder.
What is your idea of perfect happiness?
​Right now. The past couple of years back in Athens have been such stuff dreams are made of. Dawgs are on top, twice. Tennis has resurfaced in my life at the perfect time. And my law school buddies just recently signed me up for AARP. It's an electric time.
What is your most marked characteristic?
​I'm intimidating as hell.​
What do you most value in your friends?​
Positivity, kindness, good sense of humor, and the ability to laugh at yourself.
If you could change one thing about yourself, what would it be?​
I wish I didn't bench press 350 and run a 4.4.
Who ar​e your favorite writers?
Unconventional answer — Aaron Sorkin writes some great screenplays. Also, Scottish Philosophy offers some captivating literature.
Favorite social media and who to follow?
I guess Instagram, but MySpace is the OG – arbitrarily ranking your friends, a trashy profile song that just "gets you", and Tom as your best bud. ​On Instagram – follow @mcwhortercreative if you're looking for a DGD graphic designer and branding expert.