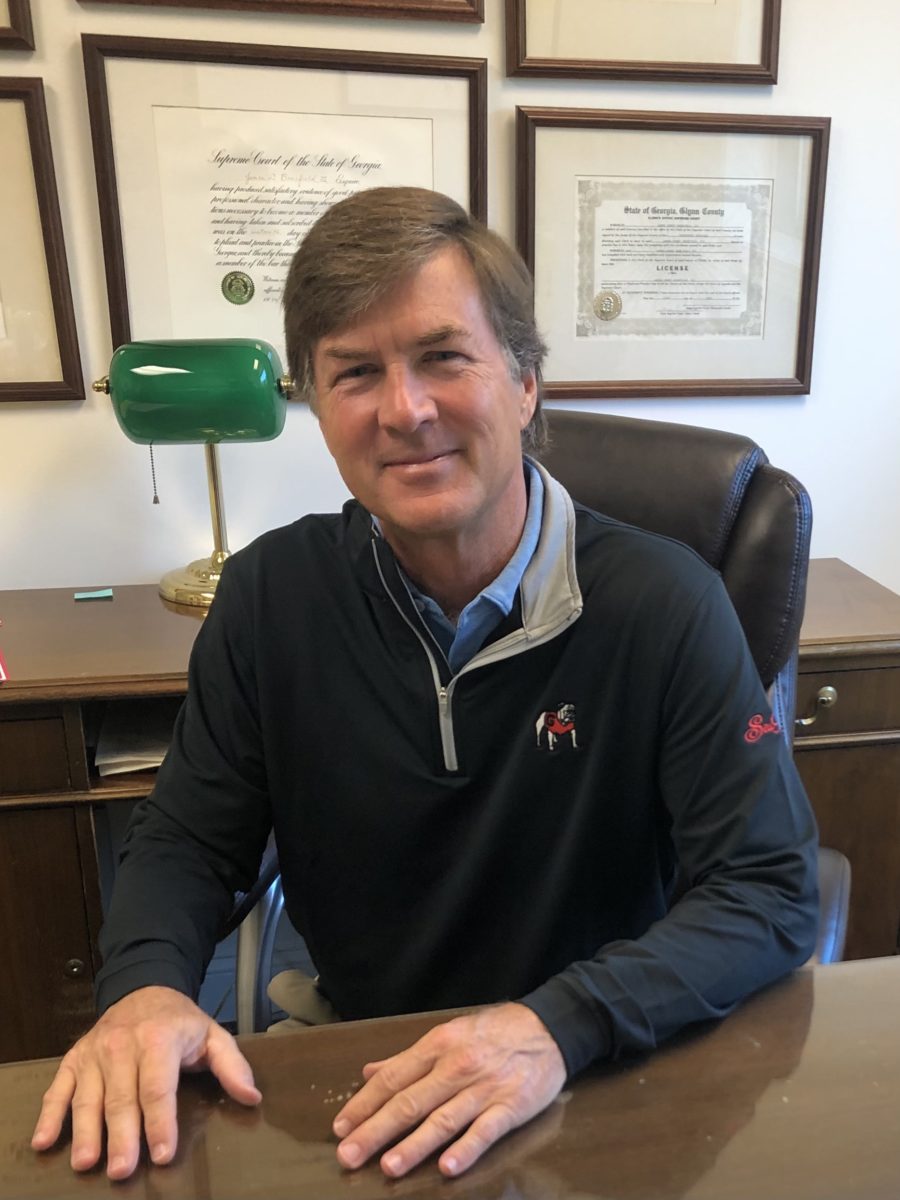 Family: Daughters, Riley Mattox, Catherine Benefield, and identical twin sons, Jack and Harrison Benefield; granddaughters: Simmons Benefield, Delaney and Helen Mattox
Hometown: St. Simons Island, Georgia
Current Town: St. Simons Island, Georgia
What Years at UGA: 1981-1988
School/Degree: BA in Finance and JD
Profession: Attorney
Accolades: Graduated undergraduate cum laude with honors
What life lessons did you learn while at UGA?
With all the distractions available to a young person in The Classic City in the 80s, I learned time management and to prioritize. I also learned that hard work pays off. I saw firsthand what happened to those who were neither working hard nor managing their time. I recall loving Athens so much that I dare not "flunk out", then have to leave.
What professor did you most admire?
I recall Dean Ellington while in law school. He taught a few classes too. While we were not close, I recall his southern drawl, to which I could relate. His generally happy demeanor made me feel comfortable in an otherwise uncomfortable setting, at least during the first year.
What do you consider your greatest achievement?
I believe I have two: My family and law practice are my greatest achievements. My oldest three children graduated from UGA, as did their mother, plus my dad. My youngest child is a sophomore at UGA. These four children inspire me with their positive attitudes and desire to be productive adults. I am frequently reassured that their mother (former Susie Williams BA marketing '87) and I must have done something right.
As for my law practice, I returned to my hometown after law school. I love St. Simons and returning home after law school with gainful employment was a goal. By the age of 29, with three young children, (Catherine was born several years later) I started my own law practice. My childhood friend, Judge Stephen Scarlett and I would still be practicing together, but for his ascension to the bench. So, I continue to be a sole practitioner. For the last 32 years, I have practiced in Glynn County, and now have my office on St. Simons Island. It's a wonderful life!
Who are your heroes in real life?
My father! He was the first member of his family to attend college and, were it not for an academic scholarship to UGA, he planned to attend Tech! Also, he worked his way through UGA. He worked three jobs while there. He was editor of the Red & Black, worked for Coach Magill in the sports information field and wrote UGA athletic articles for The Atlanta Constitution. Dad says he performed the same task, but received three paychecks. After law school, and a brief stint in Miami in the Air Force Jag corps, he landed a job at Sea Island Company via his fraternity brother, Bill Jones. Coach Magill also tapped Dad to be the UGA poet laureate for a time period. Dad never moved away from this area and at age 90 is going strong. Talk about a wonderful life!
Quote to live by:
We are not getting any younger.
What is your idea of perfect happiness?
A day in the life of perfect happiness: sleep in (not normally), win a tennis match in the morning (more likely laugh with my tennis friends), have lunch with friends or one of my children on a bright sunny day in the Village on St. Simons or at Add Drugs in Athens. Then depending on whether I am on SSI or in Athens: go to the Sea Island Beach Club (or go to tailgates, then the football game), then out to dinner with friends.
My idea of perfect happiness revolves around either St. Simons or Athens. In the words of my good Athenian friend, Roby Redwine, "the synergies between those towns is crazy."
What is your most marked characteristic?
This is a tough question. Perhaps it would be better answered by my children or a friend. I will take a shot: my calm decision making. However, my decision making on this answer may be clouded.
What do you most value in your friends?
Their levelheaded judgment and willingness to listen to me. Most of my best friends have been with me since high school or college. A true friend doesn't judge but tries to help. No matter what, my best friends (they know who they are) have assisted in major decisions. There is no way I would have stayed the straight and narrow without them. Or more accurately, they help put me back on the straight and narrow at various times.
If you could change one thing about yourself, what would it be?
I wish I could have more fun. I tend to be a workaholic, and do the same things over and over. A little variety may help.
Who are your favorite writers?
I am able to say Lewis Grizzard.
Fave social media and who to follow?
I follow many websites and social media pages that post articles about Georgia football. This is a stress reliever that I can do right at my desk. For some reason, this relaxes me and makes me think about positive things, like winning!